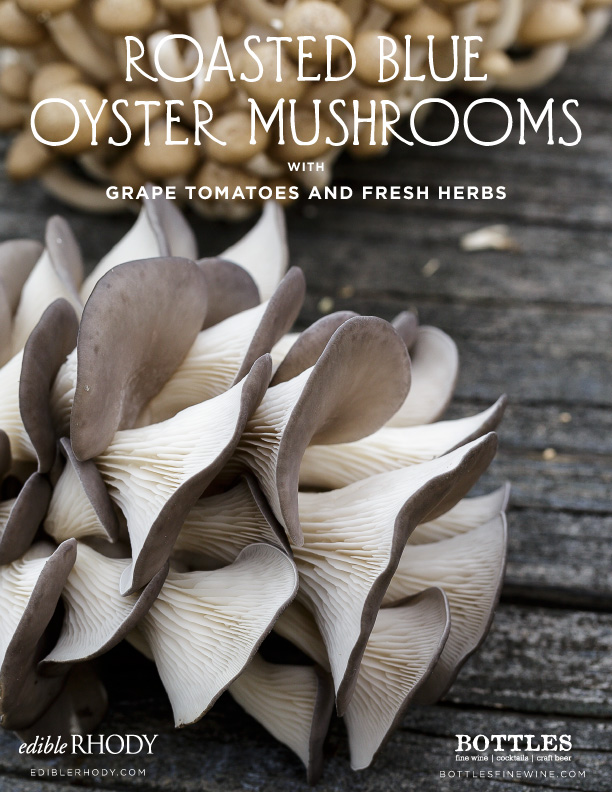 Photo by Chip Riegel
The humble mushroom is a cook's best friend, given its amazing flavor and texture, versatility and nearly year-around availability in local farmer's markets. It's also beloved in the wine world as it has a natural affinity for so many different wine grapes and styles.
When pairing wine with mushrooms, consider their power: delicate varieties (the chanterelle, the oyster, for example) play best with light to medium bodied wines. Meaty 'shrooms (portobello) love big, bold styles.
For the following dish of blue oyster mushrooms roasted with grape tomatoes and tarragon (from the Winter 2015 edition of Edible Rhody), we zeroed in on the texture of the mushrooms: roasting adds a richness to their delicate nature, calling for a medium-bodied wine. We also wanted to complement the dish's other ingredients and aromatics: tomatoes and tarragon. And for this we turned to Italy for a white and a red that work well with acid and herbs.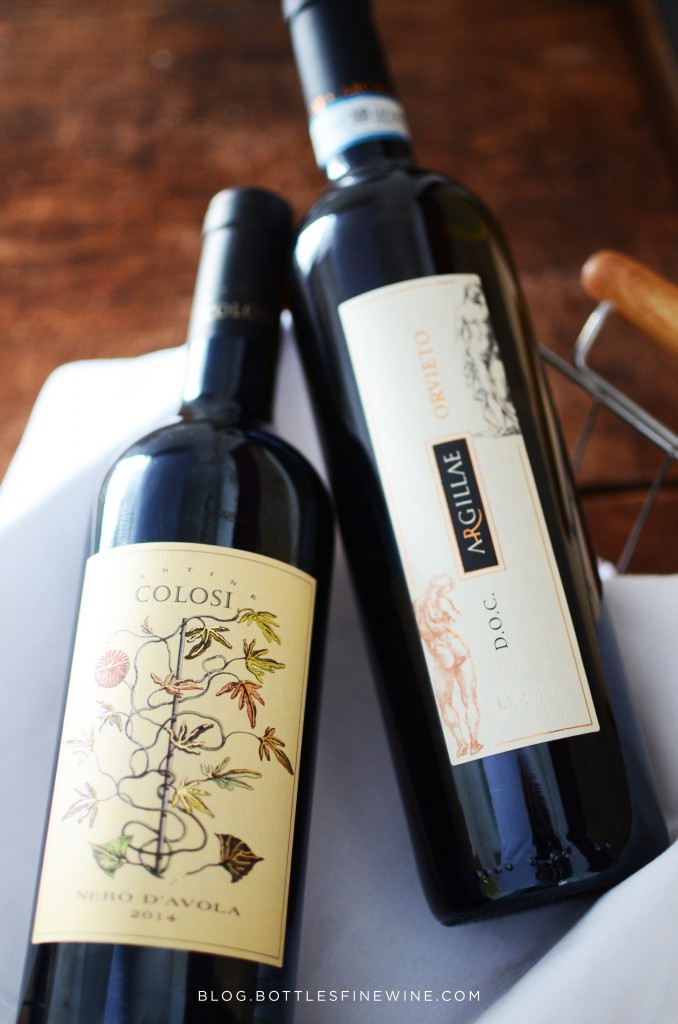 2014 Cantine Colosi, Nero d'Avola, Sicily There's a supple cherry fruitiness in this medium-bodied bottle that is a lovely balance to the oyster mushroom's delicate earthiness, and its menthol finish is just delicious with the dish's tarragon notes. The nero d'avola grape – the superstar of Sicily – is a natural match for tomatoes.
2013 Argillae Orvieto, Umbria This blend is a beautiful example of the savory white wines Italy is known for. It has floral and tropical notes that add a brightness to the roasted dish, but it is its savory, almond notes that we prize with the mushroom's earthy flavor and the warm licorice aromas from the tarragon.
ROASTED BLUE OYSTER MUSHROOMS WITH GRAPE TOMATOES AND FRESH HERBS
Co-owner Bob DiPietro, RI Mushroom Co., South Kingstown
Just about any type of fresh herbs can be used in this recipe—just be careful they don't overwhelm the dish. Use less of stronger herbs like rosemary or sage than you would basil or tarragon. You can also substitute different mushrooms or opt for a mix. (Total cooking time may vary.)  Bottles' Note: we like to use tarragon in this dish, and think it's sublime served over pasta.
¾–1 pound (5–6 cups) blue oyster mushrooms
1 cup (½ pint) grape tomatoes, washed and halved
2–3 tablespoons extra-virgin olive oil
1–2 tablespoons red wine or cider vinegar*
2 medium cloves garlic, peeled and roughly chopped
2 tablespoons mix of chopped fresh tarragon, thyme or Italian flat leaf parsley, divided
Kosher or sea salt
Freshly ground pepper to taste
Preheat oven to 400°. Spray a rimmed baking sheet with cooking spray or brush with olive oil.
Trim off woody stems of the mushrooms and reserve for another use (a terrific addition to homemade stock). Shred the remaining mushrooms lengthwise into a large bowl.
Add tomatoes, olive oil, vinegar, garlic and 1 tablespoon herbs. Toss well.
Arrange the mixture in a single layer on the baking sheet and roast for 30 minutes, turning halfway through to ensure even browning.
Remove from oven, add remaining herbs and season with salt and pepper to taste. (I always add salt at the very end whenever cooking mushrooms, otherwise they will exude their natural juices.)
May be served as a side dish, tossed with pasta or as a topping for steak or burgers. Serves 4.
* Instead of vinegar you can use pickle brine. I highly recommend the pickle brines from Rhode Island's own Fox Point Pickling Co.
Cheers and Bon Appetit!