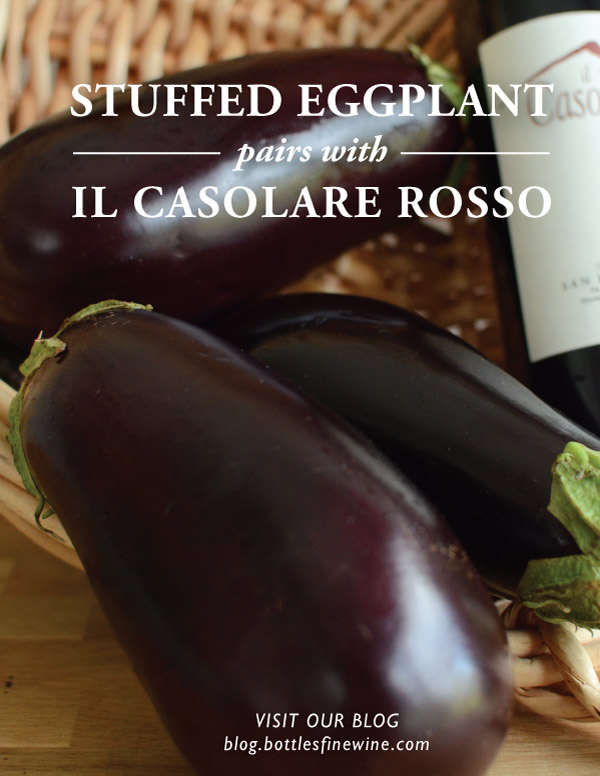 The perfect time for fresh eggplant is NOW! My inner Italian is telling each and every one of you to go buy a gorgeous, plump eggplant — their season is here and they couldn't taste any better.
Pleasantly bitter with a spongy texture, eggplants are consumed the world over in various ways and varietals. Used mainly in hearty dishes, the easy drinking wine and versatile Il Casolare Rosso is a perfect match to the the grand array of cultural dishes produced with this delightful vegetable.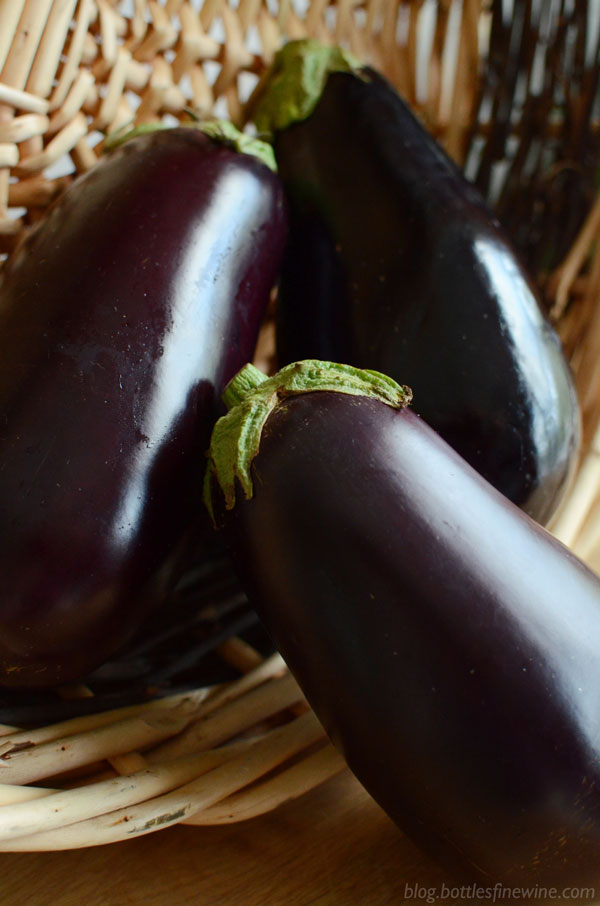 Eggplant
Even though it is highly associated with Italy and the Mediterranean, it did not originate there. Growing wild in India, eggplants were first cultivated in China in the 5th century B.C. and were not introduced to Europe until the 14th century.
Not always seen as a revered vegetable in Europe, it was used more as a decorative plant until new varieties were developed in the 18th century and it began to lose its bitter reputation. Now it has taken an esteemed place among the cuisines of countries such as Italy, Greece, Turkey and France.
Many people shy away from eggplants because they get soggy when cooked. In order to counteract this and prevent the flesh from absorbing so much oil in cooking, try salting the flesh and allow it to sit for 30 minutes. This will collapse the air pockets and pull out the excess water that causes it absorb oil. Make sure to rinse it once you have let it sweat to remove any excess salt.
Some regional dishes using eggplant are:
Ratatouile from Provence
Eggplant Tian (French version of Eggplant Parm)
Caponata from Italy
Sichuan Eggplant from China
Moussaka from Greece
Baba Ghanouj from the Middle East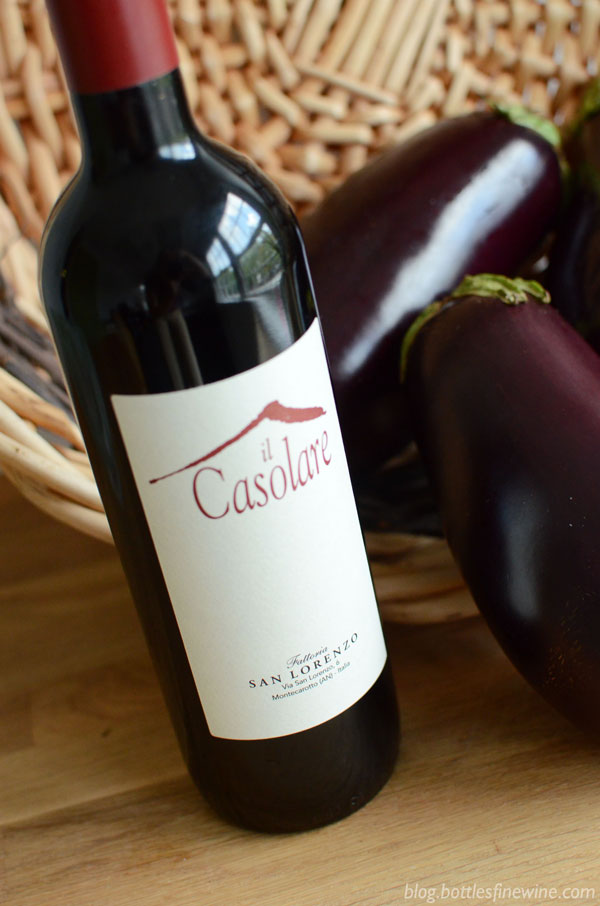 Il Casolare Rosso
A family operation dedicated to the production of organic and biodynamic wines, Fattoria San Lorenzo is located in Montecarotto Italy, the Marche region, and is run by Natalino Crognaletti. Inherited from his father and his father before him, the legacy of the patriarchs is still visible in the management of the vineyards, cellar operations, and particularly in the production of Verdicchio grapes from ancient vineyards.
A great match for most hearty eggplant dishes, Il Casolare Rosso consists of 50% Montepulciano and 50% Sangiovese grapes and is Natalino's 'wine for the people' — fresh, clean, balanced and easy to drink. A great Italian red wine!
This wine is bursting with ripe fruit flavors bolstered by wood herb notes and a hint of spice. Other than the fact that it is a red wine, the sheer juicy and fruity nature of the Il Casolare Rosso is a perfect pair for the earthy, bitterness that usually comes with eggplants. It is also a great match for spicy, meaty and acidic dishes such as Stuffed Eggplant. Basically it is a perfect wine all around!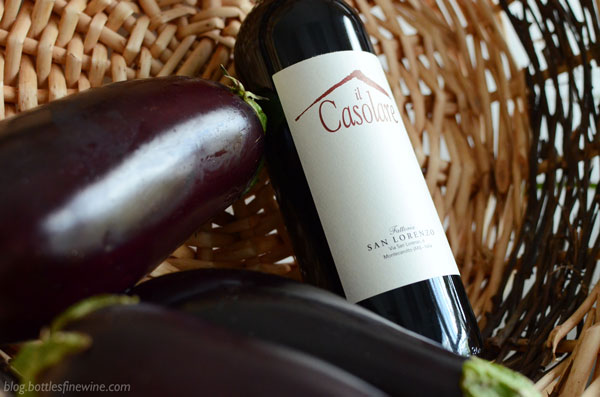 Stuffed Eggplant
Yield: 8 Servings
Time: 1 hour 30 minutes
Ingredients
2 Eggplants, cleaned and dried
Salt and pepper to taste
5 Tbsp olive oil
1/2 lb. chicken or pork mild Italian sausage, uncased
1/3 cup onion, diced
1 garlic clove, smashed, peeled and minced
1/2 cup breadcrumbs
1 Tbsp capers, drained and smashed
8 oz. fresh mozzarella cheese, sliced
Uncooked pasta, prepared according to directions on the box
Tomato Sauce
2/3 cup onion, diced
2 Tbsp olive oil
2 cloves garlic smashed, peeled and minced
28 oz. peeled, whole plum tomatoes (can use canned)
1 cup of water
1/2 tsp basil leaves, dried
1/4 tsp oregano, dried
Method of Preparation
1. Heat oven to 375 degrees F.
2. Slice the eggplants in half length  wise and scoop out the middle, leaving some flesh to hold the filling. Rub with salt and let it stand to sweat.
3. Dice the eggplant innards and begin to make the sauce (see directions below).
4. Heat 2 Tbsp of olive oil in a cast iron pan or heavy bottom pan and add the sausage. Break up the sausage and cook for about 8 – 10 minutes. Remove the sausage from the pan and set aside.
5. Add 1 Tbsp of olive oil to the pan, add the onions and cook for 3 minutes. Add the garlic and cook for an additional 2 minutes. Then add the eggplant, salt and pepper and cook for an additional 6 – 8 minutes, stirring occasionally.
6. Return the sausage to the pan with the breadcrumbs and cook for about 5 – 6 minutes, until the breadcrumbs are soaked into the eggplant mixture.
7. Remove the filling from the stove and fold in the capers. Season with salt and pepper.
8. Rinse out the eggplant halves and wipe them dry using a paper towel. Place them upside down on a covered baking sheet to remove the excess water.
9. Pour a layer of tomato sauce into a casserole dish. Once the eggplant is dried, fill it with the sausage stuffing and place the halves in the casserole dish. ladle a bit of tomato sauce on top of each eggplant and cover the dish with foil.
10. Bake in the oven for 35 – 40 minutes. Uncover the dish and top the eggplants with the sliced mozzarella. Bake for another 5 minutes and then broil for 5 to get a nice browned layer of cheese.
11. Serve over cooked pasta.
Tomato Sauce
1. Heat the olive oil in a heavy bottomed pot and saute the onions on medium high heat for 3 – 5 minutes.
2. Add the garlic and cook for 60 to 90 seconds.
3. Add the whole tomatoes and water to the pot. using a wooden spoon or spatula, break down the tomatoes and add the seasonings.
4. Lower the heat and allow the sauce to simmer while prepping the rest of the dish. Season with salt and pepper.
Side note: If you are not a fan of tomato sauce because of the acidity. Add a little bit of sugar to balance it out. But be careful not to add too much. Source