If you happen to be wondering how you will survive the rest of "Dry January", foregoing any libations with alcohol, we are here to support your valiant efforts. Maybe it is a good thing – you'll have to let us know in February. Until then, we are always of the "everything in moderation" approach. All that said, we have a selection of non-alc bevies that will certainly help add some zip and zing to just about any glass. These are all great in different ways. They are all staff tested and approved. Most of these (maybe not the beer) work with alcohol for when Dry January is behind us. Enjoy!
Seedlip Distilled Non-Alcoholic Spirits    $29.99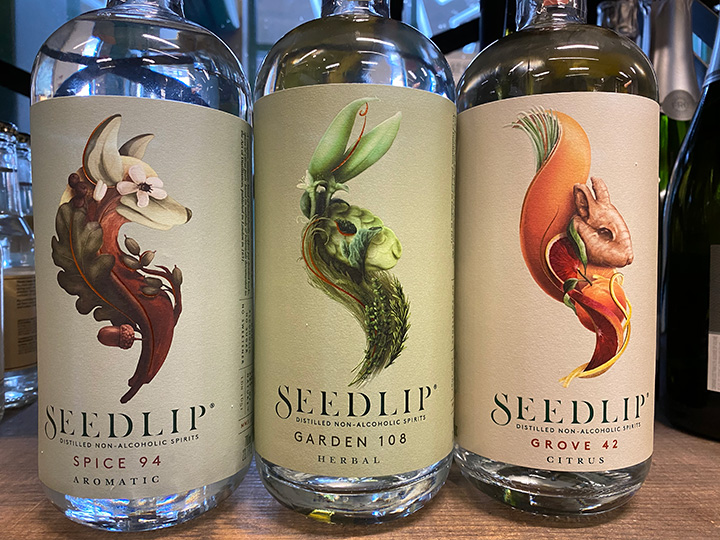 England-based Seedlip has been earning quite a buzz without actually producing one. The line up is non-alcoholic but it is distilled similarly as traditional spirits. Maceration, distillation, filtration, and blending. The process begins with farm-fresh produce, like hay, herbs, and even English peas. Each plant is macerated in a neutral grain spirit and water before distilling in copper pot stills. The alcohol is removed (although there is no fermentation stage) with the concentrated distillates being blended, filtered and finally bottled. Each label is creatively and beautifully illustrated with the ingredients featured within.
Spice 94 is comprised of Jamaican allspice, green cardamom, cascarilla and oak, grapefruit and lemons. Serve over ice with tonic and a garnish of grapefruit. Garden 108 features a floral blend of peas, hay, rosemary, thyme, hops, and spearmint. Serve with ice and ginger ale with a sprig of rosemary. Grove 42 is a citrus-forward blend of bitter, blood and mandarin orange with lemon, ginger, and lemongrass for the spice notes. Serve over ice with tonic or ginger ale. Simple to mix. Simply delicious!
Laurisa Il Nostro Chinotto   $2.99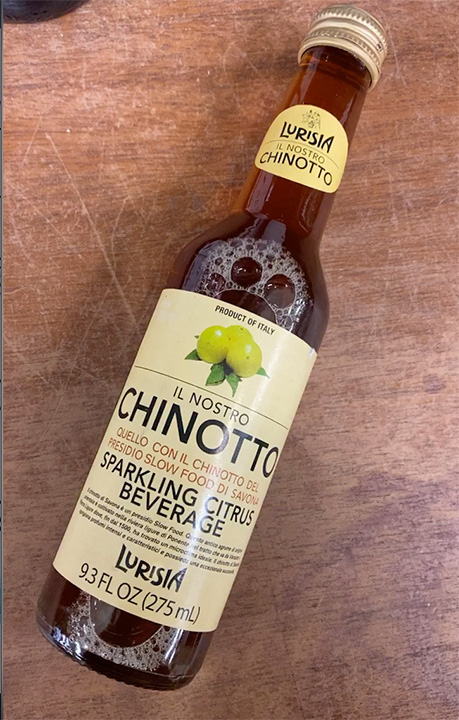 New to our Laurisa offerings is the Chinotto. It's unique taste and aroma comes from the namesake trees grown on the west side of the Liguria Riviera since 1500. These precious citrus fruits give this bubbly drink its deep caramel amber color and intense fragrance of citrus and spice. The carbon dioxide emphasizes the delicacy and harmony of a particularly complex bouquet: citrus, herbs, spices, and bitter caramel. The taste is velvety and soft without excessive sweetness.
Served chilled in a glass tumbler, with (or without) ice or lemon, it is an excellent thirst-quencher. Easily accompanies savory appetizers, a full meal or as an aperitif. Excellent as an ingredient in cocktails in which a bold exotic taste is desired.
Casamara Club Sparkling Amaro Soft Drinks $7.99 /4 PACK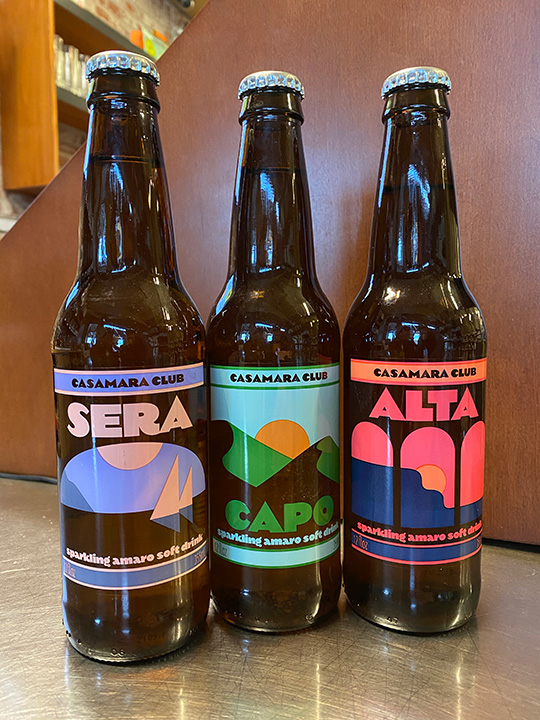 These sparkling amaro soft drinks draw on the history and traditions of Italian amaro, fusing the depth and complexity of our favorite Italian aperitivi and digestive with the lightness and ease of a refreshing bitters & soda.
Alta is the aperitivo soft drink. It's our take on a dry, spritzy Negroni, with notes of dark berries, fruity spices, and bright pink citrus peel. Lemon juice, Demerara cane sugar, Extracts of Italian chinotto, juniper berry, orris root, Mandarin peel, allspice, clove bud, and aniseed, Mediterranean sea salt.
Capo is the alpine soft drink, bridging mountain amaro traditions from throughout Italy. Notes of fresh-picked wildflowers, peppermint leaves, and key lime acidity. Lemon juice, orange blossom honey, extracts of Italian mandarin, chamomile flower, peppermint leaf, licorice root, grapefruit peel, juniper berry, clove bud, and cardamom seed, Mediterranean sea salt.
Sera is the digestivo soft drink, our take on a lo-fi, cinnamon-infused Aperol spritz, with notes of purple flowers, strawberry candy, and fruit tart acidity. Lemon juice, orange blossom, honey, extracts of grapefruit, cinnamon bark, rhubarb root, Italian chinotto, allspice berry, and aniseed, Mediterranean sea salt.
Each bottle contains 12 ounces and only 4g of sugar for a total of 15 calories.
Three Cents Artisinal Beverages   $1.99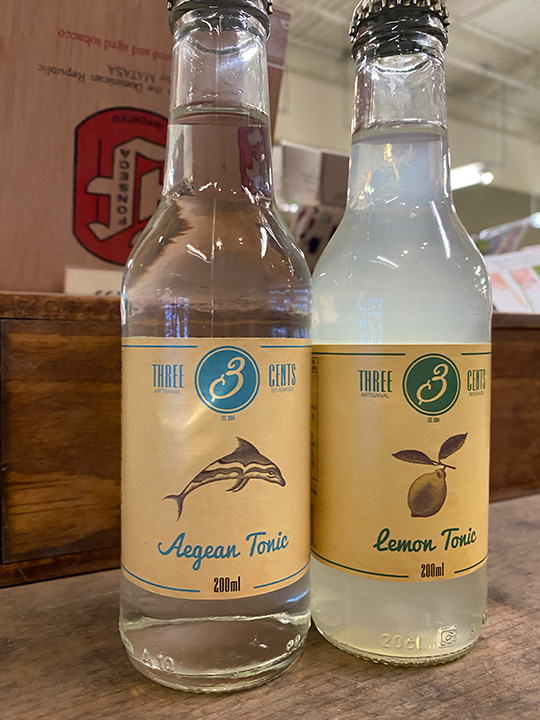 What do you get when you combine Greek computer science major, an econ and business major, a marketer and a business graduate meets bartenders? These. Born from the historical 1920s when prohibition was in effect (kinda like self-imposed Dry January?) soda became a "thing". Two cents plain and three cents flavored. Ooopa! The team behind these tonics sought to create the bubbliest sodas ever, pushing the limits of carbon dioxide and precious minerals to the limit. Dial-in the most natural flavors under the biggest pressure and the result is powerful. Bubbles for days (well at least through the end of the drink) never disintegrating or deserting your favorite flavors.
Bootblack   $18.99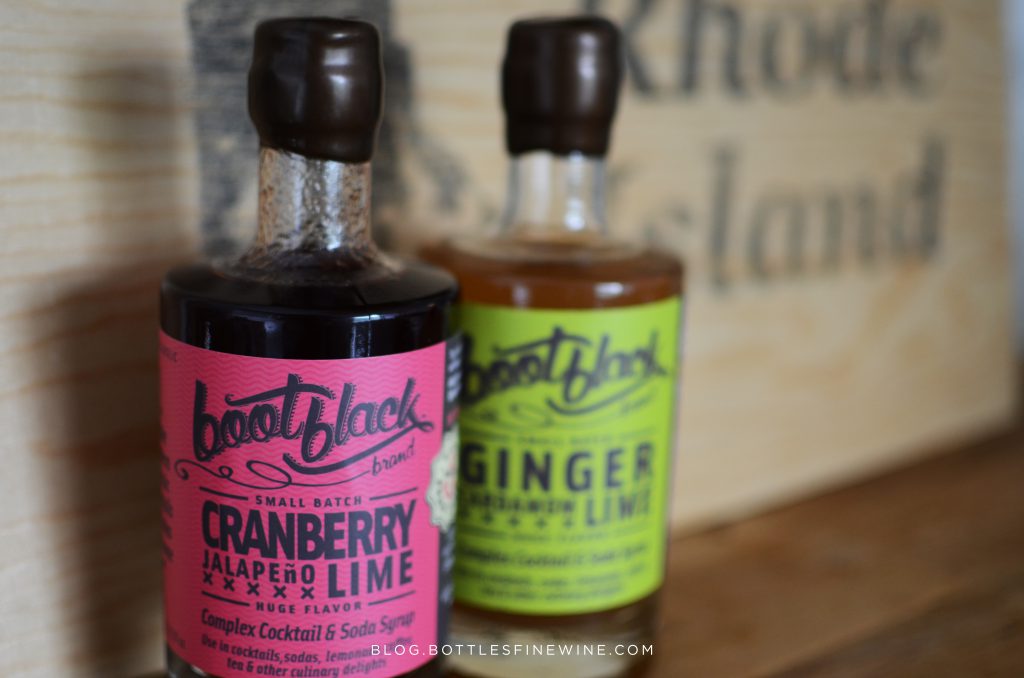 From our very own Ocean State, Bootblack produces these "small batch – huge flavor" syrups and cocktail mixers for some of the best-tasting beverages you can make.
The Ginger Cardamom Lime is the flagship syrup consisting of lime juice, fresh ginger root, seedless golden raisins, cardamom seeds, black peppercorns, fresh rosemary, red pepper flake, star anise, allspice, filtered water, and cane sugar. Mix 1 part syrup to 3 parts tonic or soda water over ice and there you have it. Once February arrives it mixes with many spirits including whiskey, rum, vodka & tequila to name a few. Think Moscow Mules, Rum & Ginger and a variety of other cocktails.
Cranberry Jalapeño Lime makes a modern take on a (January Virgin) Margarita, Paloma or even a great addition to a Bloody Mary. It has some heat but to remind you it's made with jalapeño but it is not too much to intimidate. Other notes of ginger, tarragon, juniper berries, coriander seed, fennel seed, sea salt, allspice, red pepper flake, fenugreek seed. 
Wellbeing Brewing Company Non-Alcoholic Malt Beverages   $9.99 / 4Pack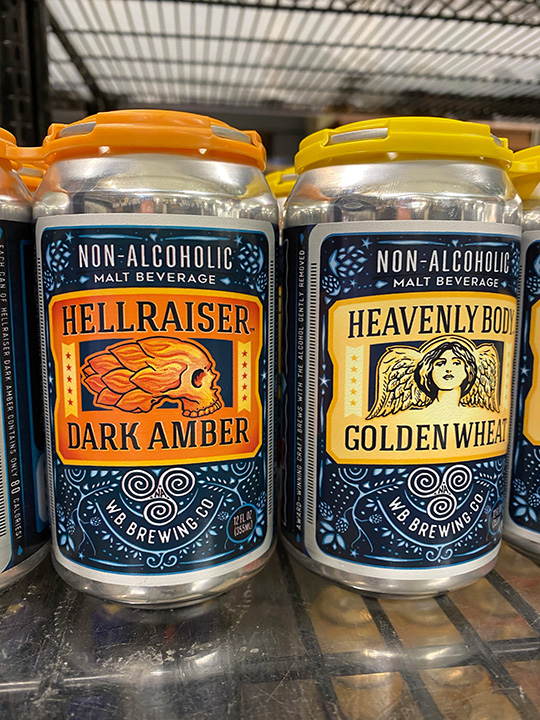 These are perfect for Dry January as the company name Wellbeing is solely dedicated to proudly making non-alcoholic Craft Beer. They are living and believing in what they are doing and their products warrant their efforts.
Heavenly Body Golden Wheat is based on a Great American Beer Festival award-winning recipe. The American-Style Wheat is flavorful and using hints of Cascade and German traditional hops for slight citrus notes that balance the lighter malts. It's dry, crisp and smooth, with a full-bodied mouthfeel. Great for after your other January training, yoga or anytime you are taking care to watch what is going in your heavenly body. A "Near Beer from Heaven". Vegan, non-GMO and healthy.
Hellraiser Dark Amber is a hop-forward amber that has the perfect balance of floral aroma and spicy hops to delight the palette of craft beer enthusiasts everywhere. 80 calories, 15 carbs, 0 sugar.
Weihenstephaner Premium Bavaricum Non-Alc Malt Beverage    $3.99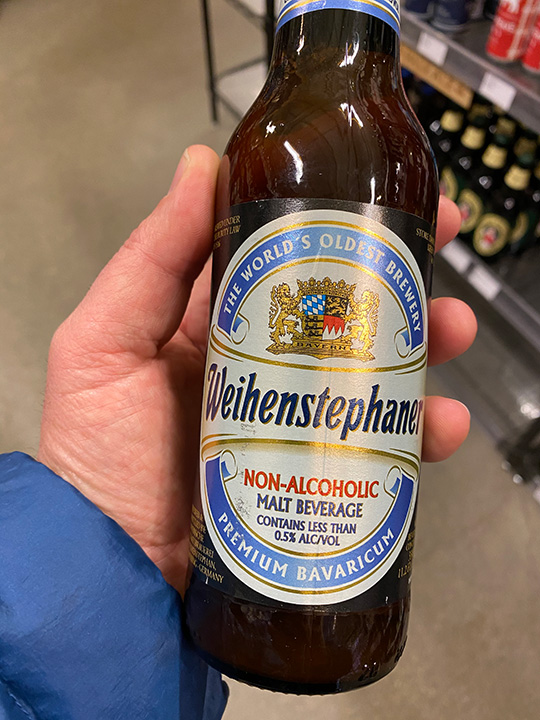 Founded in 1040, The Bavarian State Brewery Weihenstephan is the oldest existing brewery in the world known worldwide for producing world-class beers of the highest quality. The unique combination of tradition and science gives the brewery the quality standard "premium Bavaricum" and has garnered many national and international awards.
There is something special about this non-alcoholic wheat beer. Other breweries halt the fermentation process prematurely – Weihenstephan gives it the time it needs to allow the refreshing flavor to unfold. The alcohol is removed from the beer using falling film evaporation, a technique developed together with the Technical University of Munich-Weihenstephan. The result is a truly enjoyable beer with no alcohol, fewer calories, and carbs.
Sparkling, fresh and highly drinkable with notes of honey, clove and yeast best describe the flavor of this non-alcoholic wheat beer. One of the best available.
Prices subject to change