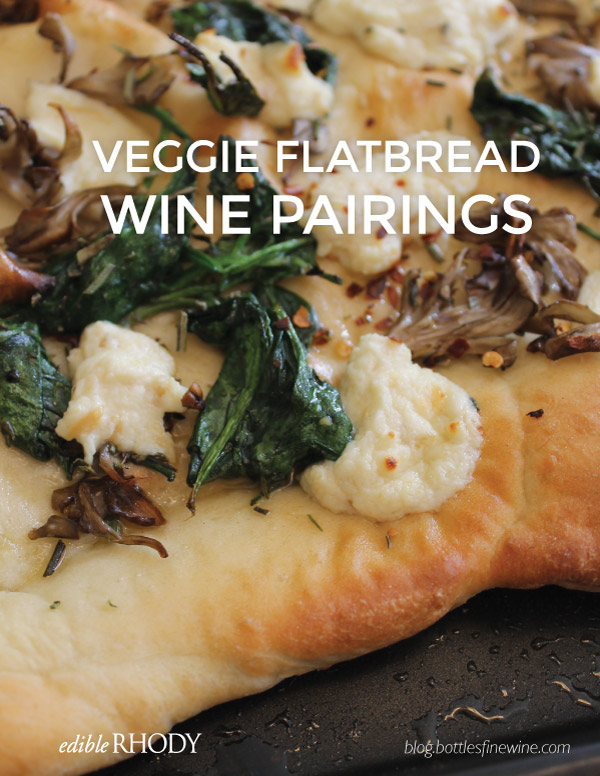 Fresh vegetables! Pairing wines with light spring veggies can be tricky, but we've taken the guesswork out of deciding. Try this Grüner Veltliner, Albariño, or Rosé wine with your spring veggie dishes, like this fabulous Roasted Garlic Ricotta, Ramp and Wild Mushroom Flatbread from Edible Rhody magazine. Visit us and look for our spring wine display!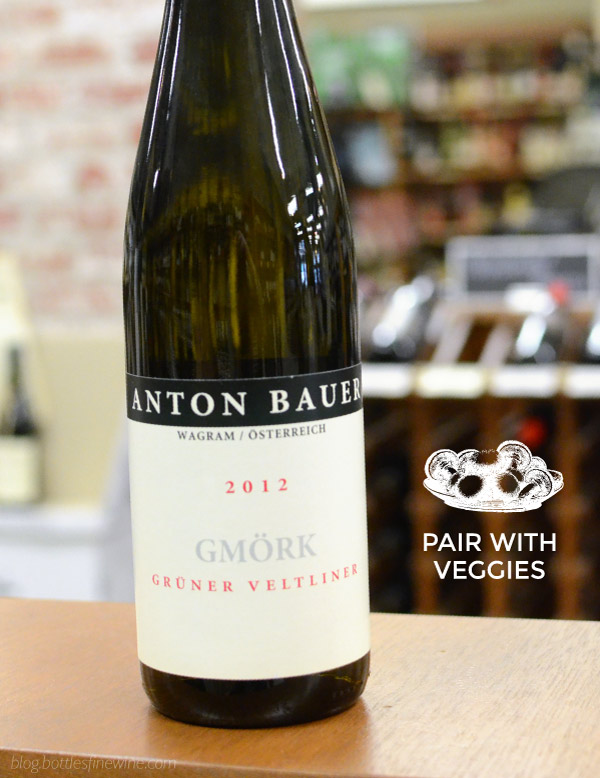 If you haven't had Grüner Veltliner – this is the one to try.  On a whole, Grüners are crisp and light and typically have a beautiful ripe apple and gooseberry duality – much like the fight between good and evil, light and dark, ying and yang.  This wine has that simultaneous duality between ripe and tart fruit, but is studded with loads of mineral and white pepper.  Try it with the notoriously difficult to pair with asparagus or Fiddlehead Ferns in butter. OMG! $15.99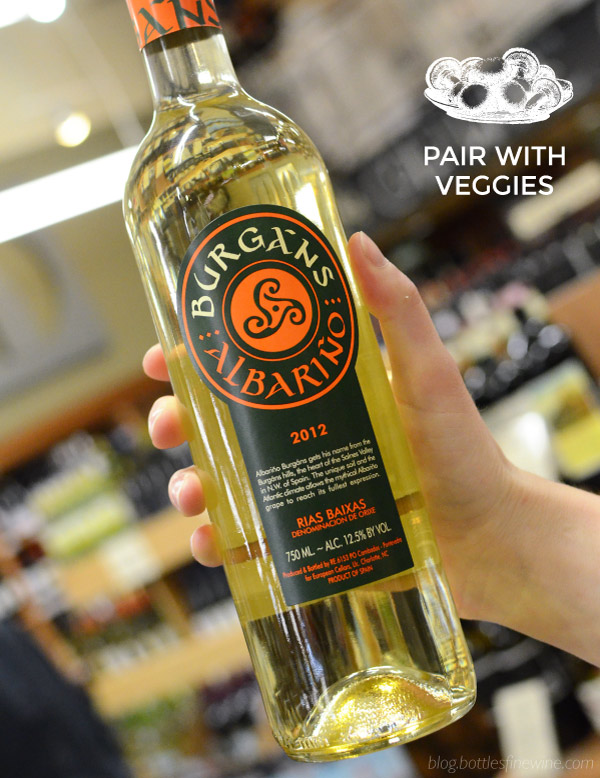 A perfect springtime wine!  This Albariño from the northwest corner of Spain, is a classic example of what to expect from the grape:  light, bright and refreshing.  Aromas of pineapple, mango and white flowers bound out of the glass. In the mouth, the wine is supple and round with juicy tropical fruit flavors and a bracing note of lemon zest.  Really great with fresh assertively flavored spring veggies. And for sitting outside while watching the daffodils bloom, of course. $12.99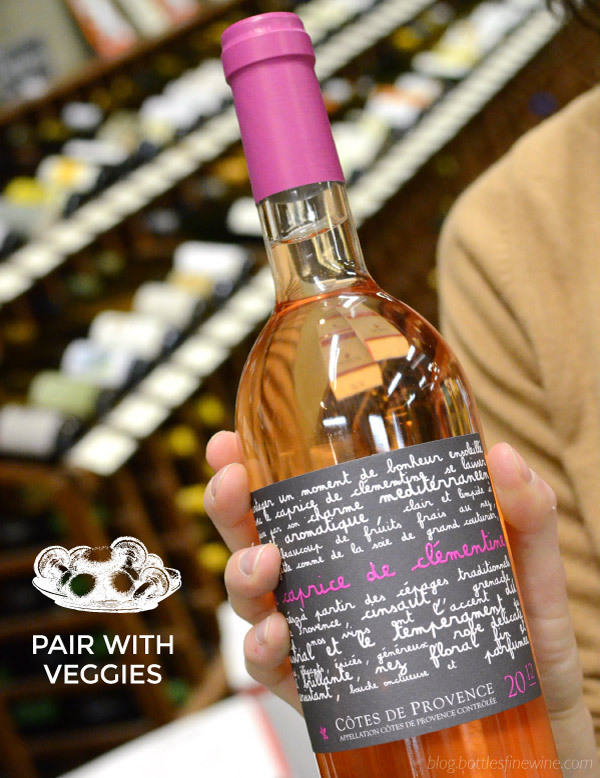 We LOVE Rosé – the color is so beautiful and they go with everything.  Made from red grapes, it still has some nice body but with fresh light berry and herb flavors.  Clémentine Rosé is light and delicate with an elegant, fresh and lively nose with flavors of tart raspberry/strawberry and a little bit of wild herbs.  Great with cheese, mushrooms and veggies – like the Flatbread recipe from Edible Rhody! $14.99
Roasted Garlic Ricotta, Ramp and Wild Mushroom Flatbread
David Sturgeon, chef/partner, Stoneacre Pantry, Newport
I like to cook this flatbread at home with my wife because it is fun, fresh and hands-on. Change the toppings in accordance with the seasons.
Dough:
1¼ cups warm water
1 tablespoon honey or agave nectar
1 package dry yeast
Extra-virgin olive oil
Kosher or sea salt
¼ cup milk
4 cups sifted all-purpose flour, plus more for dusting
Roasted Garlic Ricotta:
1 head garlic
Extra-virgin olive oil
Freshly ground black pepper
1 cup Narragansett Creamery ricotta cheese
Ramps and Wild Mushrooms:
1–2 bunches ramps (or substitute escarole, spinach, dandelion greens or turnip greens)
4 cups hen of the woods or oyster mushrooms, roughly chopped
Freshly chopped rosemary (optional garnish)
Red pepper flakes (optional garnish)
In a large bowl, mix honey into warm water and add yeast. Let sit until bubbly and frothy (5 to 10 minutes). Stir in 1 tablespoon olive oil, 2 teaspoons salt, milk and 3 cups flour.
Turn mixture out on a floured board and knead approximately 5 minutes while incorporating remaining 1 cup flour.
Form dough into a ball, brush with olive oil and place in a large bowl covered with a warm, damp towel. Let rest in a warm place, approximately 1 hour. Once doubled in size, punch down and divide dough in half for two flatbreads. (Can be refrigerated overnight and brought to room temperature before baking.) While dough is rising, roast the garlic.
Preheat oven to 350°.
Lightly coat garlic head with olive oil and sprinkle with salt. Bake in a small dish covered with foil until cloves are soft and golden brown, approximately 1 hour. Separate cloves from skin and mash cloves to form a paste. Stir into ricotta with 1 teaspoon olive oil. Season to taste.
Wash ramps and separate bulbs from leaves. Sauté bulbs and mushrooms in 1 tablespoon olive oil over medium-high heat until bulbs are slightly tender and mushrooms are browned. Remove and keep warm. In the same pan, sauté ramp leaves in 1 tablespoon olive oil until tender and wilted. Toss with mushrooms and bulbs. Season to taste.
Final Assembly:
Preheat oven to 500° and preheat a pizza stone or large sheet pan until hot.
On a floured surface roll out half the dough. (Lightly oil sheet pan if using.) Transfer to preheated pan and bake until just firm. Spread ramps and mushrooms on dough with spoonfuls of ricotta and optional garnish. Return to oven and bake until the ricotta is soft and slightly browned. Drizzle with olive oil. Repeat. Serves 6 as an appetizer.