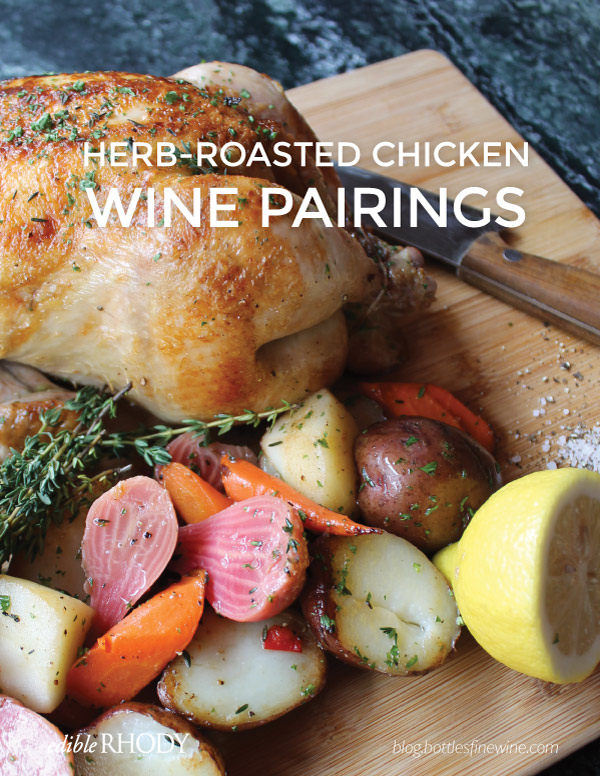 Looking for the perfect wine to complement your chicken dinner? The wines on this list are no-brainer choices for fresh and vibrantly flavored springtime chicken dishes, such as Herb Roasted Chicken with Spring Root Veggies. Read more for details on the three wines we've highlighted, and for a simple and satisfying roast chicken recipe provided by Edible Rhody magazine.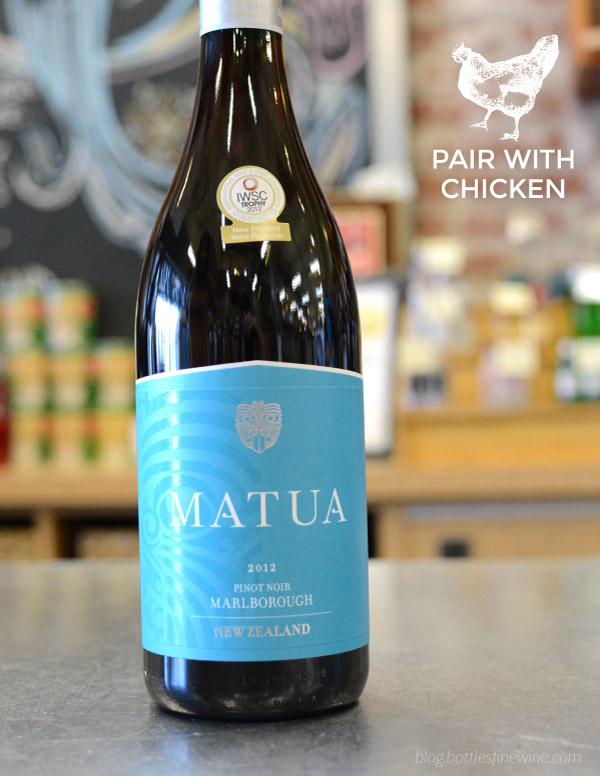 New Zealand is best known for their Sauvignon Blanc, but they also grow a little bit of really delicious Pinot Noir.  Lighter in style than California Pinot Noirs, expect notes of cherry with hints of blackberry and sweet smoky vanilla.  A soft and luscious wine with enough stuffing to satisfy the most discriminating Pinot Noir lover.  A perfect match with roasted chicken, especially with crispy skin. $12.99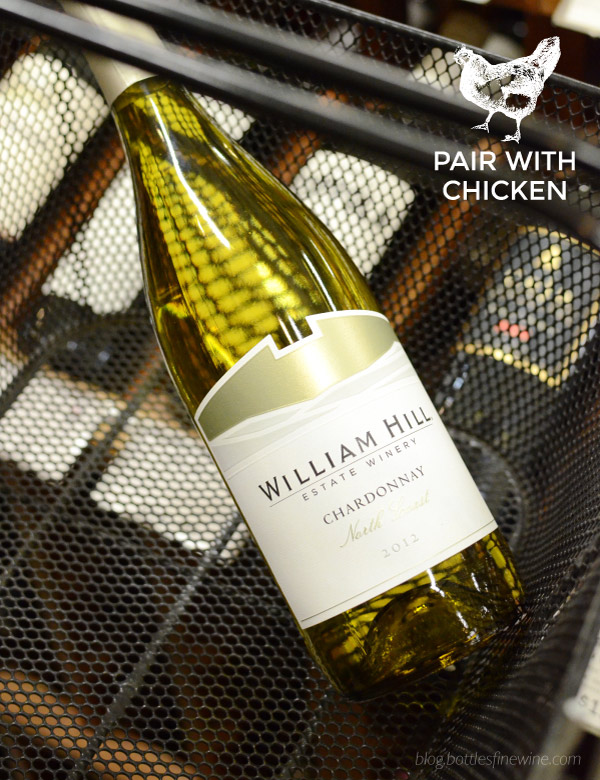 A beautiful, well-balanced Chardonnay with lush tropical fruit flavors of pineapple and mango, but without heavy oak or vanilla flavors.  This is a very nice example of a fresher style of Chardonnay coming out of California and is great by itself, but also really nice with lighter chicken dishes. $14.99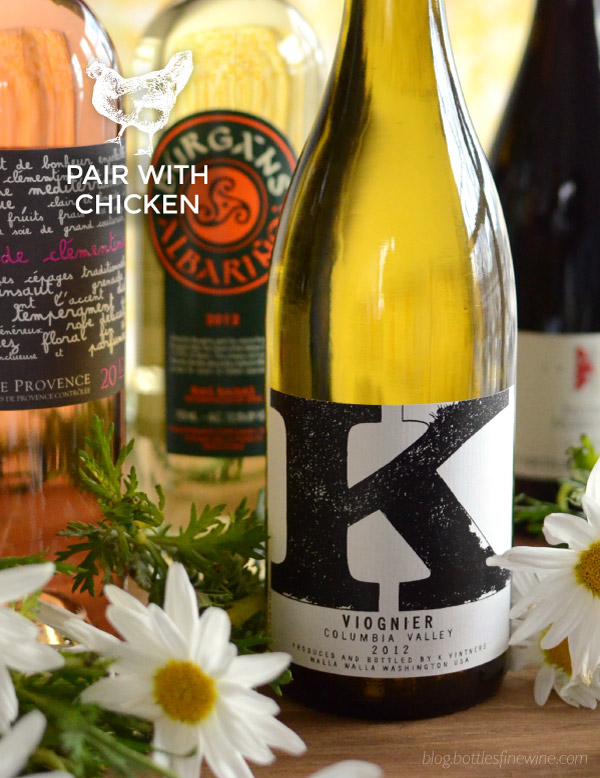 Viognier is best known for coming from the Rhone Valley in France and is more of a savory wine than a fruity wine.  Viognier has the rich body of Chardonnay, but without any of the oak and butter flavors that Chard can often have.  Look for cool aromas of ripe Meyer Lemon and sandalwood, with flavors of dried orange rind, honeydew melon and beeswax.  Great with chicken and complex and concentrated sauces. $24.99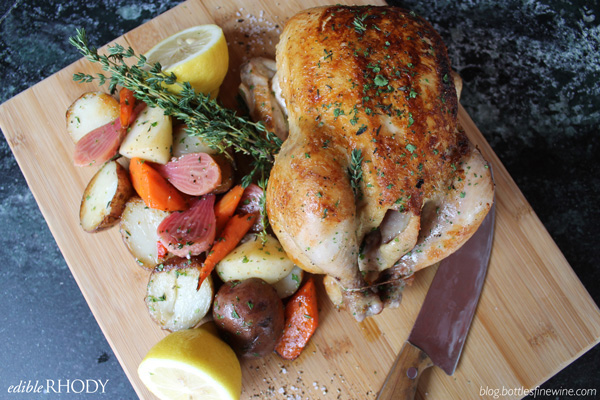 Herb-Roasted Spring Chicken with Roots, Sweet Peas and Buttery Onion Jus
by Beau Vestal, chef, New Rivers, Providence
Roast chicken is perhaps my all time favorite go-to recipe: simple, satisfying and representative of the cooking at New Rivers. The quality of the ingredients is paramount, so get the best bird and vegetables you can find, and enjoy this delicious spring feast!
Chicken:
3 tablespoons unsalted butter, room temperature
2 cloves garlic
1 tablespoon each fresh mint, parsley, thyme leaves
Grated zest and juice of 1 lemon
Kosher or sea salt
Freshly ground black pepper
1 (4-pound) free-range chicken
Vegetables:
1 pound spring parsnips, peeled and cut into 2-inch pieces
1 pound chiogga or golden beets, peeled and cut into 2-inch pieces
1 pound carrots, peeled and cut into 2-inch pieces
1 pound small fingerling potatoes, washed
Extra-virgin olive oil
Buttery Onion Jus:
2 cups homemade or unsalted chicken broth
½ cup green onions, washed and chopped
2 cups shelled English peas
4 tablespoons unsalted butter, room temperature
Juice of 1 lemon
In a food processor, blend butter, garlic, herbs, lemon juice and zest, ½ teaspoon salt and ½ teaspoon pepper into thick paste. Rub liberally all over chicken, inside and out. Season liberally with salt and pepper. Truss (tie) legs with butcher's twine. Let sit for 30 minutes to 1 hour. Preheat oven to 350°.
Toss root vegetables in enough olive oil to coat, add salt and pepper to taste and arrange in single layer in a heavy roasting pan. Place chicken on top of vegetables. Roast for 50–60 minutes. Raise heat to 425° and roast additional 6–8 minutes to get skin golden and crisp. (Chicken should register 165° with an instant-read thermometer inserted between thigh and breast.)
Remove pan from oven and transfer bird and vegetables to large sheet tray and tent with foil to rest and keep warm. Remove excess fat from roasting pan and put over burner at medium heat. Add chicken broth and scrape up any brown bits. Reduce by half. Add green onions and peas and whisk in butter 1 tablespoon at a time. Season with salt, pepper and lemon juice to taste. Carve chicken and serve with roasted veggies and spring onion jus. Serves 4–6.