Beware the ides of March? Well perhaps Mark Antony was on to something but that was way before this CoronaVirus was a thing. On the positive side of March, the sun is out, the skies are clear and there isn't a snowflake to be found near 141 Pitman. What can be found inside (besides ample amounts of hand sanitizer) is the first crop of Rosé season. We are delighted to see these fresh pink colors begin to brighten the store and lift our spirits. Here is a list of Kate's Fresh Picks.  Cheers!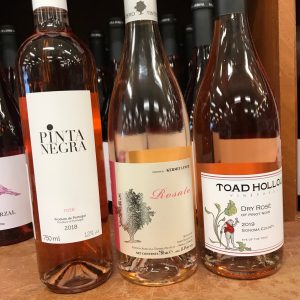 Pinta Negra Rosé   $6.99
Portuguese wines are super popular in the wine market right now!  They are some of the best values you can buy.  This one is so good, you would never think it's only $6.99!  I dare you, bring this to a party and have your friends guess the price, I'm sure they will overshoot it and be pleasantly surprised.  This is also an easy case grab for your summer parties!
Tintero Rosato   $14.99
Our staff favorite Rosé of the year is back!! This one is spritzy and fruity with hints of watermelon rind and tart raspberries.  Tintero is a vineyard in Northern Italy, specifically in Piedmont.  This Rosato is a blend of 90% Barbera and 10% Arneis, who knew! This is always the first Rosé of the year to sell out, so grab some while you can!
Toad Hollow Rosé   $14.99
The Chardonnay from Toad Hollow has always been a hit here and this year we are featuring their dry, thirst-quenching, refreshing Rosé!  A rosé of Pinot Noir is always a treat, and this one is a great value from California.  This baby is a perfect patio sipper for all those warm days coming up!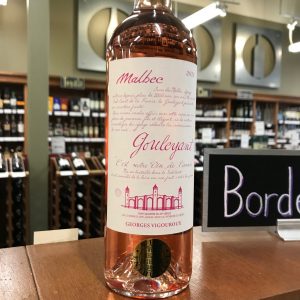 Gouleyant Malbec Rosé   $11.99
Malbec is an extremely popular red wine for us at Bottles.  They are fruity, easy-drinking, and fun! Now, try a Rosé made from Malbec grapes!  This one is from southern France and has a perfectly electric, pink hue!  Dry and zingy, enjoy with cheese platters and seafood!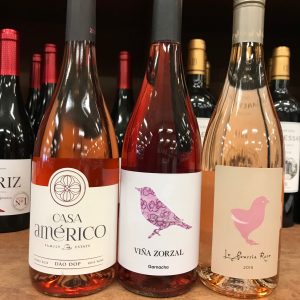 Casa Americo Rosé   $9.99
Another 'ol Bottles favorite making a comeback!  A classic blend of the Portuguese grapes, Touriga Nacional and Alfrocheiro.
Vina Zorzal Rosé   $11.99
A unique, darker style of Rosé made from 100% Garnacha grapes!  This is one of the 'punchiest' Rosés of the season!  This reminds me of fruit punch, without the sweetness because of it's dark, magenta color.  It is like eating a juicy raspberry and a lemon wedge at the same time.  Enjoy this with all the BBQ foods this summer!
Le Poussin Rosé   $11.99
One of the few Rosés that we feature with just a kiss of sweetness.  A French wine with flavors of cotton candy, strawberries, and watermelon.  Since there is that hint of sweetness, this works wonderfully with spicy foods, like tacos!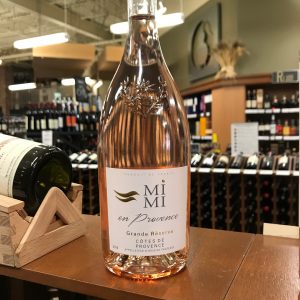 Mi Mi en Provence   $18.99
Not only is this a beautiful bottle with a glass closure, but inside contains a magical Rosé made by unicorns! Not really, but it is a scrumptious and classic Provencal Rosé, so bring this to your springtime picnics with all the sandwiches and snackies!
Les Dauphins CDR Rosé   $10.99
A blend of Grenache, Cinsault, and Syrah which shows flavors of white peach, nectarine, and cranberry.  Dry, light, and a total crowd-pleaser! It's richer than most and picks up those lovely garrigue flavors of rosemary, wild oregano, and lavender.
Prices subject to change