If you are looking to ring in the new year with some bubbles, you need to look no further. Kate and Eric have nailed a selection of fun fizz that will please even the most decerning of palates. These bottles span the globe and come in at various modest price points from $11 and up. Perfect to hoist a flute while you toast the start of a wonderful 2020. Cheers!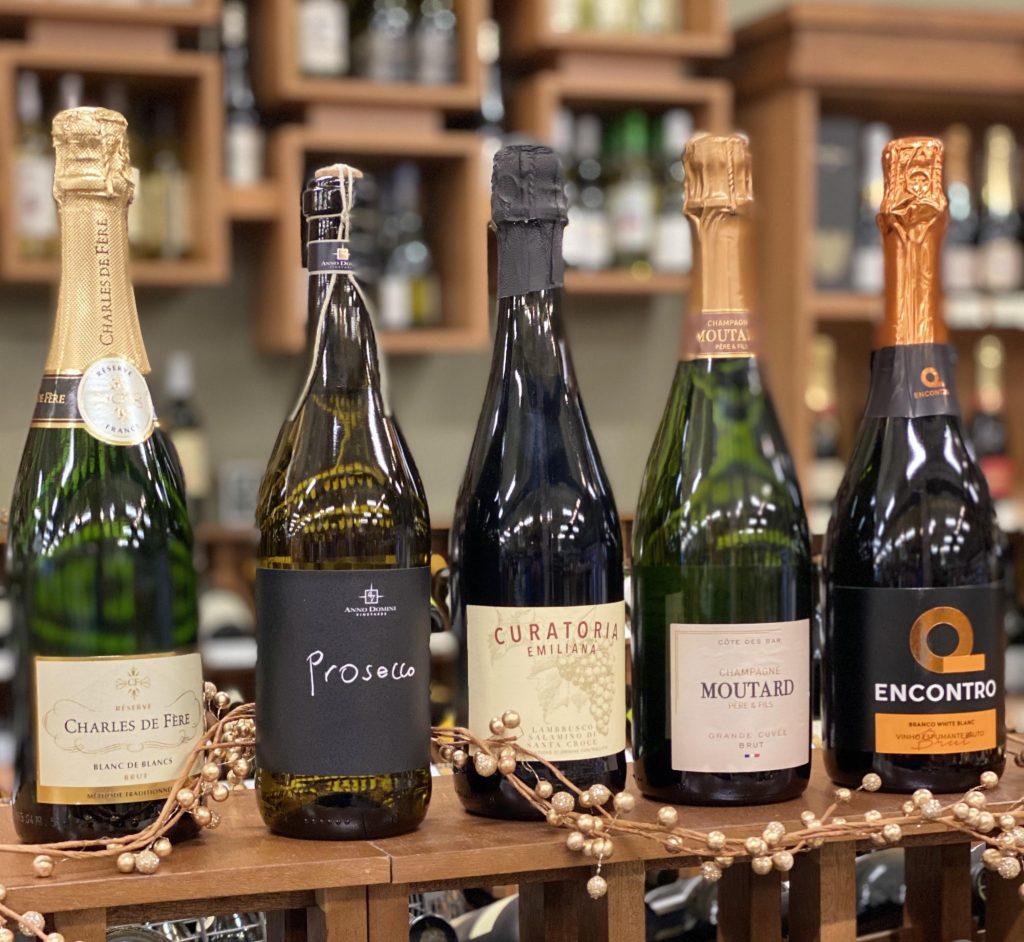 Charles de Fere Reserve Blanc de Blancs Brut $14.99
Crafted in Burgundy at the Boisset family's state-of-the-art sparkling wine facility this Brut is rue to its roots. Charles de Fère's grapes continue to come from diverse terroirs throughout France, ensuring the best possible fruit for consistently excellent sparkling wines at a great value. A traditional method wine production with a second fermentation in the bottle, then aged in riddling racks for at least 12 months. This pale and brilliant gold wine has white fruit and floral aromas with a lively and crisp bubble attack. The palate is elegant, long-lasting and well balanced between freshness and fruit.
AD47 Prosecco $10.99
This has become a staff favorite for its taste, versatility and wallet-friendly price. Meant to be drunk young, this is great for sipping or mixing excellent mimosas or a refreshing Aperol spritz. It features a characteristic straw-yellow color with a bouquet of apple. This pleasant prosecco is delicate, fruity and dry with a velvety-fresh, vibrant full-bodied finish. Excellent acidity and alcohol and long-lasting flavor. 
Curatoria Emiliana Lambrusco Salamini di Santa Croce $12.99
Lambrusco Salamino di Santa Croce is one of the Lambrusco DOCs situated in Emilia-Romagna in northern Italy. The wine is known for its deep ruby color, its exceptional fragrance, and refreshing fruitiness. It offers the most structure in comparison to other Lambruscos and is made to match the northern Italian cuisine, such as cotechino (a slow-cooked sausage) with beans or lentils and Parmigiano Reggiano cheese. Perfect for pizza!
Champagne Moutard Grand Cuvee Brut $39.99
This sparkling French wine gem carries a historic family tradition of Champagne growers/winemakers dating back to 1642. The families of Champagne Moutard Diligent have been living in the village of Buxeuil since the mid 17th century, and have a long tradition of both grape growing and wine production. 
Located in the Côte des Bar, the vineyard soils are made up of clays and limestones, lending to rich, fruity aromas and good minerality. Cellar-aged for at least three years, this beautiful Champagne of 100% Pinot Noir received outstanding scores of 91 points from Wine Spectator and Tanzer, 90 from Wine Advocate, and other 90+ accolades.
Complex and nuanced with fine, intense bubbles on the tongue, yellow-gold in color, a bouquet of fresh pears, almonds, apple and minerals followed by rich flavors of honey and ripe stone fruits. This Champagne has a remarkably long, delicate finish. Pairs well with just about anything especially sweet desserts. 
Encontro Vinho Espumante Bruto $10.99
Winemaker Osvaldo Amado has been making wines since 1986, he is a great connoisseur of the Portuguese viticulture. Dão, Alentejo, Douro, Vinhos Verdes, Lisbon, and Bairrada are the regions where he presently vinifies. He already vinified in Spain, Italy, and South Africa and presently in Brazil. In Portugal, he is responsible for producing about 15 million bottles a year. Osvaldo Amado's wines have been awarded consecutively and received more than 600 medals between Gold and Silver. The Encontro is a citrine color with fine bubbles and a persistent aroma fruit, citrus, hazelnut, and biscuit. Fruity, fresh, smooth crisp and elegant persistence.
Prices and selection may vary