Let's talk about chilled soup! You read that right, cold soup. Stay with me! Once we are done, you'll want to try this dish that has been around for centuries.
We haven't forsaken our rosé wine pairing, and so suggest you try this Chilled Fresh Green Soup from Edible Rhody with a tall (and equally as chilled) glass of Gobelsberger Rosé.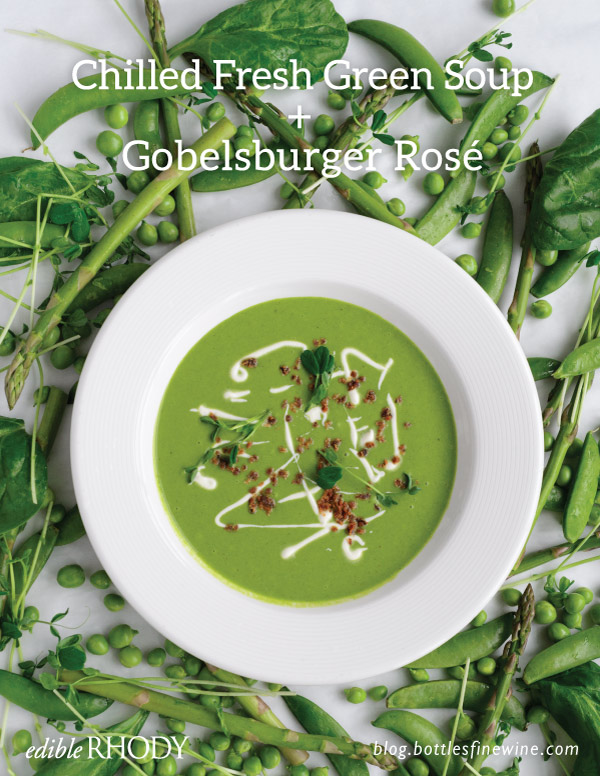 Chilled Soup
Sounds questionable, right? But, it's actually quite refreshing and a great way to get your soup kick during hot weather.
Soup has been around for centuries and is one of those dishes that you can just throw together, although be careful because it is also very easy to mess up.
At some point, in some village, way back in history, someone began to serve soup cold and it has continued going strong in the food industry ever since. However, one can not serve just any soup chilled. There are particular types that have been tested and proven over the years. Below is a brief breakdown that will help you in understand these various soups.
– Gazpacho: Originating in Spain, it is made with raw vegetables and usually has a tomato base.
– Vichyssoise: Pureed leeks, potatoes, onions, cream and chicken stock that originated in France.
– Cucumber: Fresh cucumbers blended with spices, vegetables or fruits. Other variations are sometimes cooked in some sort of broth and served hot or cold.
– Fruit: Berry and stone fruit soups are traditional to Scandinavia or Eastern Europe and are served with crème fraîche or sour cream. They sometimes include dumplings, milk, spices, or alcoholic beverages.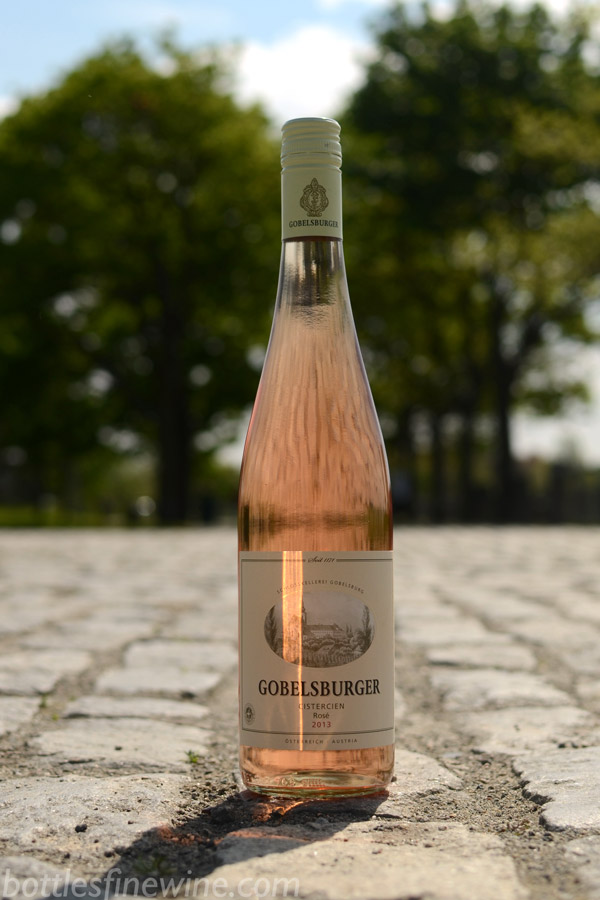 Gobelsburger Rosé
Founded in 1074, the monks of the Zwettl Monastery were granted their first vineyards in 1171, which are the oldest documented sites in the Kamptal region.
Taken over by Michael & Eva Moosbrugger two hundred years later, they have brought back the prestige the winery once had and are considered to be leaders in quality and innovation. Awarded 'Winemaker of the Year' in 2006, the highest award given to an Austrian winemaker, and 'One of the Top 100 Wineries of the Year' in 2009 and 2010, Moosbrugger continues to produce wines with individuality and character. Maintaining their organic practices since 1958, Schloss Gobelsburg is known mostly for their Gruner Veltliner and Riesling, however, they also produce a delightful rosé that is our all time favorite every year.
Refreshing and elegant with a light spritz, take one sip of this rosé and you'll understand why we can never wait for it to arrive. Aromas and flavors of bright citrus, wild cherry, and fresh berries with a hint of salinity on the lively finish, makes this wine a universal food pairing. Pair it with this cool, earthy and slightly spicy soup for a a nice balance of "sweet" and savory. I know, a cold soup with a cold beverage but trust us, you won't be sorry.
Chilled Fresh Green Soup
Executive Chef Matthew MacCartney, Jamestown Fish, Jamestown RI
In 1993, at 20 years old, while still in culinary school, I was fortunate enough to get a position at Restaurant Daniel in their garde manger. One of the signature appetizers was a chilled spring pea soup with rosemary cream and bacon "dust." I've used it as an inspiration for my own green soup, sans dust. This recipe can change with the seasons using asparagus or green beans as they're available. The cool, green, silky, soup will sneak up on you with a pleasant touch of spice. Enjoy!
2 tablespoons extra-virgin olive oil
1 small yellow onion, finely chopped
¼ cup heavy cream
4 slices bacon (optional)
2 cups shelled English peas
1 cup sugar snap peas
1 tightly packed cup fresh spinach
3 cups chopped fresh green beans
½–1 cups cooking liquid
1 teaspoon Ras al Hanout (Moroccan spice blend)
¼ teaspoon cayenne pepper
Kosher or sea salt
¼ cup crème fraîche for garnish (optional)
Pea tendrils or chives for garnish (optional)
Heat olive oil in a small sauté pan over medium heat. Cook onion 2 minutes, then add the cream. Cook 2 more minutes and remove from heat. Cook bacon until crispy. Let cool and process in a food processor until finely chopped. Set aside.
Bring 2 quarts of salted water to a boil and blanch each of the green vegetables separately until tender but still bright green. Immediately shock them in ice water to retain the color and stop the cooking.
In a blender, combine all the vegetables with the cream (in 2 batches) adding a little cooking liquid to each batch to get the blender going. Pass the purée through a fine-mesh sieve and discard the fibrous remains. Add the spices and salt. Season to taste. Refrigerate until ready to serve.
To serve, divide soup among 6 shallow bowls. Drizzle each with approximately 1 tablespoon crème fraîche. (Note: You may want to add a touch of milk to the crème fraîche so it coats the back of a spoon before drizzling.) Sprinkle with bacon and pea shoots or chives and serve. Serves 6 as an appetizer.