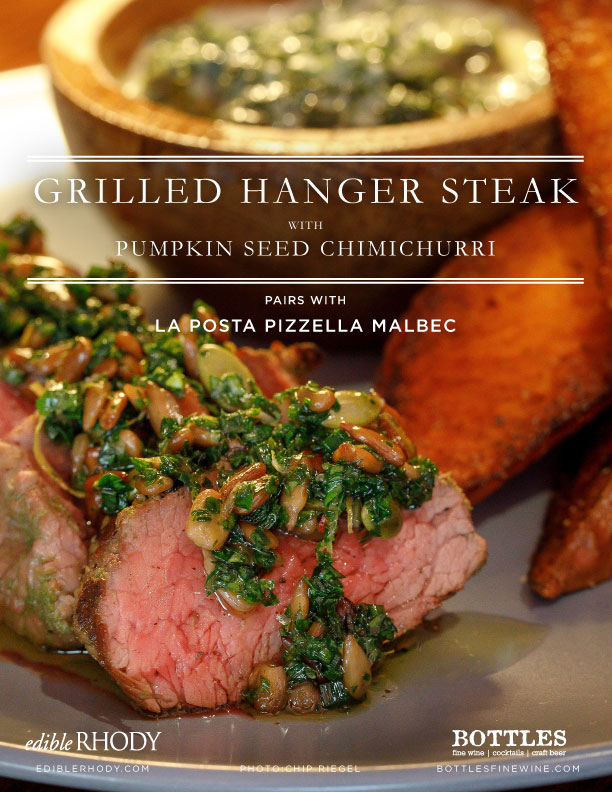 When we opened the current issue of Edible Rhody and saw New Rivers Chef Beau Vestal's very delicious take on the traditional "steakhouse" dinner, our minds immediately went to the classic "steakhouse" pairing: a big 'ole bottle of hearty red wine.
It's an enduring, no-fail pairing that's enjoyed nightly in steakhouses across the county. And given Chef Beau's simple recipe for all the fixins, there's no reason you can't replicate it at home. Says Chef Beau:  "A quick herb rub and a short time on the grill makes hanger steak, one of the most flavorful cuts of beef, really sing. Serve the steaks with roasted spiced sweet potatoes and lightly creamed kale and any autumn night can be steakhouse night!
And for our wine pairing we turned to our brand new Wine Director Melissa Principe, whom you'll be hearing a lot from in the coming weeks. We're excited to have her with us and can't wait for you to meet her.
Melissa paired the steak, sweet potato & creamed spinach with the 2016 La Posta Pizzella Malbec ($17.99): "I have had the pleasure of visiting this vineyard and meeting the Pizzella family. Argentina has a deep history of Italian immigrants and the La Posta project highlights those connections with these single vineyard wines. Chef Beau's recipe reminded me of the amazing lunch we had at the vineyard that highlighted the natural pairing of beef and malbec. The Pizzella is full and lush, and hits you at first with a nose of dark berry fruit and cocoa, then unfolds with a beautiful pink peppercorn spice on the finish. The longer it's open, the deeper the cocoa gets, and the richer the berry flavor. It's a big wine for a big steak dinner!"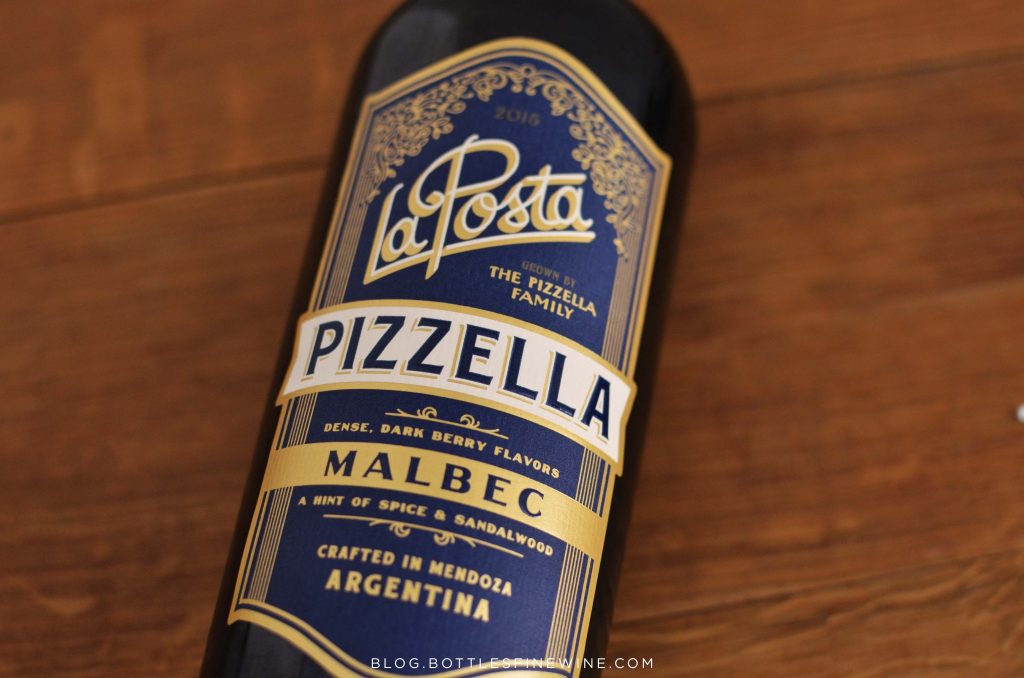 Chef Beau Vestal's Grilled Hanger Steak and Sweet Potato "Steak Fries" with Pumpkin Seek Chimichurri and Lightly Creamed Kale

INGREDIENTS
Chimichurri:
½ cup fresh parsley, coarsely chopped
¼ cup fresh oregano, coarsely chopped
4 tablespoons apple cider vinegar
3 large garlic cloves, finely chopped
1 teaspoon red pepper flakes
1 teaspoon kosher salt
1 teaspoon cracked black pepper
3 tablespoons pumpkin seeds (or pepitas), shelled and toasted
½ cup extra-virgin olive oil
Sweet Potatoes:
3 large sweet potatoes (about 2 pounds), washed and cut into ½-inch-thick wedges
2 tablespoons extra-virgin olive oil
½ teaspoon ground allspice
½ teaspoon ground fennel seed
1 teaspoon kosher salt
1 teaspoon cracked black pepper
Steak:
¼ cup fresh rosemary leaves
¼ cup fresh sage leaves
4 tablespoon olive oil
1 teaspoon cracked pepper
1 teaspoon kosher salt
6 (6 ounce) pieces hanger steak
METHOD

First make the chimichurri: Combine parsley, oregano, vinegar, garlic, red pepper flakes, salt and black pepper in a food processor and blend until smooth. Transfer to a bowl and add pumpkin seeds and olive oil. Stir to combine. Check seasoning and set aside.
Preheat oven to 400°F. In a large bowl, toss together the sweet potatoes, olive oil, allspice, fennel, salt and pepper. Arrange slices in single layer on a lined baking sheet. Bake for 10 to 12 minutes. Rotate pan and flip sweet potatoes over to ensure even browning. Bake additional 10 minutes until potatoes are "fork-tender" and nicely browned.
For the steaks, add fresh herbs, olive oil, salt and pepper in a blender and purée until smooth. Rub all over steaks until steaks are well-coated. Let them sit while you heat up the grill (or use a grill pan over high heat).
Grill steaks over high heat about 3 to 4 minutes per side. (A meat thermometer should read 130ºF for medium-rare to medium.) Pull steaks off grill and place on plate tented with foil to keep warm until ready to serve. Drizzle steak with chimichurri and serve alongside sweet potatoes and the creamed kale. Serves 6.
Enjoy!
# # #