As promised last week, here is another batch of excellent gifts that are sure to please. Most will not break the bank while delivering delight. There are some featured gift packs and a fresh crop of seasonally appropriate spirits. All of the selections are available in-store while supplies last.
Gift baskets are ideal for any friend, family member or host gift. We can custom create whatever basket may tickle your fancy (or the recipients really). Any variety of wines, beers, bubbles or spirits at any budget. Click Here for some inspiration. Not sure what to get? How about some Private Barrel Whiskey or Gift cards are always perfect. For gifts that keep on giving Wine and Beer of the Month clubs with highly allocated and limited quantity selections are always a great idea. We can even help you to have them shipped or delivered door to door. Get something engraved with a personalized message and create a gift that will be lasting memories.
'Tis better to give than receive!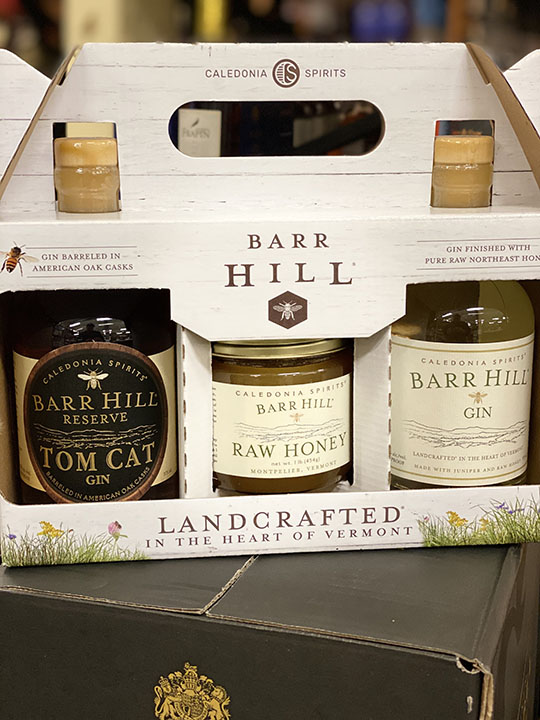 Barr Hill Gin Gift Set   $59.99
A gift set made for all the gin lovers out there! Coming from our friends over at Caledonia Spirits, this set includes a 375ml of both their classic Barr Hill Gin as well as their Tom Cat Gin. As if that weren't enough to make us wish it were cocktail time, there is also a jar of their creamy dreamy raw honey. Something for your morning tea as well as your evening G&T! The best of both worlds!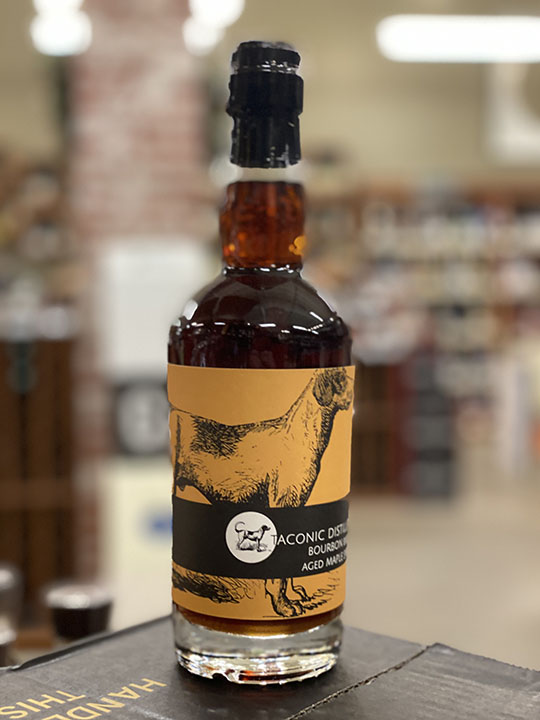 Taconic Bourbon Barrel Maple Syrup   $24.99
Hailing from Stanfordville, New York; Taconic Distillery produces small-batch bourbon and rye whiskies. They take organic Grade A maple syrup and age it in their Dutchess Private Reserve bourbon barrels. Such a perfectly delicate sweetness balanced by the vanilla kiss of bourbon oak. This wants to be on just about anything you can get your hands on. Treat yourself to this luxurious maple syrup and you will not be disappointed discovering its many uses!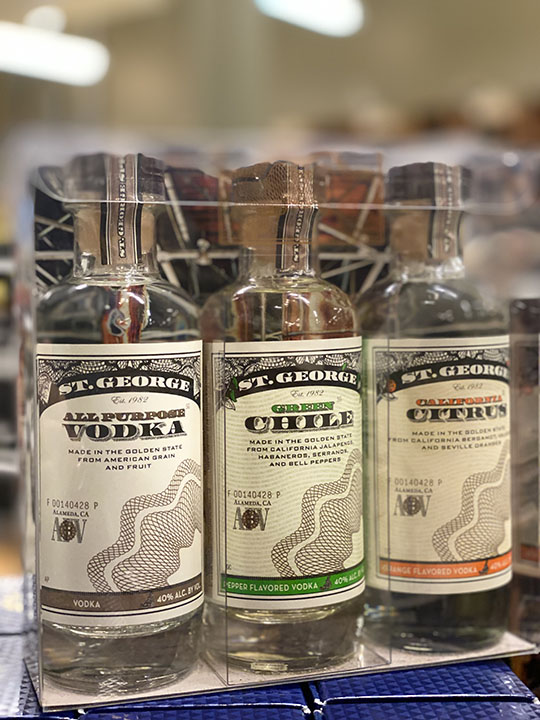 St. George Vodka Gift Set   $24.99
From one of our favorites St. George; this vodka set includes their all-purpose, citrus, and green Chile vodka.  Their all-purpose vodka is distilled from pears, which does not lend any flavor but rather a nice body and light floral notes. Their citrus vodka is the same base but with the addition of California grown Valencia, Seville oranges, and bergamot. Last but not least their chile vodka is made with jalapeno, Serrano, habanero, red, and yellow bell peppers (try in a bloody mary!) The perfect way to sample outstanding vodkas!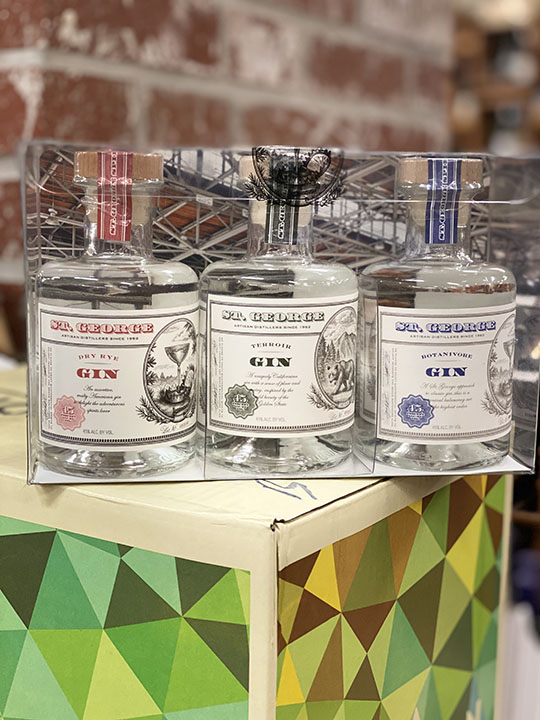 St. George Gin Gift Set   $24.99
First up is Terroir, which is made with Douglas fir spruce tips, California Bay Laurel, and coastal sage. Heady and chock full of herbaceous notes this is a very pretty gin. Botanivore, is the nod to a traditional London Dry. Made with juniper berries, angelica, dill, and fennel, this gin is crisp and the ideal for a perfect G&T. The Dry Rye is made with juniper, caraway, black peppercorns, and coriander which lend a fantastic spice and rich mouthfeel. Each one wonderful in its own way, this set lets you appreciate those differences side by side!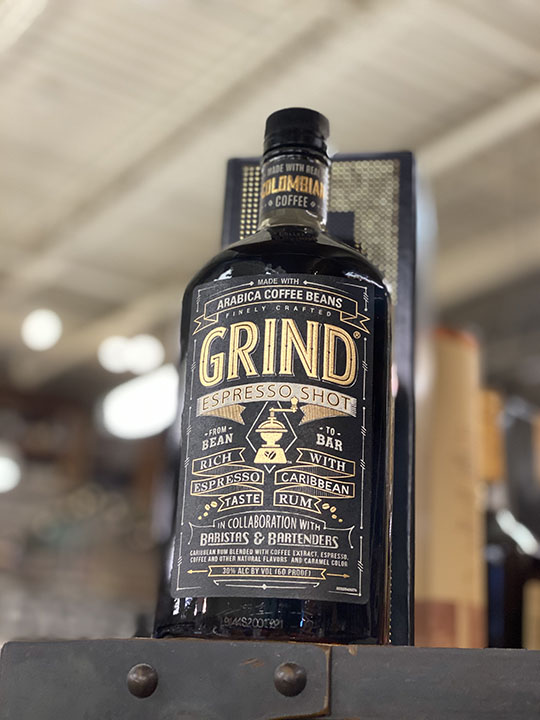 Grind Espresso Liqueur   $19.99
This is what happens when a barista befriends a bartender! A base of Caribbean rum is blended with medium roasted Arabica coffee beans. The resulting liqueur is sweet yet balanced and rich with roasted coffee notes. Outstanding quality for a great price point!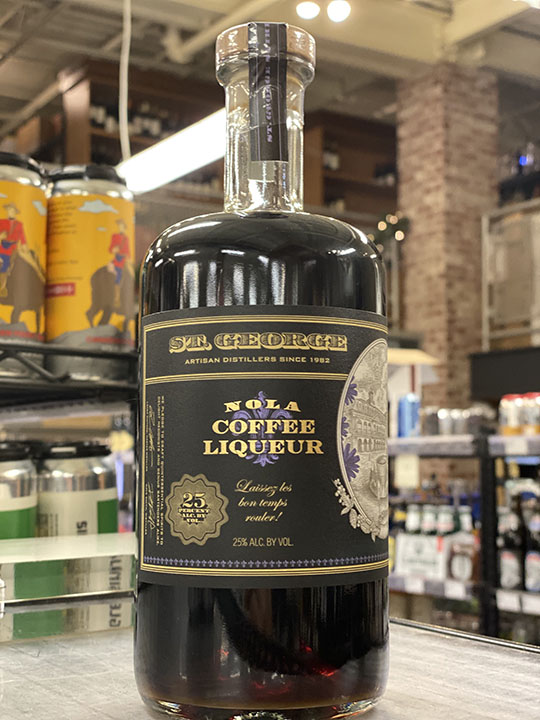 St. George NOLA Coffee Liqueur   $34.99
An ode to the city this is named for, NOLA is made with Ethiopian Arabica beans, French roasted chicory root, Madagascar vanilla bean, and organic demerara sugar. Easy to enjoy on its own, it is smooth and full of dark roasted flavor. This is an indulgent sipper for after dinner or perfect for splashing in a cup of coffee!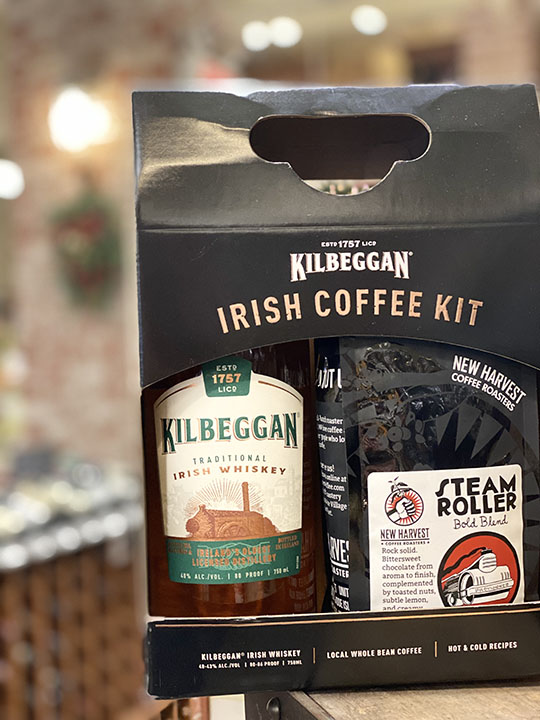 Kilbeggan Single Grain Irish whiskey And New Harvest Coffee Gift Set   $39.99
Collaboration between New Harvest Coffee Roasters and Kilbeggans Distilling Company, this gift set is a delicious take on the classic tipple: Irish coffee. The perfect way to warm your bones during these cold winter months, this is a definite step up in quality. Kilbeggans single grain is a sweet and easy to drink whiskey with flavors of vanilla wafers, hazelnuts, and candied fruit. The Steam Roller blend is a darker roast of Guatemalan and Colombian beans. A perfect accompaniment to the smooth Irish whiskey!
RumChata Horchata Cream Liqueur   $21.99
Horchata is a refreshing spiced almond and rice beverage from Mexico. RumChata is rum based and has a luxuriously nog-like texture with notes of almonds, cinnamon, and nutmeg. A sweet dessert style liqueur that is easy to enjoy on its own it also a very fun addition to any cocktail where you would use cream liqueur. Fun Fact: Equal parts RumChata and Fireball make a 'Cinnamon Toast Crunch!'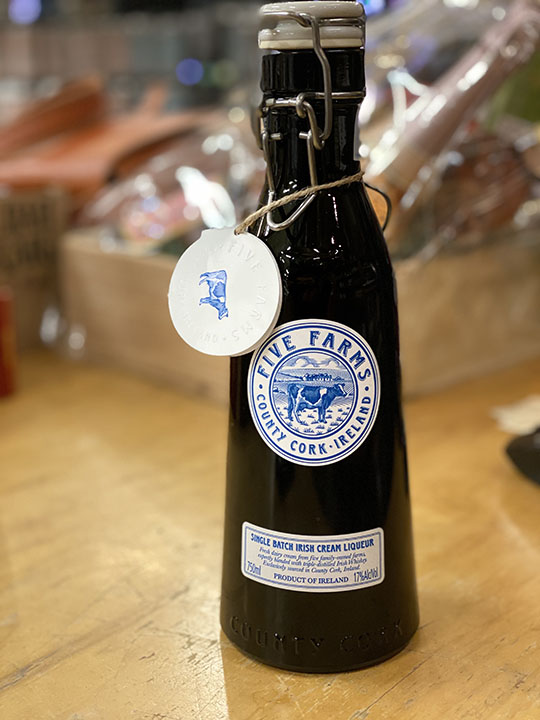 Five Farms Irish Single Batch Irish Cream Liqueur   $36.99
Proving yet again that good quality Irish dairy produces a better product. Five Farms starts with a base of cream blended with Irish whiskey; flavors of butterscotch, vanilla, and Belgian waffles greet you with the first sips. Packaged with much case so as to represent what a unique and special liqueur this is. Sip chilled with dessert or try in a cup of coffee!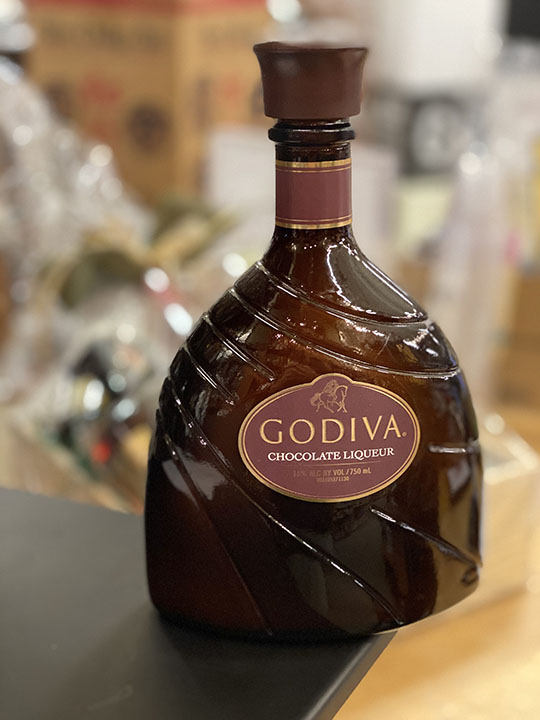 Godiva Chocolate Liqueur   $34.99
You can't mention chocolate and not think of Godiva, the famed chocolatier from Belgium. This liqueur is creamy and rich with balanced milk chocolate sweetness. Your guests will have a hard time turning down this after dinner sipper. While delicious on its own, it is delicious on top of ice cream and other desserts!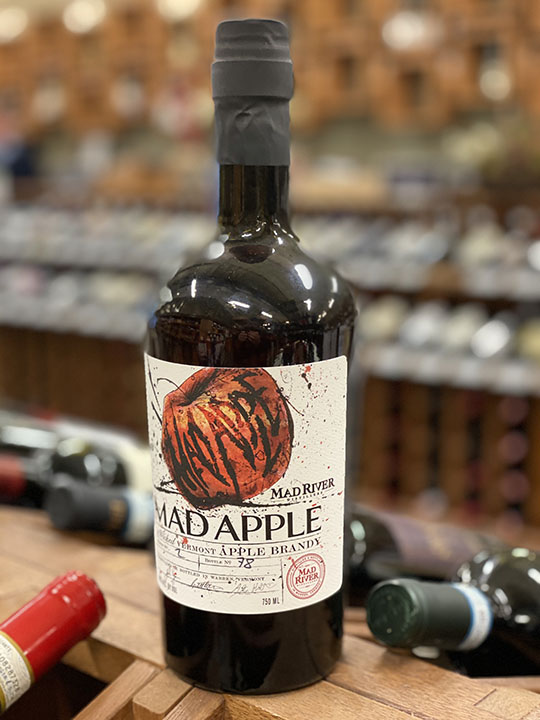 Mad River Mad Apple   $44.99
Mad River Distillers are based in Burlington, Vermont. In honor of both their love of European apple brandies and the bounty of New England apples, they created Mad Apple. Crafted from heirloom varieties as well as locally pressed ciders, this brandy reflects the care that has been put into it. The palate strikes a perfect balance between oak spice, vanilla, and the taste of crisp apples. Perfect to use in place of any calvados!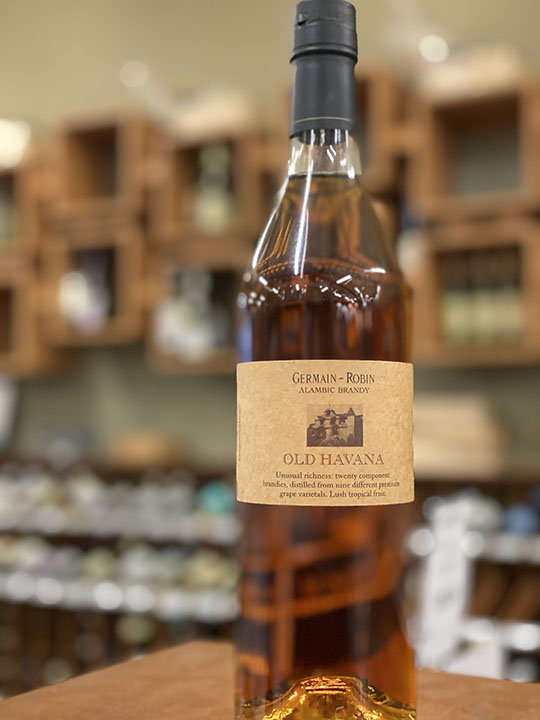 Germain-Robin Old Havana   $114.99
This bottling is the result of three forgotten barrels that had been aging at Germain-Robin. A quarter of a century-old now, this cognac is comprised of twenty different base brandies. The palate is lush and mouth coating, with notes of candied orange peel, and delicate oak. Crafted by Germain-Robin to be best enjoyed with a fine cigar, this is for all the aficionados!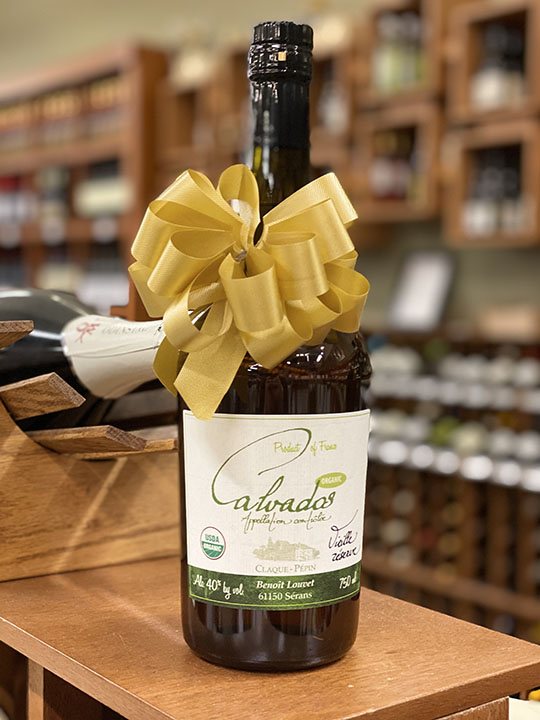 Claque Pepin Calvados Reserve   $42.99
The first certified organic calvados to have been available in the US! Traditional in style with a smooth and inviting taste it has deep flavors of poached apple, pear, cinnamon, and baked pineapple. The finish is lengthy with hints of dark brown sugar, and caramel. An absolute classic with the added bonus of being organic!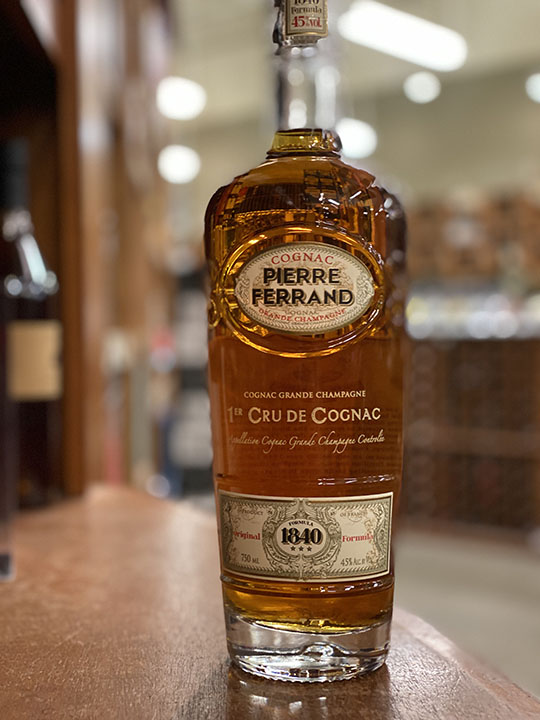 Pierre Ferrand 1840 Original Formula   $44.99
This expression from Pierre Ferrand is modeled after an extremely rare and well-maintained bottle of 1840 Pinet-Castillon Cognac. Wanting to try and capture that same sort of magic, ferrand blended with the goal of producing a cognac that while could be enjoyed on its own would hold its own in a cocktail as well! While it was bottled at a slightly higher ABV the palate is filled with notes of vanilla, caramel, and butter.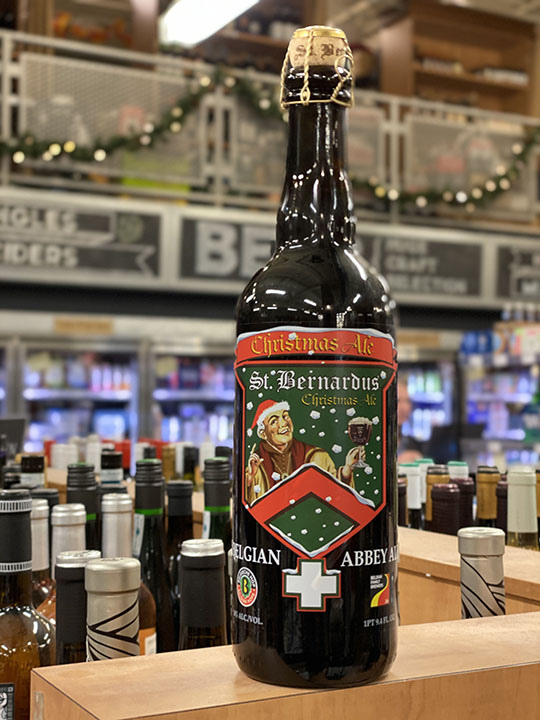 St. Bernardus Christmas Ale $13.99/750ml   $24.99/4pk
What would the holidays be without this yearly classic from St. Bernadus? A Belgian Quad, this one is traditionally made and perfect for warming up on those cold winter nights. The palate is smooth and rich with a strong malty backbone. Flavors of stewed fruits, sticky toffee, Christmas bakes, and baking spices strike a lovely balance against the heavy body. Bundle up and enjoy this heavenly liquid fruit cake!
Whew! That's a ton of easy gifting. Happy Holidays y'all!
Selections are limited by availability. Pricing subject to change.