Star Wars ice cubes? Rhode Island themed beer mugs? How about an absinthe gift set? Who says grown-ups can't have fun gifts for Christmas! Check out this list of stocking stuffers for under $20 that will please and amuse folks that enjoy wine, beer, and cocktails.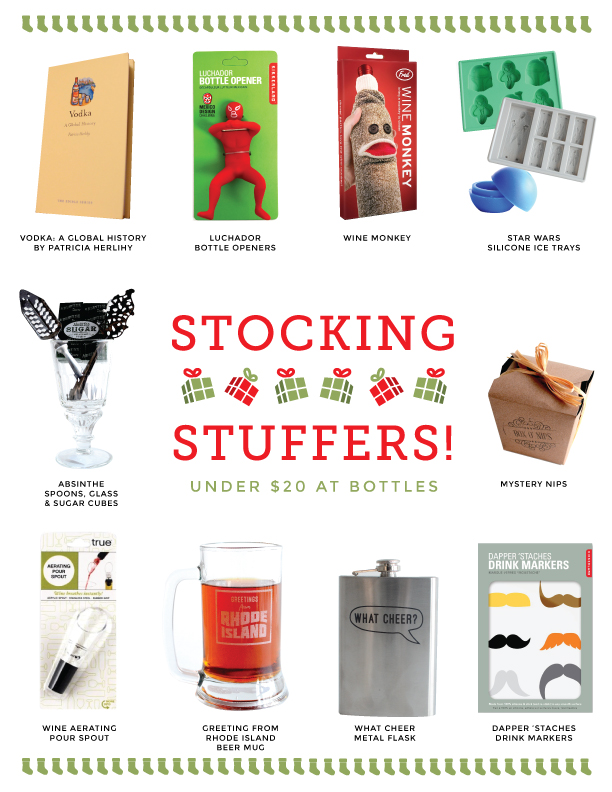 Vodka: A Global History by Patricia Herlihy – Learn about the history of vodka in this book with Patricia Herlihy, a Brown University professor and our favorite vodka expert around town!
Star Wars Silicone Ice Trays – Choose from a Death Star, Boba Fett, or Han Solo in Carbonite.
Lucahdor Bottle Openers – A mini wrestler applying a famous lock hold on your beer bottle!
Absinthe spoons, glass, and sugar cubes – All the accessories you'll need to enjoy Absinthe the traditional way.
Wine Monkey – Heading to a get-together? Slip a Wine Monkey onto your bottle of Bordeaux and you're covered.
Mystery Nips – A variety of liquor nips – it's a surprise what's in each box!
Wine Aerating Pour Spout – An aerating spout that draws oxygen into the wine, bringing our its full flavor.
Greeting from Rhode Island Beer Mug – A hefty beer mug etched with our very own 'Greetings from Rhode Island' design.
What Cheer Metal Flask – Original design by Bottles, and hand-engraved by our master engraver
Dapper 'Staches Drink Markers – Keep your party classy and your drinks distinguished. Simply apply one to your glass.
Cheers!
The Bottles Team