Finding the perfect gift for someone doesn't have to be tricky! If they enjoy a good drink, then they're sure to appreciate these gift ideas we've highlighted from our shop. We've separated this list into beer, spirits, and wine related gifts to make it a bit easier to browse. Of course, a festive bottle of wine or one of our Top Holiday Spirits are great choices, too. Stop by the store – we're here to help you pick the perfect gifts that they will truly appreciate!
And the best part of all this? We gift wrap! Happy Holidays from all of us at Bottles!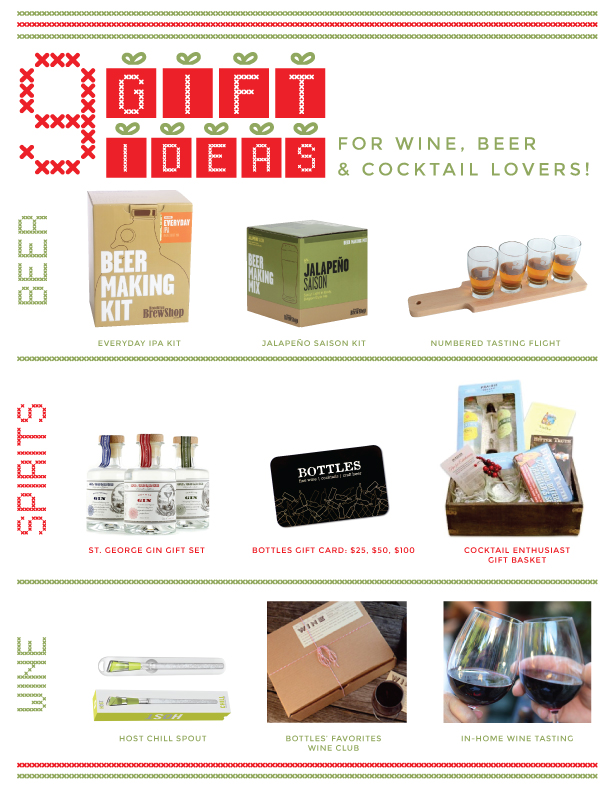 BEER
Everyday IPA Kit – Homemade beer! It's so easy with the Brooklyn Brewshop kit, no muss, no fuss, just fun!
Jalapeño Saison Mix – For the advanced home brewer with a taste for spice! All the ingredients to make a Belgian style saison with a kick!
Numbered Tasting Flight – A great way to show off a serious craft brew cellar, engraved here at Bottles! Check out more personalized gifts at theengravedbottle.com 
SPIRITS
St. George Gin Gift Set – St. George distillery out of Alameda, California brightens our day with its range of craft spirits! This gift pack contains 3 small bottles of their delicious gins. The Terroir gin contains Douglas fir, California bay laurel and sage. Truly a unique gift!
Bottles Gift Card: $25, $50, $100 – With so many spirits to choose from, it can be intimidating to select a bottle they're sure to love. A Bottles Gift Card gives them what they really want: the gift of choice, and an impressive selection interesting, unique spirits.
Cocktail Enthusiast Gift Basket – If you're not sure what items to include in a Bottles custom gift basket, we also have themed gift baskets ready to go. The Cocktail Enthusiast Gift Basket includes Prairie Gin and Vodka, The Bitter Truth Cocktail Bitters Traveler's Set, and a book about the history of vodka. Browse more Gift Baskets >
WINE
Host Chill Spout – Tired of running back to the fridge to freshen your guests' Chardonnay and missing a crucial part of the conversation? No more! Sit and relax while the Host Chill Spout keeps your wine chilled while sitting on the table.
Bottles' Favorites: Wine Club – Does your gift recipient love exploring wine? Give them access to what our experienced and discerning staff are drinking throughout the year. We'll deliver a selection of wine to their door each month. Visit bottlesfinewine.com/gifts to place an order.
In-Home Wine Tasting – Present them with a gift certificate for a world-class Wine Tasting they can enjoy in the comfort of their own home. One of the experts at Bottles will arrive at their door, wine in tow, ready to lead a relaxed, fun and educational tasting tailored to their tastes. Starting at $40 per person. Call (401) 372-2030 or email info@blog.bottlesfinewine.com to learn more!