Ah – here we are at last at the end of our rosé spectrum, with the wines that are darker, have a more intense fruit flavor, and finish on a savory note.
Though there's lots of variation within this subsection, these wines are all bone dry. They drink more like a red wine than their lighter counterparts and match well with the widest array of food – especially rustic summertime grilled fare.
This style is for you if:
-strawberry rhubarb pie is your jam, and you'd bathe in BBQ sauce if given the chance.
-you think white wine is for wimps and on wine lists you look for big-fruit/high-acid reds such as malbec, cabernet sauvignon and chianti.
Buyer Beware! Due to the significant supply and demand issues, availability of each bottle changes daily. If you find one you like, buy multiple bottles because it may not be in store on your next visit. And if it isn't, don't fret! Bottles will be your rosé HQ this summer so visit often for a rotating selection of delicious fine rosé wines.
Here are our favorite medium to full, rich & savory styles from the 2015 vintage: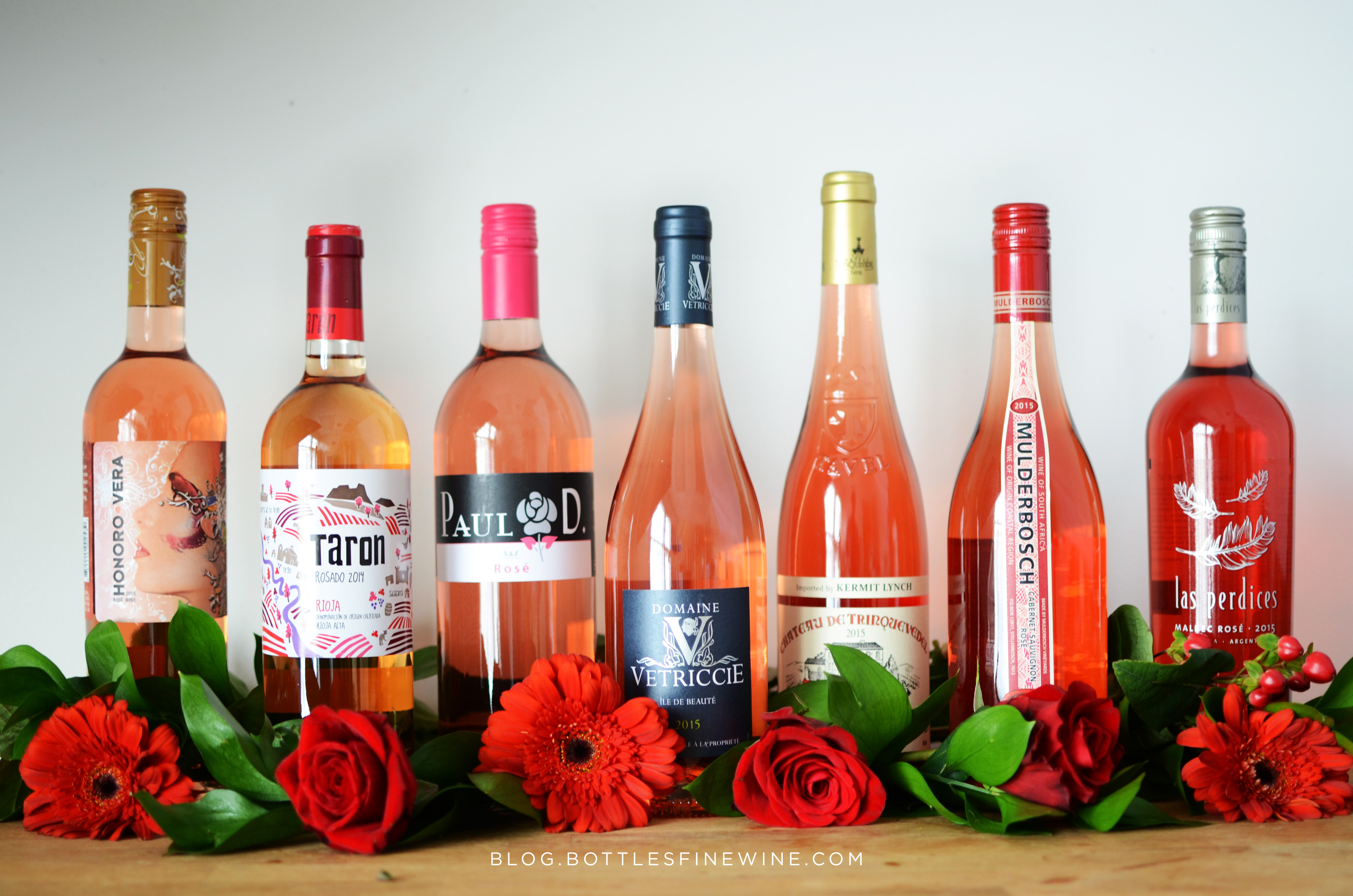 Honoro Vera, Spain
A powerhouse of a rosé. Said one of our regulars: "It's like a space party in my mouth!" Its refreshing flavors of strawberries & cherries are offset by an earthy dried-herb finish.
Taron Rosado, Spain
Debate reigns at Bottles on this one. Some find it subtle with light floral aromas. Others find it crisp with ripe strawberry flavors offset by subtle earthy notes. All find it eminently drinkable (especially given its low price).
Paul D., Austria
Clean and bright with flavors of honey, strawberry, dried apricot. Fresh, fruity, soft and smooth.
Domaine Vetriccie, Corsica
Big, bold fruitiness with notes of orange peel. Rustic Mediterranean summer wine at its best.
Chateau Trinquevedel, Tavel
A staff favorite, this Kermit Lynch import (ya'll know how much we love his wines) is dry, tart, spicy and herbal. It's the rosé for serious red wine drinkers.
Mulderbosch, South Africa
Tons of zippy flavor, this gem is balanced with fresh acidity and flavors of strawberries, cherries, and peach.
Las Perdices, Argentina
Big bodied, bold ripe cherry with a rich round finish. Toss a rib-eye on the grill and have at it.
###