The good news is the party's a raging success and your guests are having the time of their lives. The bad news is the party's a raging success and you're about to run out of booze. Here's how to never let that happen again.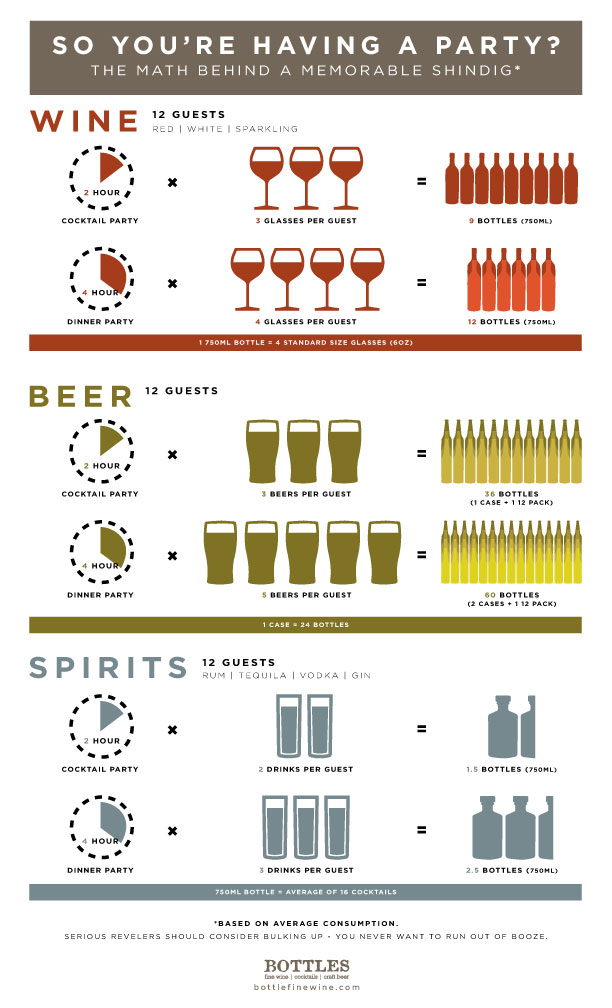 Now that you have that down, ensure your party's a smash by following these 8 Tips for Entertaining from team Bottles:
1. Don't forget mixers & garnishes. Figure 1 liter of soda water/tonic/juice for every 3 guests; plan on 1 lemon/lime/orange for every 3 guests as well.
2. Have on hand at least 1 lb. of ice per person for storage & drink-making purposes. Which means your ice trays aren't enough. Just go buy ice already, and put it in a cooler on the back porch. Trust us.
3. White wine is to be served chilled, not ice cold. Take your whites out of the fridge 10 minutes before serving. Most red wine is to be served a touch cooler than room temp. So don't store it in direct sunlight, or, gasp, near the oven.
4. Worried about temperature fluctuations when buying cold beer? Fear not. Too much light and extreme heat (think noon heat in an un-airconditioned-car in August) are what will damage your brews. Subtle temperature changes are fine.
5. Always serve food alongside alcoholic beverages.
6. Place pitchers of water near the bar – and keep them filled.
7. Have a designated driver – or your Uber account – queued up for over-indulgers.
8. Reduce party stress by ordering your bottles in advance either in-store or via phone, and Bottles will deliver to your door day of!
Cheers!