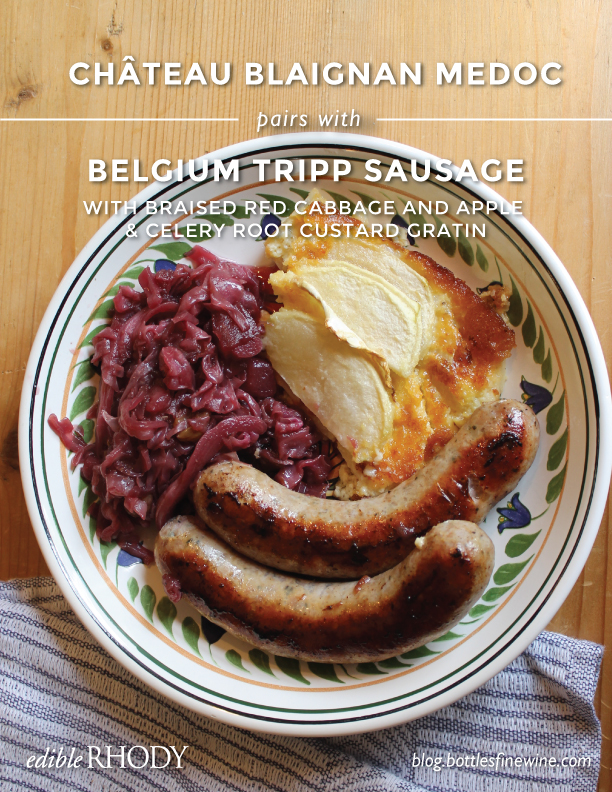 A rich and hearty feast deserves a rich and hearty wine! And with the colder weather, dishes like Chez Pascal's Belgium Tripp Sausage, recently featured in Edible Rhody Magazine, are ideal with Bordeaux wines.
Wines from Bordeaux contain mostly Cabernet Sauvignon and Merlot, both known for their power and elegance, and can stand up to and even enhance the full flavors of both the sausage and the cabbage.  I really recommend Chateau Blaignan from the Medoc.  It has both bold flavors of black fruits and notes of baking spices, like cardamom, that would be a perfect pairing, and especially delightful for a holiday dinner.
Looking for more great holiday wines? Read more about the Bottles Top Picks for the season!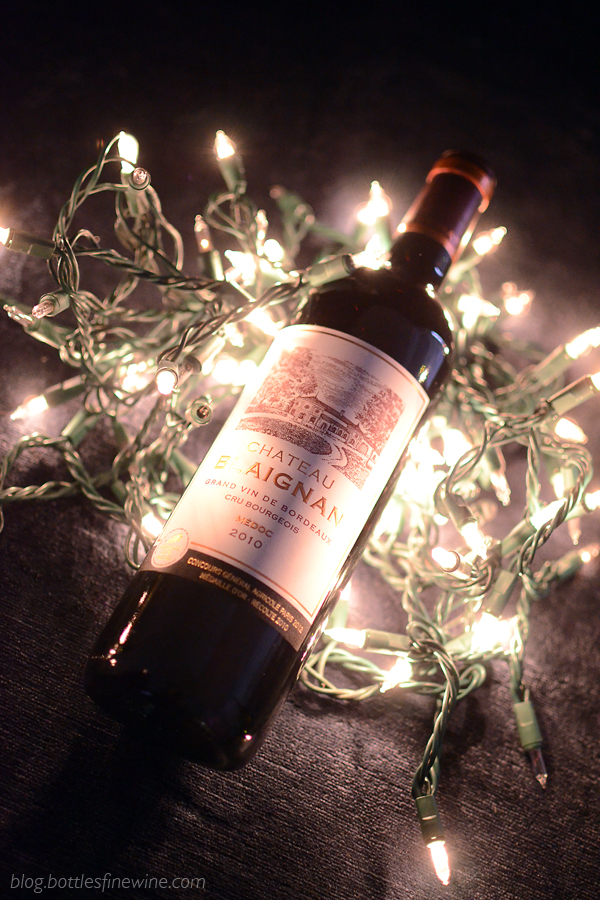 Belgium Tripp Sausage with Braised Red Cabbage and Apple & Celery Root Custard Gratin
by Chef/Owner Matthew Gennuso, Chez Pascal & The Wurst Kitchen, Providence
Perfect for a wintertime feast, this recipe combines savory sausage with a creamy gratin and mellow wine-braised cabbage. House-made sausages are available at the Wurst Kitchen at Chez Pascal but any favorite sausage will do. Braise the cabbage in advance to reheat on the stove and bake the gratin before serving.
Braised Red Cabbage:
4 cloves
8 peppercorns
1 bay leaf
2 pounds (1 small to medium) red cabbage, cored and finely shredded
1 medium onion, finely diced (or grated)
2 very firm (Honeycrisp or Granny Smith) apples, peeled, cored and diced
1 large Bartlett pear, peeled, cored and diced
½ cup golden raisins
½ cup red currant jelly
¼ cup sugar
1 cinnamon stick
1 teaspoon ground nutmeg
3 cups dry red wine
Apple & Celery Root Custard Gratin:
1 ½ cups whole milk
1 cinnamon stick
1 packet (2¼ teaspoons) active dry yeast
½ pound (2 sticks) unsalted butter, melted
6 tablespoons all-purpose flour
3 whole eggs
1 egg yolk
¾ cup sugar
½ tablespoon table salt
3 very firm (Honeycrisp or Granny Smith) apples, peeled, cored and sliced paper thin
1 pound (1 medium to large) celery root, peeled and sliced paper thin
6 links Belgium Tripp sausage (or your favorite variety)
1 teaspoon cooking oil
For the cabbage, preheat oven to 325°. Put cloves, peppercorns and broken-up bay leaf in a cheesecloth bag or a tea infuser and place in a large Dutch oven with remaining ingredients. Bring to a simmer over medium-high heat and then immediately place in oven. Braise covered, stirring occasionally for about 2 ½ hours or until cabbage is tender.
For the gratin, heat to lukewarm the milk and cinnamon stick in a small saucepan over medium heat. Remove from heat and sprinkle with yeast. Let sit for 10 minutes to proof yeast, then remove cinnamon stick. Add mixture to a blender with butter, flour, eggs, sugar and salt and blend until well combined. Place apples and celery root in a large mixing bowl and pour in blended ingredients. Toss until well coated. In a 9- by 13-inch baking dish, arrange the sliced apples and celery root in overlapping layers so they lie flat and pour in remaining liquid mixture to cover. Place in a warm spot to rest for 30 minutes while preheating the oven to 350°.
Bake for 1–1½ hours or until the custard sets and is golden brown. It should be firm when you give it a light shake. If it still looks loose in the center, return to oven for a few more minutes.
For serving, heat oil in a sauté pan over medium heat and cook sausage until nicely browned. To serve, divide sausages among 4 large, warm plates with portions of cabbage and custard gratin. Serves 6 as a main course.