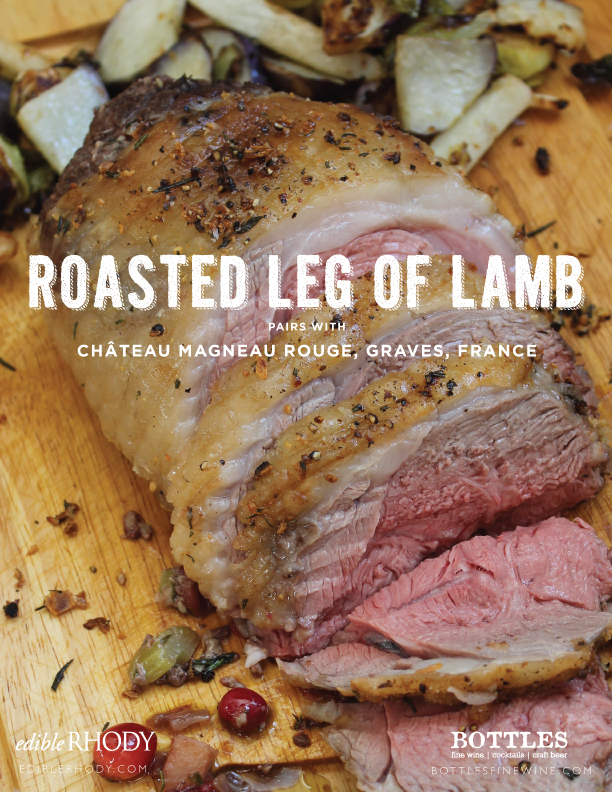 The Chateau Magneau Rouge is a very dry wine, with only hints of red fruit flavors. It has loads of minerality from the granite-rich soil which predominates the sub-region of Graves in which its grapes are grown and it's precisely this lean, mineral style that makes it an excellent pairing with lamb, cranberries, and roasted root vegetables. It's also a smart choice for a classic roast chicken.
ROASTED LEG OF LAMB WITH QUINCE CRANBERRY PAN SAUCE AND ROASTED VEGETABLES
-Chef/Owner Ben Lloyd, The Salted Slate, Providence
Says Chef Ben: "I buy my lamb from Don and Debbie Hopkins from their farm Hopkins Southdowns in North Scituate, Rhode Island. Marinating the lamb overnight gives it a wonderful flavor. I like to serve it with gnocchi or polenta alongside the roasted vegetables."
INGREDIENTS:
Lamb:
1 cup extra-virgin olive oil
½ cup roughly chopped garlic
¼ cup crushed coffee beans
6 sprigs each fresh rosemary and thyme, stemmed and leaves chopped
1 (3½- to 4-pound) boneless leg of lamb, tied or netted
2 shallots, peeled, trimmed and diced
2 (1 pound) quince (or substitute Bartlett pears), peeled, cored and diced
½ cup cranberries
3 stalks celery, diced
1 cup dry cooking sherry (or red wine)
1½ cups lamb, chicken or beef stock
Kosher or sea salt
Freshly ground black pepper
Roasted Vegetables:
2 bulbs (about 1 pound) kohlrabi, trimmed, scrubbed, halved and sliced ¼-inch thick
1 (about 1 pound) Macomber turnip, peeled and cut into batons (2- by ½-inch sticks)
½ pound Brussels sprouts, trimmed and halved lengthwise
2 shallots, peeled, trimmed and chopped
6 whole garlic cloves, peeled and halved
INSTRUCTIONS:
In a small saucepan, warm 1 cup olive oil, ½ cup chopped garlic, crushed coffee beans, rosemary and thyme until herbs just begin to sizzle. Remove from heat and cool. Place lamb in a large bowl and pour marinade over the lamb, filling any little cavities with pieces of garlic/herbs. Cover and refrigerate overnight.
Remove lamb from refrigerator 1 hour before cooking. Preheat oven to 450°.
Place shallots in a flameproof roasting pan with quince, cranberries and celery. Add ¼ cup marinade from the lamb and toss. Place lamb atop mixture (be sure to reserve any remaining marinade). Generously season lamb with salt and pepper.
Roast lamb for 15 minutes. Reduce heat to 325°. After 40 minutes check lamb with an instant read thermometer. For medium rare, remove lamb when it reaches 125° (or 130° for medium). It will reach 135° (or 145° for medium) while resting. Transfer lamb to a warm resting plate and cover loosely with foil.
For the roasted vegetables, return oven to 450°. In a large roasting pan, toss kohlrabi, turnip, Brussels sprouts, shallots and garlic cloves with ¼ cup remaining marinade. Season well with salt and pepper. Bake for 15 minutes or until vegetables just begin to brown and caramelize.
As the veggies roast, heat lamb roasting pan on high heat for about 2 minutes. As things start to bubble, add the sherry and reduce by half (about 2 minutes), then add stock. Continue to boil and reduce liquid to 1 cup. Season to taste.
To serve, you can either strain the sauce or serve it over the lamb with its fruits and veggies, according to your liking. Serve lamb alongside the additional roasted vegetables. Serves 6 as a main course.
Bon Appetit!