For me nothing says holiday festivities quite like a big ol' batch of punch! Many fine parties have begun around a punch bowl. By serving punch, you'll not only satisfy your unquenchable guests but also save yourself the crazy expense of trying to have a full bar at your shindig.
Even better yet, you can prepare most of these ahead of time! Mixing everything except the bubbly components (if your recipe calls for it!) allows the flavors to marry together. And that makes for some mighty fine punch!
The Long Hello
Fun, easy, and bubbly! This is a great budget friendly punch that will still have a major wow factor among your guests, and is full of classic holiday flavors.
Source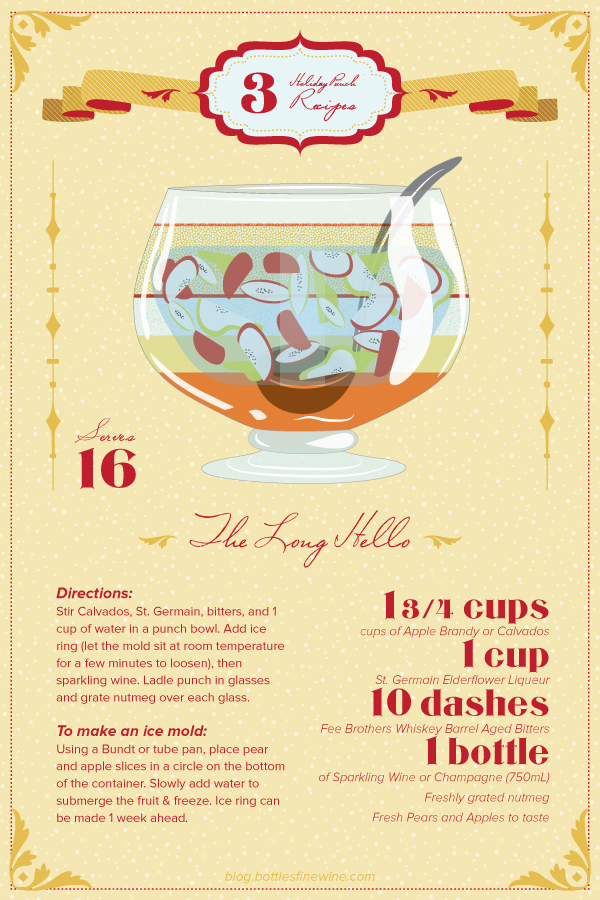 Ingredients
1 3/4 cups of Apple Brandy or Calvados
1 cup St. Germain Elderflower Liqueur
10 dashes Fee Brothers Whiskey Barrel Aged Bitters
1 bottle of Sparkling Wine or Champagne (750mL)
Freshly grated nutmeg
To make an ice mold:
Using a Bundt or tube pan, place pear and apple slices in a circle on the bottom of the container. Slowly add water to submerge the fruit & freeze. Ice ring can be made 1 week ahead.
Directions
Stir Calvados, St. Germain, bitters, and 1 cup of water in a punch bowl. Add ice ring (let the mold sit at room temperature for a few minutes to loosen), then sparkling wine. Ladle punch in glasses and grate nutmeg over each glass. Serves 16.
The Old Gunwhale
Near and dear to my heart, the Old Gunwhale is a personal favorite of mine. I have made this punch time and time again, each time with a wonderful reception from guests. Despite how simple it may seem, I find that the sum is definitely greater than its parts!
Source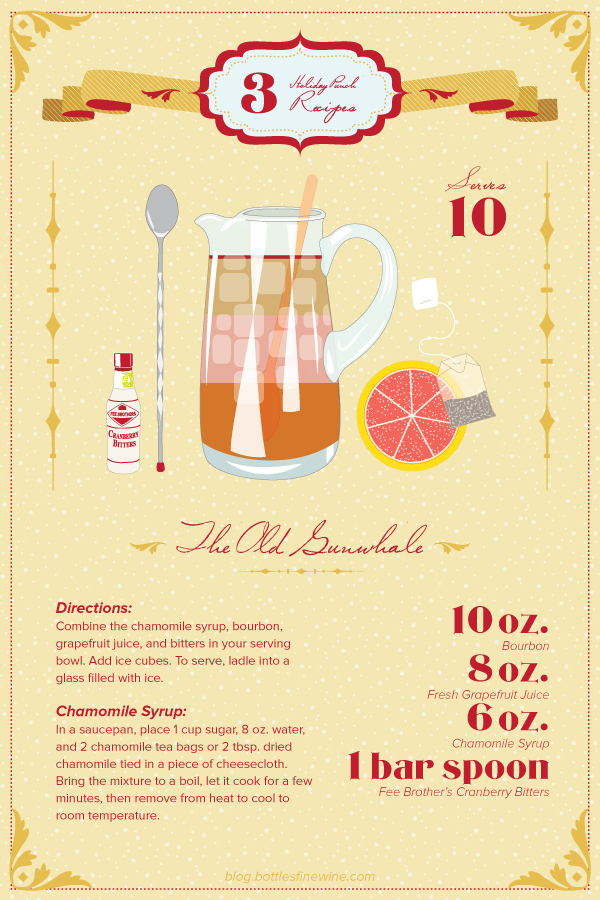 For the chamomile syrup:
8 oz. water
1 cup sugar
2 tablespoons dried chamomile, or 2 chamomile tea bags
Ingredients
10 oz. Bourbon
8 oz. Fresh Grapefruit Juice
6 oz. Chamomile Syrup
1 bar spoon Fee Brother's Cranberry Bitters
Directions
In a saucepan, place the sugar, water, and the chamomile tea bags or dried chamomile tied in a piece of cheesecloth. Bring the mixture to a boil, let it cook for a few minutes, then remove from heat to cool to room temperature.
Combine the chamomile syrup, bourbon, grapefruit juice, and bitters in your serving bowl. Add ice cubes. To serve, ladle into a glass filled with ice. Serves 10.
Kentucky Cardinal
This is my wildcard recommendation! In the mood to throw all caution to the wind? Then this gem of a punch recipe may be overkill as far as ingredients go, but if you are looking for a wildly delicious punch, then look no further!
Source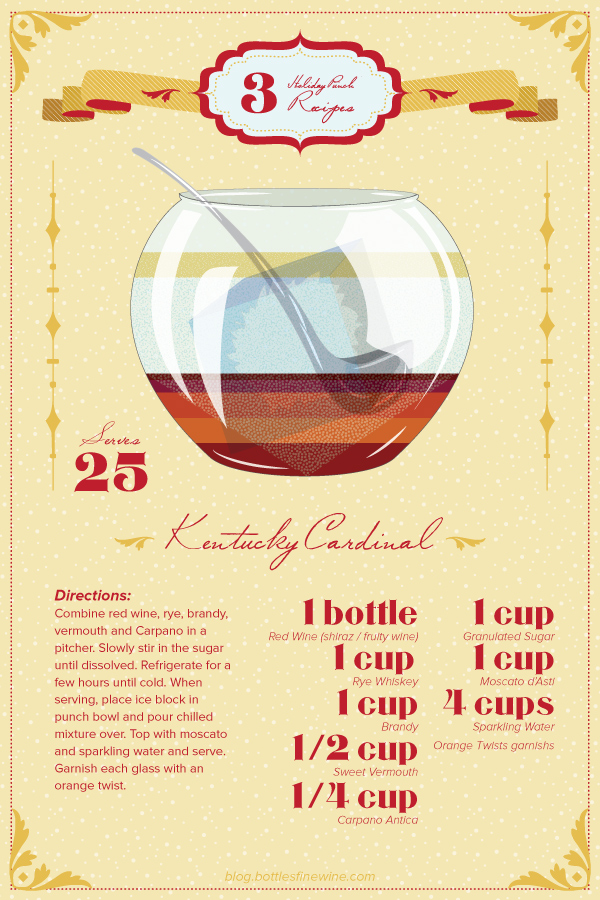 Ingredients
1 bottle of Red Wine (shiraz or a similar fruity wine)
1 cup rye whiskey
1 cup brandy
1/2 cup sweet vermouth
1/4 cup Carpano Antica
1 cup granulated sugar
1 cup Moscato d'Asti
4 cups sparkling water
Ice Block
Orange twists for garnish
Directions
Combine red wine, rye, brandy, vermouth and Carpano in a pitcher. Slowly stir in the sugar until dissolved. Refrigerate for a few hours until cold. When serving, place ice block in punch bowl and pour chilled mixture over. Top with moscato and sparkling water and serve. Garnish each glass with an orange twist. Makes 25 servings.
A note on serving vessels: Don't have a Baccarat crystal punch bowl? Kidding, fret not my dearies! Honestly, if you have a punch bowl by all means utilize it! However for the rest of us, I have to say that a stock pot works darn well in a pinch.
Cheers!
– Jackie Blackwell