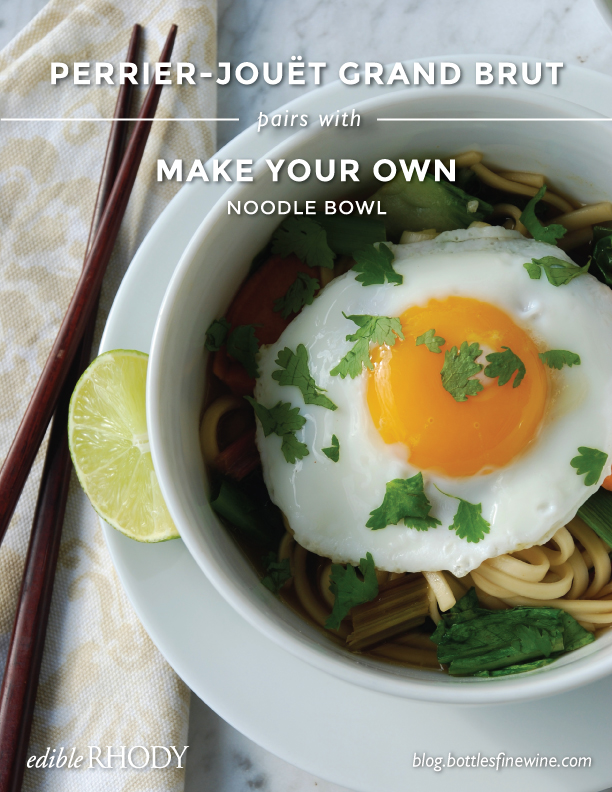 Asian inspired cuisine can be difficult to pair wine to, but sparkling wine is often the very best pairing. This is especially true for Edible Rhody Magazine's delicious Make Your Own Noodle Bowl.
The tiny bubbles of sparkling wine do a great job of cleansing the palate in between bites and gets your mouth ready for another go.  We also love the tone that sparkling wine sets for your meal:  a carefree, light-hearted party time!  We strongly recommend the Perrier-Jouët Grand Brut: extremely lively bubbles and beautiful flavors of lemon and bergamot orange, with notes of butter and hazelnuts.
Looking for great holiday wines? Read the Bottles Top Holiday Wines list!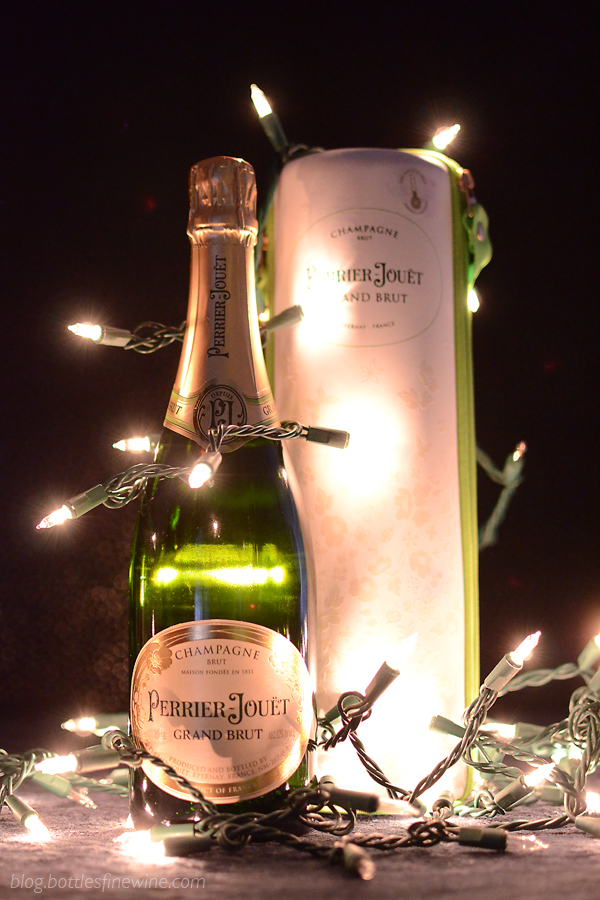 MAKE IT YOUR OWN NOODLE BOWL
by Amy McCoy, author of Poor Girl Gourmet and founder of PoorGirlGourmet.com
1 (10-ounce) package udon noodles or 4 individual packs ramen, seasoning packets discarded
6 cups vegetable stock
2 tablespoons soy sauce
1 (1-inch) knob fresh ginger, peeled and grated
1 (½-pound) sweet potato, washed and peeled and sliced in ¼-inch-thick half-rounds
1 bunch scallions, sliced crosswise into ½-inch rounds
1 small head bok choy (approximately 8 ounces), washed, trimmed, sliced into 1-inch-wide ribbons
1 medium bunch Swiss chard (approximately 8 ounces), washed, trimmed, sliced into 1-inch-wide ribbons
2 tablespoons olive oil
4 large eggs
Kosher salt
Freshly ground black pepper
2 tablespoons finely chopped cilantro leaves
1 lime, cut into 4 wedges (optional)
Prepare the noodles according to the manufacturer's instructions. Set aside.
In a large stockpot, combine the vegetable stock and soy sauce, then add the ginger and sliced sweet potato to the pot. Bring to a simmer over medium-high heat.
Once the sweet potato is fork-tender (approximately 10 minutes) add scallions, bok choy and Swiss chard. Simmer until the greens are wilted and bright green, 2 to 3 minutes.
Add noodles and stir well. Keep over low heat.
Working quickly so noodles don't get mushy, heat the oil in a medium sauté or frying pan and fry the eggs to your desired doneness.
Divide noodles among 4 warmed bowls. Add vegetables and broth and season with salt and pepper. Top each with 1 fried egg and sprinkle with cilantro. Serve each with a lime wedge. Serves 4.