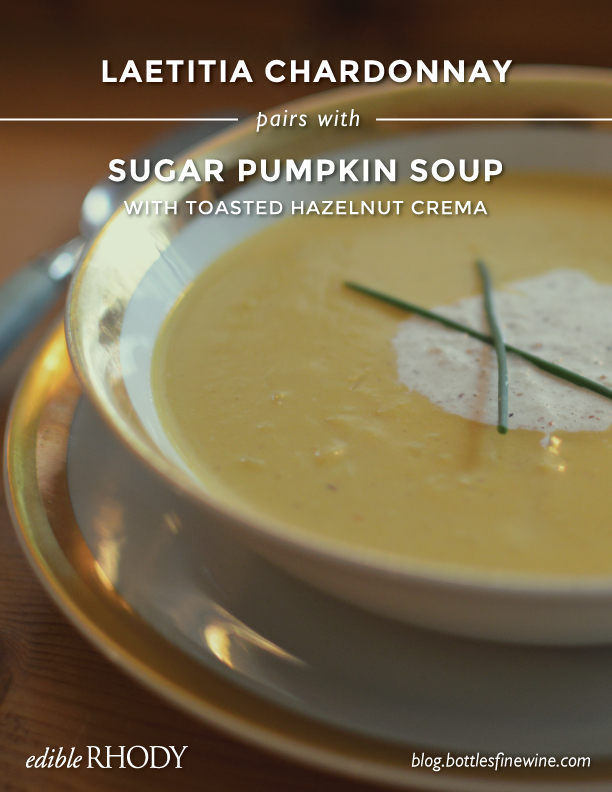 Few things are better in the winter than a rich soup for a weekend lunch or to start off a holiday dinner, and a bottle of Chardonnay is the perfect accompaniment. One of our current favorites in the store is Laetitia Chardonnay, ideal with warm appetizers like Edible Rhody Magazine's Sugar Pumpkin Soup with Toasted Hazelnut Crema. Yummo!
The apple and pear flavors of Chardonnay make for a seamless pairing with the unique and delicious flavors of the pumpkin.  In addition to the ripe apple and pear flavors, Laetitia Estate Chardonnay from California has a touch of creamy vanilla flavors that will set off the handful of spices used in the soup.
You can find Laetitia Chardonnay on our large in-store display of Top Holiday Wines. Not only is this wine delicious, but it's handsome and perfect to bring along to your next dinner party! Enjoy!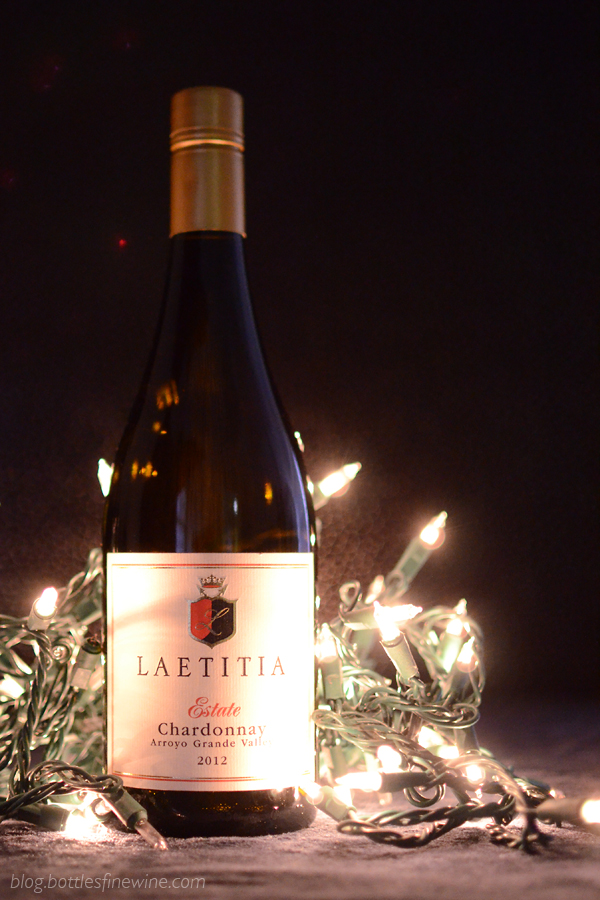 SUGAR PUMPKIN SOUP WITH TOASTED HAZELNUT CREMA
Executive Chef Willis Stepp, Public Kitchen & Bar, Providence
Stock up on fresh local sugar pumpkins and make a few batches of this flavorful and velvety soup for the freezer. It's perfect on a cold winter's day for lunch and makes an elegant starter for an evening or holiday meal.

3 cups peeled, seeded and cubed sugar pumpkin
3 tablespoons extra-virgin olive oil, divided
2 tablespoons unsalted butter, divided
½ cup minced sweet onion
3 cups vegetable stock
1 cup heavy cream
1 teaspoon brown sugar
Pinch ground nutmeg
Pinch ground cinnamon
Pinch ground clove
½ cup toasted hazelnuts
1 cup water
½ cup chopped shallots
Kosher or sea salt
Freshly ground black pepper
2 tablespoons chopped fresh chives
Preheat oven to 375°. Toss cubed pumpkin in a large bowl with 2 tablespoons olive oil and 1 tablespoon butter, broken into bits. Spread out on a lined sheet pan. Bake for 30–40 minutes, or until pumpkin is soft and tender. Remove from the oven and set aside.
Melt remaining butter in a large saucepot over medium heat. Add onions and cook until softened, making sure not to brown. Add stock, heavy cream, brown sugar, spices and roasted pumpkin. Bring to a boil and immediately reduce heat to a simmer for 15 minutes. Purée in a blender until smooth. Return to pot and check for seasoning.
Meanwhile, in a medium saucepot bring the toasted hazelnuts to a boil in 1 cup water. Simmer for 10 minutes or until hazelnuts are tender. Strain nuts and reserve liquid.
In a food processor add nuts, 1 tablespoon olive oil and shallots. Purée until nuts form a uniform smooth paste, adding scant cooking liquid, if needed. Season with salt and pepper.
Ladle soup into warm shallow bowls. Garnish with a dollop of hazelnut crema and a sprinkling of chives. Makes 6 servings.