It's finally arrived!
East Coasters are finally enjoying the warmer, delightful weather that most people call Rosé Season. We at Bottles drink the pink year-round but it is an undeniable fact that longer sunny days and spring blossoms go hand-in-hand with bottles of chilled, crisp rosé.
This week, we explore the middle of the rosé spectrum. They're the wines that, while still dry, are a bit more fruity, aromatic and floral. This style is for you if:
-you start your day with a bowl full of juicy fruit salad, and eat your weight in watermelon each summer.
– your fridge is usually stocked with new-world sauvignon blancs and other aromatic whites, or your go-to reds are medium bodied blends like Chianti and Cotes du Rhone.
These wines sing when paired with rustic, grilled foods such as mediterranean lamb, grilled fish and pork, and herbal sauces (think pesto).
Buyer Beware! Due to the significant supply and demand issues, availability of each bottle changes daily. If you find one you like, buy multiple bottles because it may not be in store on your next visit. And if it isn't, don't fret! Bottles will be your rosé HQ this summer so visit often for a rotating selection of delicious fine rosé wines.
Here are our favorite light-medium & floral rosés style from the 2015 vintage: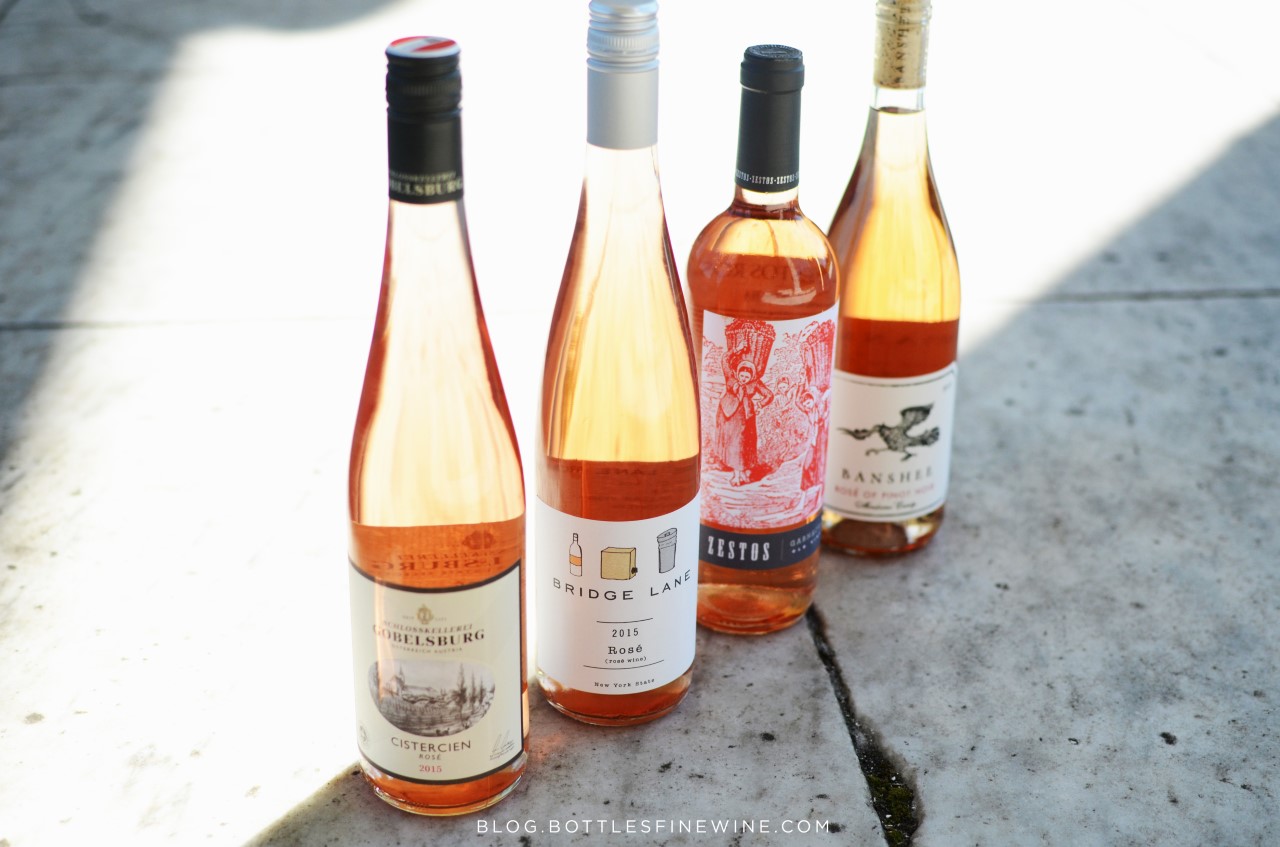 Gobelsburg, Austria
A staff favorite, the Gobelsburg is elegant and crisp with flavors of wild cherries and fresh berries.
Bridge Lane, Long Island
Made in Long Island, this rosé is perfect for the beach. It's full of ripe red berries, guava & peach and has a lovely, lively, dry finish.
Zestos Rosado, Spain
Eminently drinkable, this Spanish beauty is brisk and refreshing with flavors of strawberry and watermelon.
Banshee, CA
One of our best-sellers, the Banshee screams with vibrant Mandarin orange and peach skin flavor and is accented with ripe  n' tangy strawberry notes.
Drink Pink!
###