It's summertime, and for many, summer time is 'rummertime'.
Here in Rhode Island, with our rich seafaring history and traditions, ties to colonial trade (both illicit and fair), naval presence, specter of piracy, and general saltiness, rum is a natural choice for the hot summer months.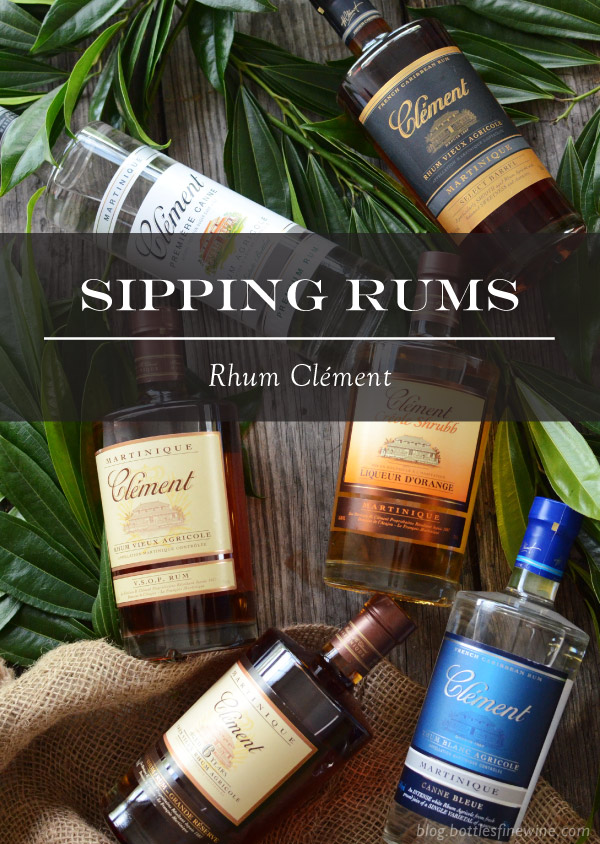 Most people have at least one rum cocktail that they break out when the sun is still up at 7:00 pm. Mojitos are very popular these days, and a 'Dark & Stormy' (dark rum mixed with ginger ale & lime) has been something of an unofficial state cocktail for some time.
Mixing Rums
In general, the rums people choose for mixing may be light or dark in color, but are most often relatively sweet. It's sugar, of course – and more specifically, molasses – that lends these saccharine and heady qualities to the spirit, and also what makes these rums such good mixers.
Spiced Rums
Many rums are also spiced, adding vanilla and cinnamon flavors to the already sticky spirit. When mixing with cola, ginger ale, or other sweet/tart mixtures, these rums do quite well, adding a warmth and lushness to the mix. Alone, however, they can be cloying and overwhelming, and you'd be hard pressed to find someone who enjoys a glass of straight rum on the rocks.
Sipping Rums – Try Agricole Rhums
So what about sipping rums? Is there something out there that would be suitable for sipping over some rocks on a hot summer evening? Of course there is! They are called 'Agricole Rhums' (Rhum with an 'h', as they are most often produced in French speaking countries), and their distinction lies in how they are processed. Where most rums are made by fermenting and distilling molasses, which can then be colored, spiced, or (in the case of our famous New England rums) aged in oak, Agricole Rhums eschew molasses for a much more direct method.
An Agricole Rhum is made by pressing freshly harvested sugarcane and allowing the collected juice to ferment naturally, after which it is put through a single, gentle distillation, and finally aged for a period of time in oak to mellow. The result is a fascinating interplay of flavors, sweet married with citrus fruits, cocoa flavors intertwined with spicy notes of cinnamon and cardamom, and a unique vegetal aroma reminiscent of freshly mown grass and black tea.
How to Enjoy Agricole Rhums
When young, these rums make a vibrant and daring Daiquiri or 'Ti Punch (the traditional drink of Martinique).
When aged, these rums hold their own alongside some of the finest cognacs & whiskies in the world. The barrels soften the spirit and the rum, in turn, draws out some of the best qualities of the oak (vanilla, nuttiness, and toast).  Mixing aged Agricole Rhum into a classic cocktail (like a Sidecar) in lieu of whisky is a real treat, and brings out a wonderful interplay of flavors.
It's the older rums that are made for sipping, either neat or with a few ice cubes, on your front porch swing. After sitting in oak for many years (often 3  and up to 20!) the resulting spirit is not at all sticky or saccharine in nature. They live and breathe in the glass just like a fine Scotch, and can make a hot summer evening pass by in the blink of an eye.
Rhum Clement 
Our friends at Rhum Clément have been making Agricole Rhums for generations, all in their family, and the results are well worth seeking out.
Check out their 'Premiére Canne' white rum, with its sharp & snappy herbal flavors, and also 'Canne Bleue', a single varietal white rum made from one type of blue sugarcane. More nuanced than its brother, Canne Bleue has zesty notes of orange peel and bittersweet cocoa.
We also like their 'Select Barrel' and 'V.S.O.P.' rums, aged for several years in oak, for their seductive vanilla & toffee qualities.
Whether you mix or sip, make this summer one for trying something new with some Agricole Rhum from Martinique.
It'll be the next best thing to actually being there.
Stop by Bottles to browse our selection of Rhum Clément and fine sipping rums.
– by Liam Maloney