Enjoying a rum based drink is part of what makes summertime feel like summertime.
But who wants to miss out by spending too much time mixing up elaborate cocktails? Ideally, you'll want that delicious, delicious, rum cocktail in your hand without breaking a sweat.
Here's 4 recipes that are easy to whip up, and that you'll find sophisticated and refreshing. Rhum Clément is featured in each of these recipes; they're Agricole Rhums with impressive flavor profiles to elevate and add diversity to your basic Sidecar, Margarita, and Daiquiri. Read more about Agricole Rhums and Sipping Rums here.
Swing by Bottles; we've got the full Rhum Clément series, all the cocktail ingredients, and recipe cards (plus free swag!) lined up in our spirits section.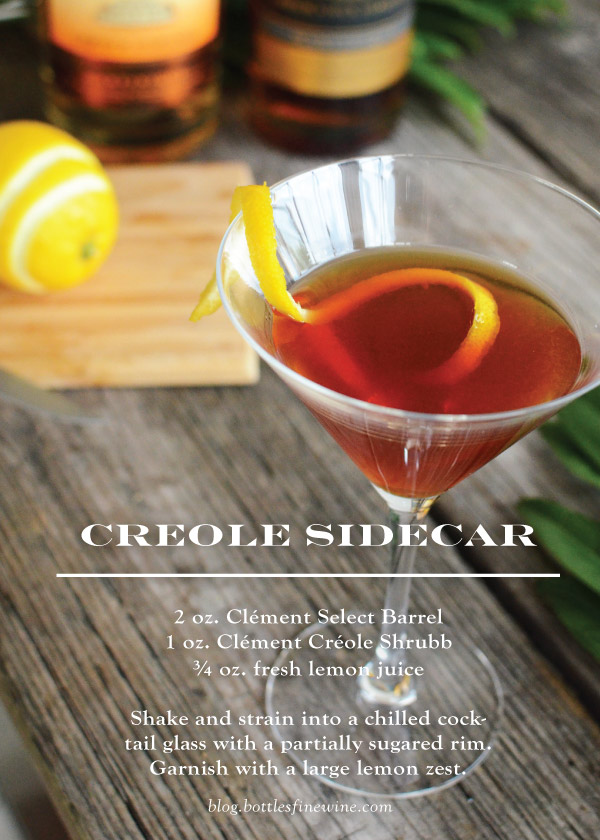 'Creole Sidecar'
2 oz. Clément Select Barrel
1 oz. Clément Créole Shrubb
¾ oz. fresh lemon juice
Shake and strain into a chilled cocktail glass with a partially sugared rim. Garnish with a large lemon zest.
Clément Select Barrel is made by aging rum for a minimum of 3 years in toasty barrels. The result has nuanced vanilla and toast flavors, with a remarkably smooth finish.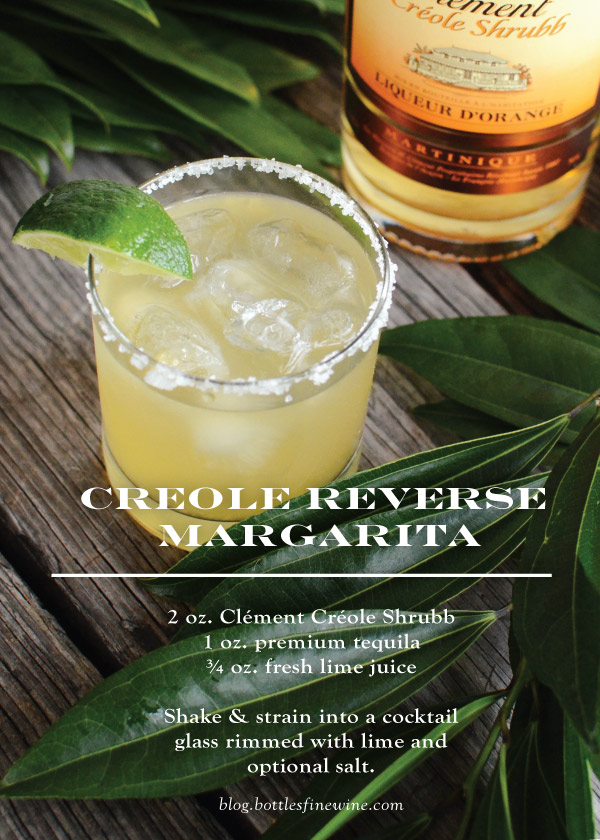 'Creole Reverse Margarita'
2 oz. Créole Shrubb
1 oz. premium tequila
¾ oz. fresh lime juice
Shake and strain into a cocktail glass rimmed with lime and salt (optional)
A Shrubb is a mixer, traditionally made with vinegar and spices as a cocktail flavoring. Clément's Créole Shrubb is based on an old recipe, with a blend of rums, macerated orange peels, and spices. The result is hugely aromatic, zesty, and spicy, with a lighter body and feel than other orange liqueurs.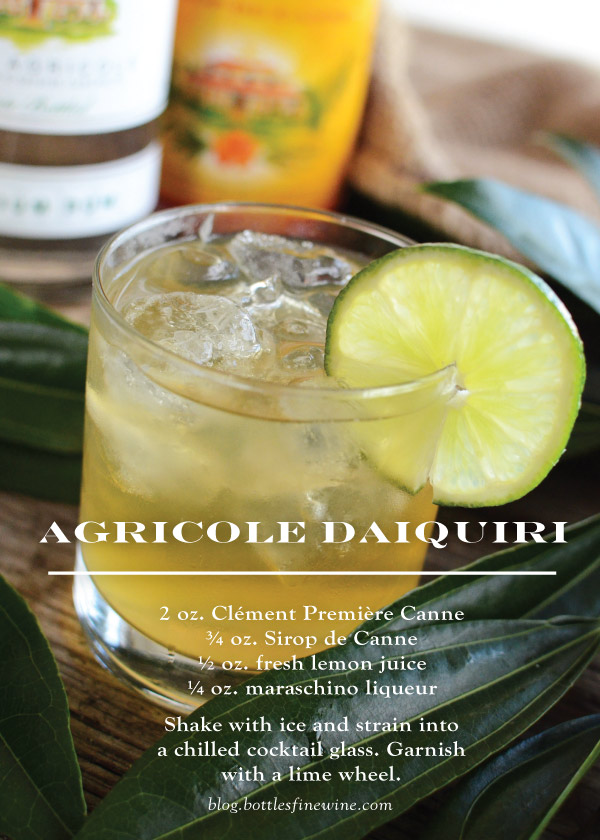 'Agricole Daiquiri'
2 oz. Première Canne
¾ oz. Sirop de Canne
½ oz. fresh lime juice
¼ oz. maraschino liqueur – *okay, that's four ingredients, but you'll forgive us, right?
Shake with ice and strain into a chilled cocktail glass. Garnish with a lime wheel.
Première Canne: Freshly pressed sugarcane juice is allow to ferment, and is then put through a single, gentle distillation to preserve the cane's unique flavor. The result is a distinctly dry spirit with notes of cocoa beans, black tea, fresh grass, and a subtle candy sugar finish.
Like the best Vermont Maple Syrup, Clément Sirop de Canne is made by slowy reducing pure, pressed sugarcane juice with rolls of cinnamon, cloves, and vanilla beans. The result is a dry style of 'simple syrup' which lightly sweetens and then adds a hint of spice to your favorite cocktails.
'Ti Punch
1 ½ oz. Clément Canne Rhum Bleue
1 bar spoon Sirop de Canne
1 lime disc (silver dollar-size twist cut off the edge of a lime to capture a little pulp and zest)
Squeeze the lime to extract as much lime oil and juice as possible. Add the Sirop de Canne and Première Canne. Add ice, or don't add ice… as you like in tradition of our Martinique ritual. Swizzle with a bois lélé or a bar spoon.
Clément Canne Rhum Bleue is a very unique rum, made from a single variety of blue sugarcane. The result is a very bright spirit with flavors of meringue, cucumber, tingly pepper, and wet stone.