We're trying to hang on to summer as long as we can, but this fall weather also has us thinking of everything that comes with the season. In order to satisfy both cravings, we are pairing a Bourbon Roasted Peach Cheesecake (yummm!) with a German dessert wine called Beerenauslese.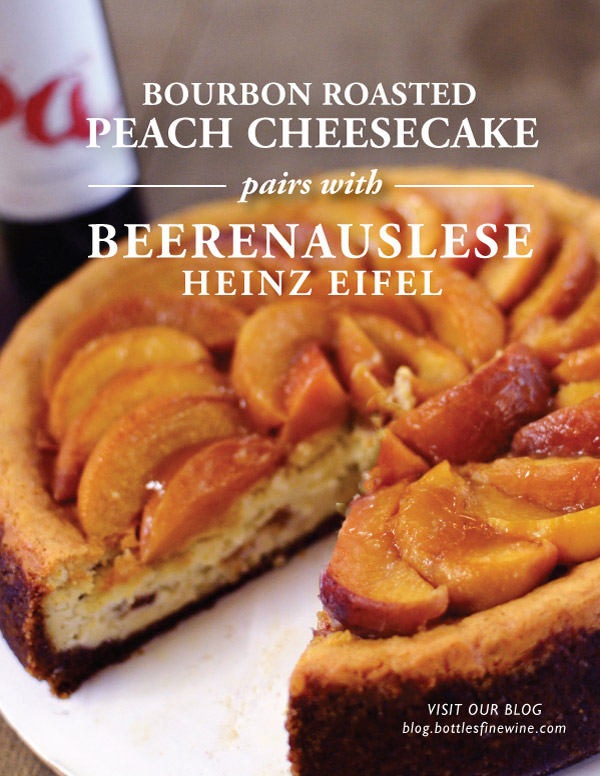 The round, juicy, acidic, yet sweet yellow peaches are used in all areas of cooking, baking, and creating drinks. It's also often an aroma of wines. They scream home, comfort, and summer. And the Beerenauslese? It's a dessert wine that tastes like fall with its color, deep flavors, and sweetness.
Peaches
If I was to ask you about peaches would you automatically think Georgia? Well, surprise surprise, peaches actually originated in China as early as 2000 BC. China is also the world's largest producer of the fruit. Growing in Persia and the Roman empire by the first century AD, peaches were favored by kings and emperors, a prized treat in France, and are symbolic in many cultures.
Containing less than 70 calories, 3 grams of fiber, and tons of vitamins A and C, peaches are divided into two types: clingstones and freestones. Both of these varietals can either have a white flesh which are typically very sweet with little acidity, or a yellow flesh that tends to have more of an acidic tang coupled with sweetness.
Fun fact: "The world's largest peach cobbler" is made every year in Georgia measuring 11 feet by 5 feet and contains 75 gallons of peaches! Holy Moley!!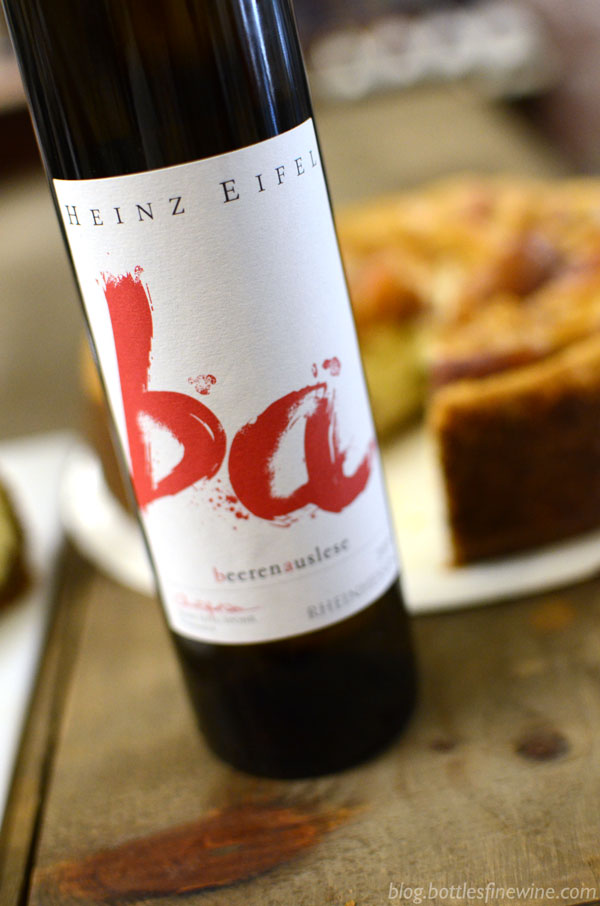 Heinz Eifel Beerenauslese
A magnificent wine-culture deeply rooted in tradition, Germany has the Romans to thank for planting vineyards along the rivers 2,000 years ago.
Heinz Eifel, driven by determination to follow tradition and pay respect to the years of wine-culture, founded the Römerhof winery in 1979 in the heart of the Mosel Valley. They produce a brand of German wines crafted to reflect the distinctive character of the vineyards, using the highest quality grapes and processed with only the most modern techniques and technology.
A true testament to the "Art of German Winemaking," this Beerenauslese is unbelievable. A late harvest wine, it delivers aromas and flavors of ripe pear, peach, honey, and caramelized fruit with a slight bitterness that carries over to the lightly sweet finish.
You know that feeling you get after you have just tasted something that is out of this world? That's exactly how we feel about this wine and food pairing. You will be thanking us once you try it.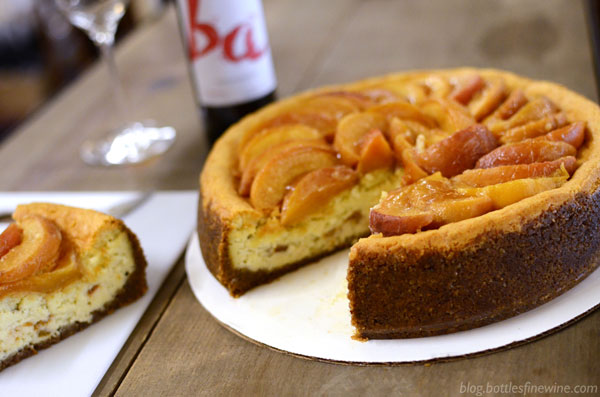 Bourbon Roasted Peach Cheesecake
Yield: 10 – 12 Servings
Time: 6 1/2 hours (it's worth it)
Ingredients
Bourbon Roasted Peaches:
8 ripe, firm peaches
6 Tbsp unsalted butter, melted
2/3 cup Bourbon (Use Four Roses Small Batch or Old Granddad)
1/4 tsp Salt
1/4 cup packed dark brown sugar
Crust:
2 1/4 cups graham cracker, crumbs
1/2 cup toasted pecans, finely chopped
1 stick unsalted butter, melted
1/3 cup packed dark brown sugar
1/4 tsp Salt
Cheesecake Filling:
4 large eggs, separated
2 vanilla beans, seeds removed
1/2 cup granulated sugar
16 oz. cream cheese, cut into small pieces
3 Tbsp all-purpose flour
1 cup heavy cream
Method of Preparation
1. Roasted peaches: Position the oven racks to upper-middle and lower-middle and preheat the oven to 450 degrees. Line 2 rimmed baking sheets with foil.
2. Slice 4 of the peaches into 3/4 inch thick slices and the remaining 4 into 1/4 inch pieces. Arrange each size in a single layer on their own baking sheet.
3. Whisk together the melted butter, bourbon, and salt in a medium bowl. Divide the mixture in half and drizzle each over the peaches. Sprinkle 2 tbsp of sugar over each baking sheet of peaches. Toss and rearrange them in a single layer.
4. Roast until the peaches are tender and the liquid is syrupy. This should take about 15 minutes, swapping the sheet trays halfway. Transfer the baking sheets to a cooling rack for about 20 minute.
5. Crust: Decrease the oven to 350 degrees and move the rack to the middle. Line the exterior of the springform pan with foil.
6. Combine the graham cracker crumbs, pecans, melted butter, brown sugar, and salt in a medium bowl  until the crumbs are thoroughly saturated in butter. Press the mixture into the bottom and up the sides of the pan, stopping about 1/2 inch from the top of the pan.
7. Bake the crust until golden, 10 to 12 minutes. Transfer to a cooling rack for about 15 to 20 minutes.
8. Cheesecake Filling: Decrease the oven to 275 degrees. In a large, clean and dry (important) bowl, whip the egg whites and vanilla bean seeds on medium speed until soft peaks form. This should take about 2 minutes.
9. Gradually add the sugar and continue whipping until stiff peaks form, usually about another 1 – 2 minutes. If you are using a stand mixer, transfer the egg whites to another bowl and clean the one you just used.
10. In the medium bowl, beat the cream cheese, egg yolks and flour on medium speed until light and fluffy. Add the heavy cream and continue to beat until creamy and smooth. Remember to scrape down the sides and bottom of the bowl as needed. Once creamy and smooth, stir in the diced peaches.
11. Stir 1/3 of the egg whites into the cream cheese mixture, then, very gently FOLD (important) in the remaining egg whites. Scrape the batter into the cooled crust and bake until the cheesecake is set but still slightly wobbly in the center, 75 – 90 minutes. Turn off the oven and let the cheesecake remain in there another 20 minutes.
12. Transfer the cheesecake to a cooling rack and cool for an hour. Transfer to the refrigerator to cool until completely chilled and set, at least 3 hours. Remove the cake from the springform mold and set on a serving dish. Top it with the sliced peaches and serve. Source