Irish Whiskey is surging in popularity across the globe and no wonder, says us: we believe that a well-made Irish Whiskey is delicious, and stands on it's own against the best Bourbons & Single Malts the world has to offer.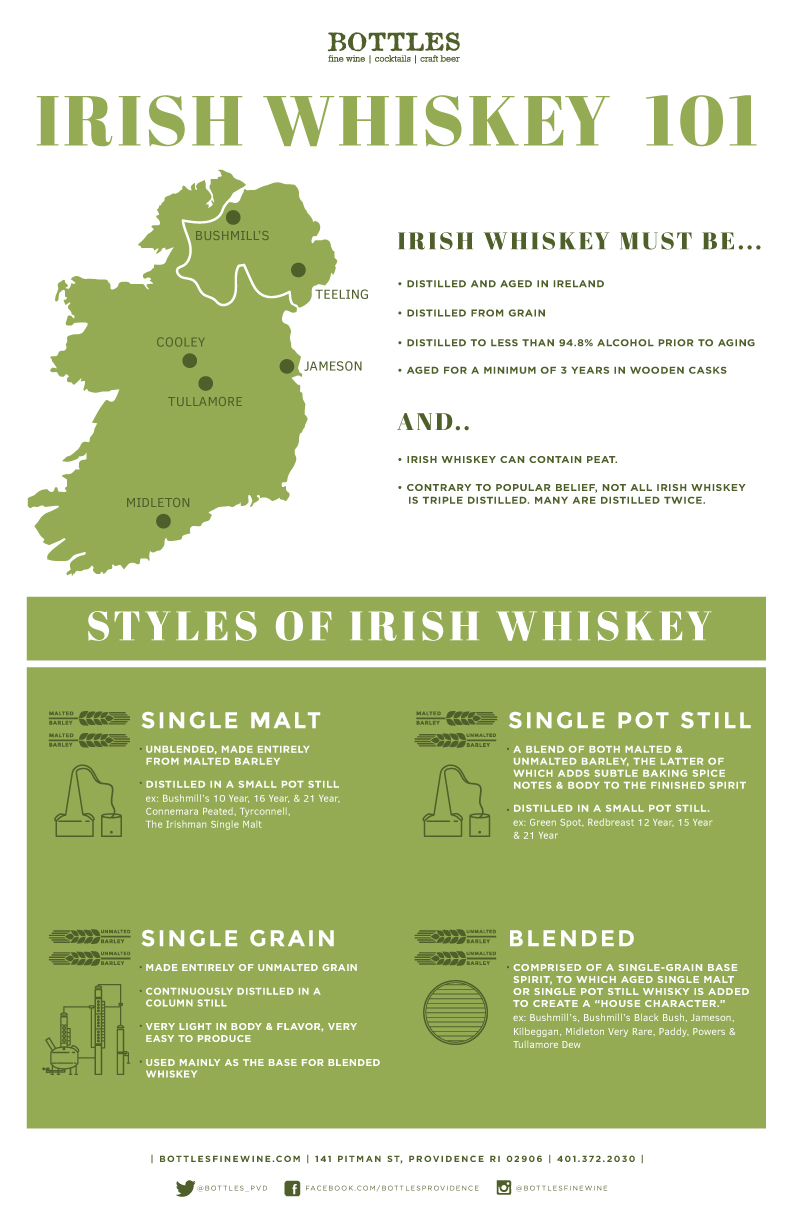 Irish Whiskey has been around forever. It's a widely held belief (among all except the Scots), that it was the Irish who were most likely to have started distilling whiskey, as the Bushmill's Distillery in Northern Ireland is the oldest licensed distillery in the world, dating back to 1608.
And since then, up until only the past few years, all of the Irish Whiskey available, no matter the brand name, came from one of only three distilleries on the island: Bushmill's, Midleton, & Cooley. Today, to the joy of Irish Whiskey lovers everywhere, that number has expanded to 12, with nine new distilleries that have been built, or will soon be completed: Echlinville, Kilbeggan, Teeling, Glendalough, Tullamore, Alltech, Blackwater, Dingle, & West Cork.
Many today find it hard to believe that Irish Whiskey was once the hottest style of whiskey in the world, with a popularity that dwarfed other styles. In the early 20th century it began its decline, in two main waves:
1) The Easter Rising & the Irish War for Independence. As punishment, England levied trade embargoes on the Irish, which kept their whiskey from entering England, and therefore much of the rest of Europe.
2) Prohibition. (Oops.)
At the start of this century, a resurgence in interest for Irish whiskey came about, presumably as a result of several factors including its price (Irish is usually cheaper that it's Scottish counterparts), a resurgence in the popularity of Bourbon (which shares many similar flavor profiles), a market of curious consumers eager to try something "new," and the wider availability of quality-made whiskeys from Ireland.
Here are our favorites:
–Power's Gold Label
–Power's John's Lane (limited importation – get it when & if you can)
–Green Spot (if you can find it – extremely limited importation)
–Glendalough Triple Barrel
–Knappogue Castle 12 Year Single Malt
–Redbreast 15 Year
Happy Saint Patrick's Day, and Slainte!