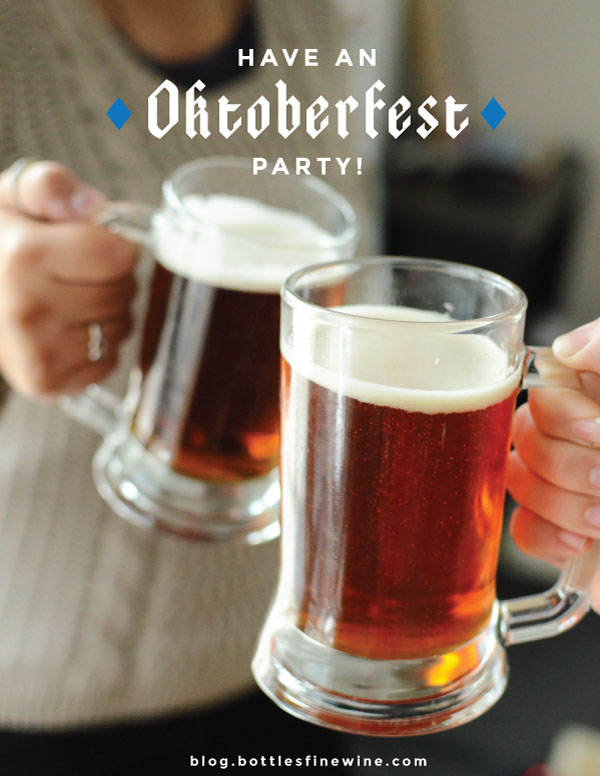 Friends! Let us beckon the arrival of fall and cooler weather by throwing an Oktoberfest party! Brisk autumn evenings provide the perfect back drop for having a casual get together with friends and family.
Historically the first Oktoberfest was held in celebration of Prince Ludwig's marriage to Princess Therese of Saxe-Hildburghausen on October 12, 1810. Citizens from all over Munich were invited to come and join in the celebrations.
Traditionally Oktoberfest is held in late September and up to the first weekend of October. Nowadays, it's an internationally famous festival. Many of us aren't in Munich, but you can make up for it by finding local celebrations, or heck, having one at your place!
Want to know how to put an Oktoberfest party together? Here are the essentials.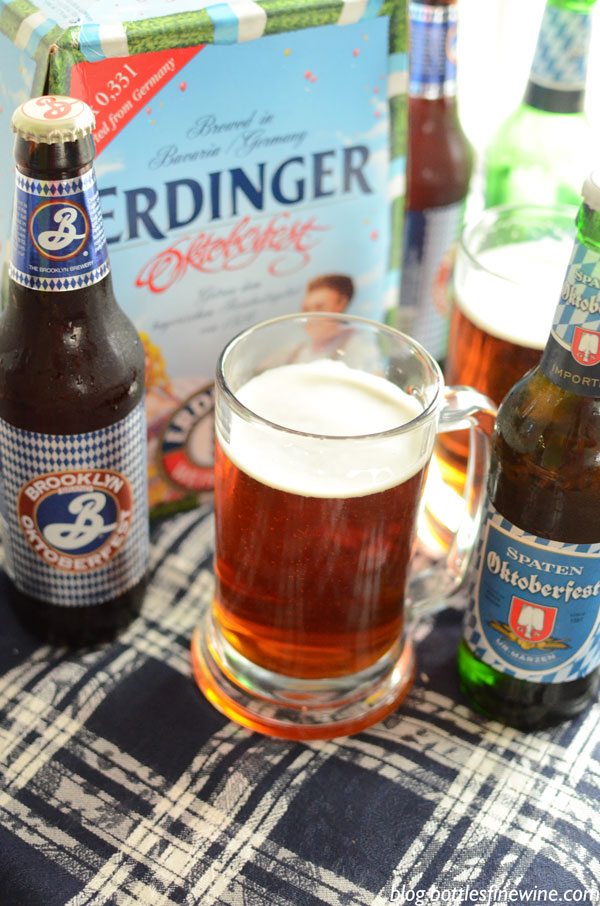 BEER (and lots of it)
Let's talk libations: with a party like this, it's is best to serve only French red wine.
Just kidding! What would an Oktoberfest party be without German beer?
Also known as Mӓrzen style beers, these are generally medium bodied, with rich toasty malt notes and a creamy palate. They tend to fall between 5-6% ABV so as not to leave you feeling too weighed down. And as far as drinking seasonally goes, there is nothing more satisfying than a hearty Oktoberfest style beer.
Here are a few of our favorite picks:
– Erdinger Oktoberfest
– Spaten Oktoberfest
– Brooklyn Oktoberfest
EAT FOOD
Sausages! Bratwursts! Knackwursts!
The more the merrier is the idea here. If you need a lesson on the different kinds of sausages that are available out there here is a great article listing a variety of choices.
Mustards
In every shade of yellow! Well, perhaps not every shade — but I would make sure to have a few different types varying from the coarser grain to smoother yellow mustard. Or if you're feeling up to it, why not try making your own? It's super easy and the end results are well worth it.
Sauerkraut
For what would the humble sausage be without this deliciously tangy accompaniment? Ah, fermented cabbage. This recipe is great if you feeling like eating homemade sauerkraut.
More Food Ideas
– Braised red cabbage
– German potato salad
– Assortments of pickles (personally I love having pickled green beans, tomatoes, and good ol' fashioned dill pickles)
– Roasted squash or sweet potatoes – they are in season and their natural sweetness will complement the other salty dishes.
– Soft pretzels!
– Spaetzle try this recipe
DRESS YOUR HOUSE & YOURSELF
Interested in having some themed decorations for your shindig? Oriental Trading Company has these Oktoberfest goodies.
Lederhosen & a Dirndl dress? Yes. Especially if you're really serious about Oktoberfest. Check out your local costume store, or do a quick internet search for more authentic costumes.
AND FINALLY
I hope this humble guide acts as inspiration for you to host your own Oktoberfest get together!
Prost, or cheers as we say here in the U.S.!