For the most part, our wine recommendations always revolve around food.  Questions that we ask are:  "When will you be having this wine?" or "What are you having for dinner?".  We love eating, and we love drinking wine, when the two are combined the effect is often magical.  When considering produce that are in season during the Fall, things like beets, potatoes and other root veggies,  we recommend wines that are also a bit heavier, richer and fuller bodied.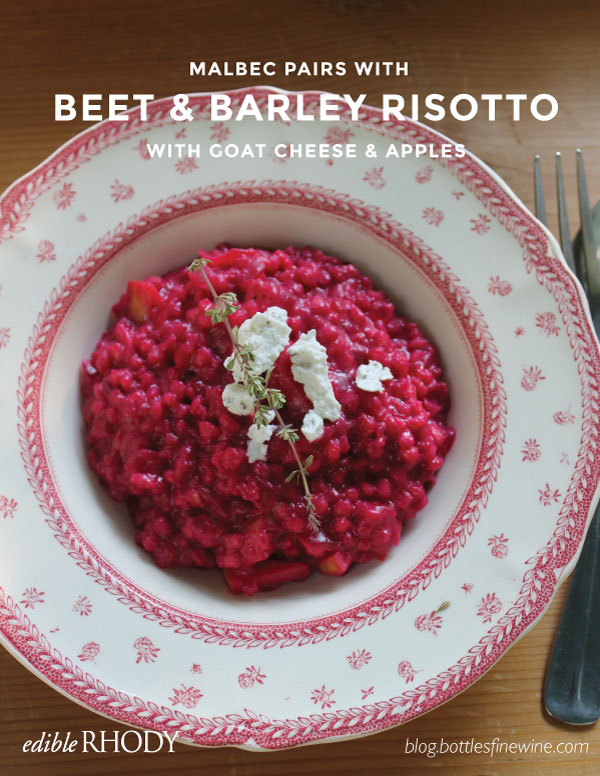 Malbec almost always comes from two places:  Argentina and the Cahors region of France.   Argentine Malbec are almost always bold wines with big, rich fruit flavors like blackberries and cherries.  Malbec from Cahors are full bodied dry wines, but have less prominent ripe fruit flavors and one can expect more earthy savory flavors like pipe tobacco, leather and mixed spices.
For a special treat, we recommend Luca Malbec from Argentina – one of the best examples we have.  For a less fruity wine experience, try 2011 Clos Siguier Cahors .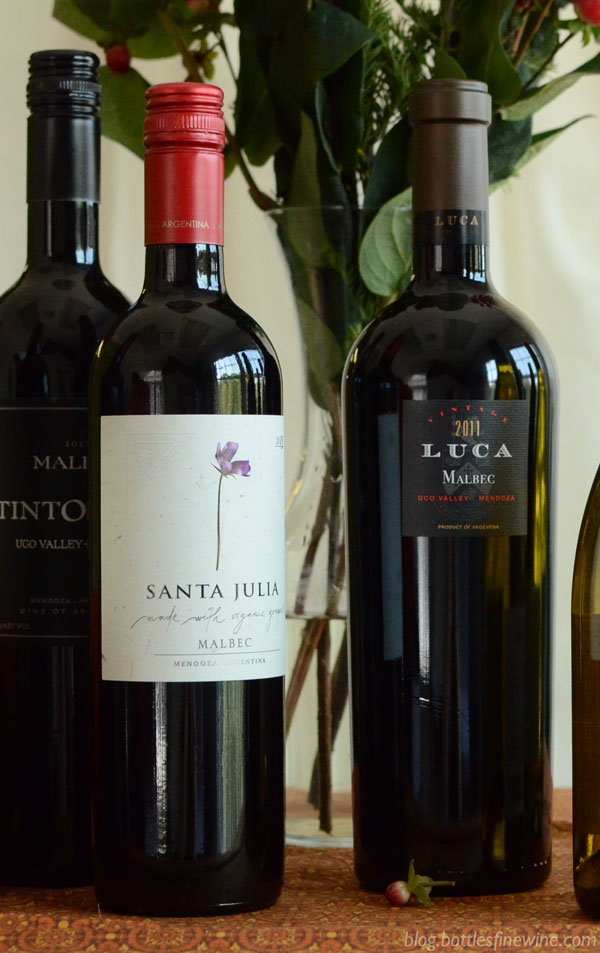 We recommend the Luca Malbec because the big structure or tannin presence will cut through the richness (butter) of the risotto.  Also, the sweet, deep and concentrated flavors of the beets will mesh perfectly with the flavors of the Malbec.
Try this recipe by Edible Rhody Magazine:
BEET & BARLEY RISOTTO WITH GOAT CHEESE & APPLES
Chef Marty Lyons, XO Café, Providence
This is a welcome addition to the table for vegetarians and omnivores alike. The nutty tones of barley combine well with the sweetness of apple and the tangy goat cheese. The bright red color will add a splash to your spread. Enjoy it any night with a salad and some crusty bread.

Ingredients:
3 cups chicken or vegetable stock
3 tablespoons olive oil
1 yellow onion, small diced
2 cloves garlic, minced
1 cup pearl barley
4 ounces white wine
½ cup beet juice (from roughly 1 large purple beet)*
½ cup (1 whole) diced apple
Grated zest and juice of ½ lemon
4 sprigs thyme, stemmed and chopped fine
1 tablespoon unsalted butter
½ cup (2 ounces) goat cheese, crumbled
Kosher or sea salt
Freshly ground black pepper
Directions:
Bring the stock to a simmer in a saucepan. Heat olive oil in a heavy-bottomed saucepan and add onion, cooking until translucent (5 minutes), being careful not to brown. Add garlic and barley and sauté 2 minutes.
Add white wine and allow to evaporate (about 2–4 minutes). Add stock 1 ladle at a time (allowing the liquid to absorb before adding the next ladleful) and stir constantly until barley is tender, or for approximately 20 minutes.
Add beet juice and apples. Stir until liquid is reduced and "risotto" is a thicker consistency.
Remove from heat and add lemon zest, lemon juice, half the thyme, butter and ¼ cup goat cheese. Stir until combined and season to taste. Serve warm, garnished with remaining goat cheese and chopped thyme. Serves 6 as a side dish.
* If you don't own a juicer simply purée 1–2 roasted beets in the blender until very smooth, adding a little water if needed. This can be done days in advance and refrigerated.
So enjoy making this beautiful dish to match your glass of Malbec, and be sure to stop by and check out our fall wine selections!
Cheers!