Well, Fall has finally arrived and we are celebrating with a heaping bowl of the must-have seasonal flavor: pumpkin! (pumpkin orzo with sage, to be exact).
Round, earthy, slightly sweet and versatile, it always seems like no one can ever get enough of this orange squash. We thought we would help you out by adding one more recipe to that list.
If you are even considering trying this recipe, make sure to pick up a bottle of Suavia Soave Classico — an Italian wine of great depth and unmistakable character that will transport you to the hills of Soave. It pairs well not only with the Pumpkin Orzo with Sage, but also with any pasta, gnocchi, or fish that is being served with a hearty vegetable or bean.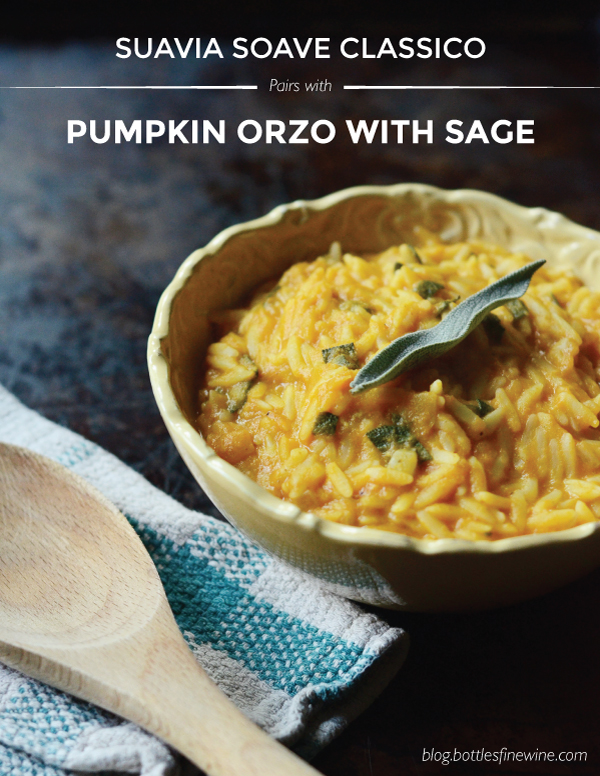 Pumpkin
Classified as a winter squash, the oldest evidence of pumpkin related fruit dates between 7000 BC and 5500 BC in Mexico. Pumpkins are grown all around the world for commercial use, agricultural purposes, and ornamental sales. The largest producers of the winter squash are the United States, Canada, Mexico, India and China.
When first cut, pumpkins tend to have a vegetal, buttery smell. When roasted or cooked, they have more of a malty, sweetness. Used mainly for food and recreational purposes in the United States, pumpkins have established themselves as a part of tradition and society. What is Cinderella without her coach, Thanksgiving without pumpkin pie, Halloween without Jack-o-lanterns or fall without pumpkin beers?
I challenge you to find a new or unusual pumpkin recipe, and attempt it. You may find a new favorite!
Suavia Soave Classico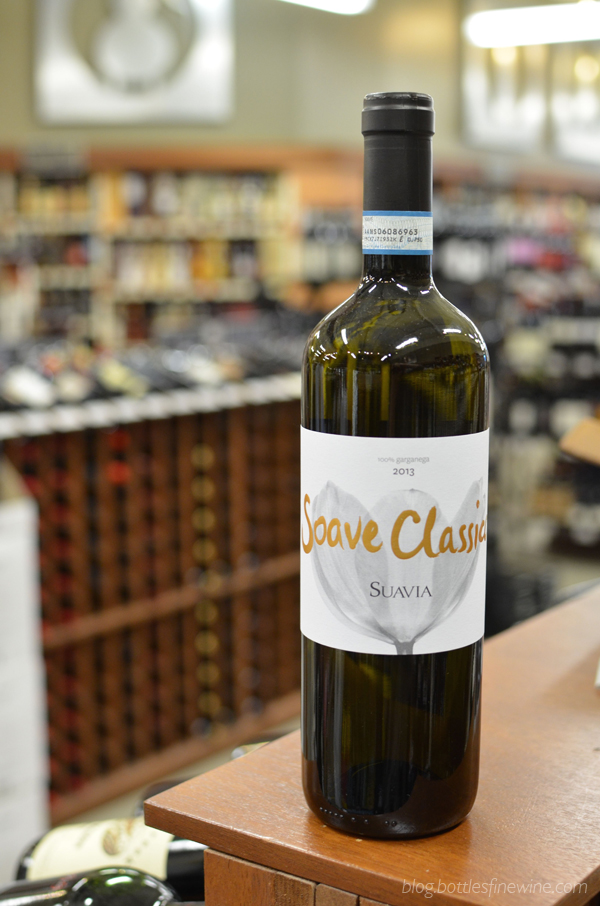 Located in the tiny village of Fittà, "mounted like a precious stone in the high green Soave Classico hills covered with vines and olives", the Tessari family has lived and worked the land since the 19th century. It wasn't until 1982, when Giovanni and Rosetta Tessari decided to produce their own wine, that the history of Suavia really began.  Now run by their four daughters who are inspired and taught by the nature around them, they produce significant Italian wines that are reflective of the terroir and region.
The principal and most widespread white grape variety in Soave, Garganega is easier to grow and has become very popular because of its generous yield. It has a natural delicacy and elegance that if grown properly, it develops firm mineral notes and a good structure.
The Suavia Soava Classico is fresh, fruity and easy to drink with aromas of apple, pear and hawthorn intermingled with hints of citrus and minerals. The palate is very juicy and creamy with a savory and satisfying finish of continual freshness. It is a wine for flowered terraces, dinner on cobblestone squares, and pastas with hearty vegetables.
Pumpkin Orzo with Sage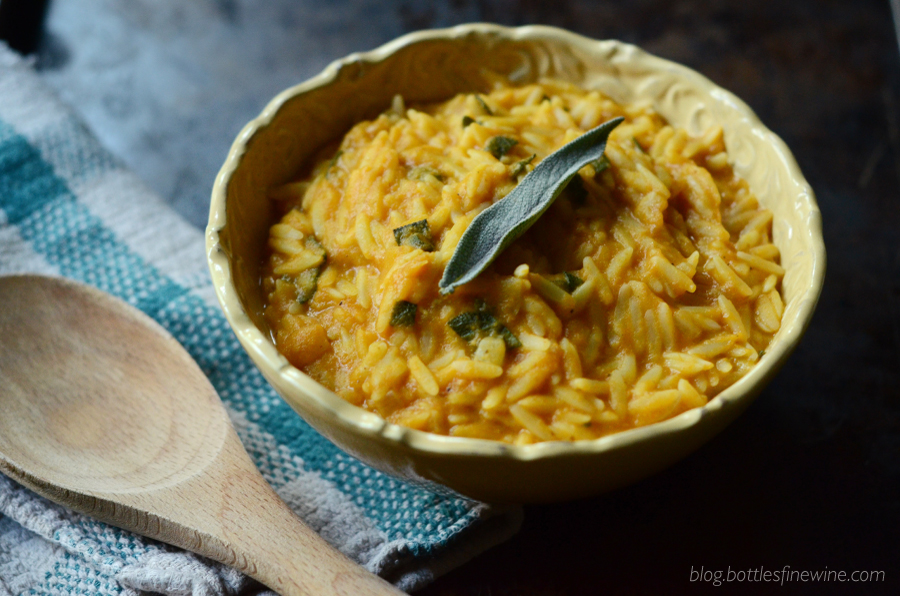 Yield: 4 servings
Ingredients
8 oz. Orzo
3 cups vegetable or chicken stock
3 cups water
1 1/2 cups pumpkin puree (fresh or canned)
1 1/2 cups vegetable or chicken stock
1/2 cup whole milk
30 sage leaves cut into ribbons
1 shallot, diced
1 Tbsp butter
3/4 tsp salt
Black pepper, ground
3 Tbsp Parmesan cheese
Method of Preparation
1. If you are using a fresh pumpkin, slice it in half lengthwise and place cut side down on a lightly oiled baking sheet. Bake at 350 degrees for 30 minutes or until tender. Allow it to cool and then scoop out the meat with a spoon and puree it in a food processor until smooth.
2.  In a large saucepan, bring 3 cups of broth and 3 cups of water to a boil over high heat. Add orzo and return to a boil. Cook for 9 minutes or until the pasta is al dente. Drain and set aside.
3. Meanwhile, saute the shallots and sage in butter for 5 minutes over medium heat. Add 3/4 cups of broth and 1/2 cup of milk. Simmer for another 5 minutes.
4. Add the pumpkin puree to the simmering broth and stir well. Add salt, pepper and remaining 3/4 cups of broth. Reduce the heat and simmer on medium low for 10 to 12 minutes, or until sauce reaches desired consistency.
5. Stir in the parmesan cheese, toss with the orzo and serve. Source
Go forth and cook away! Enjoy the first days of fall!
Cheers!