In the spirit of the chilling weather and in preparation for the great Thanksgiving cook-off, we chose Baked Apples with Pork Stuffing as one of our special Rhode Island seasonal recipes! This would be a great appetizer, side dish, or creative entrée for a chef of any level, as well as a great way to keep your delicacies made with all local produce.
A savory apple, pork, and herbal dish like this will pair well with the 'Lenore' Syrah from the Corvidae family; one of our favorite and well priced wines by the Owen Roe Winery! It's a great crowd pleaser and its bright berry and savory aromatics of this wild, gamey varietal will pair well with the apple and stuffing alike.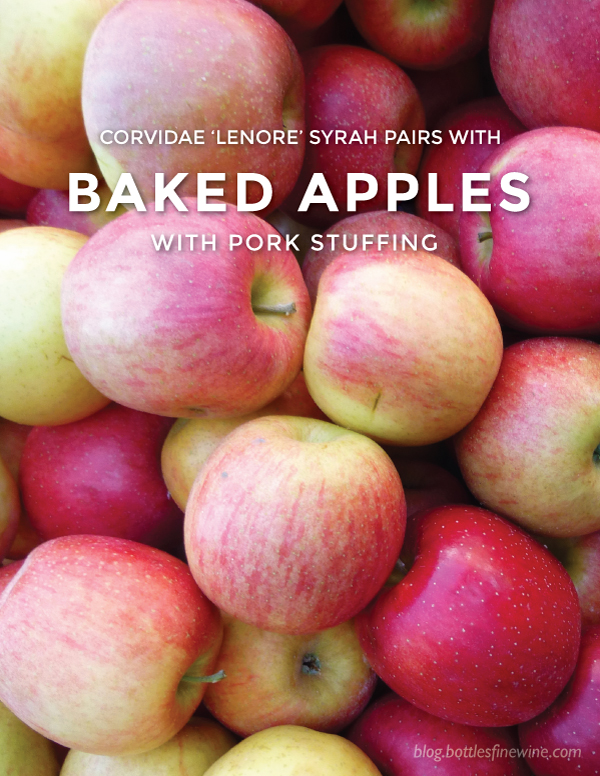 photo source
Seasonal Ingredient: Apples
A crisp, white-fleshed fruit with a red, yellow or green skin, the apple has more than 7,500 known varieties, each with varying desired characteristics.
Originating in Central Asia and the earliest tree to be cultivated, the apple tree has been grown in Asia and Europe for thousands of years. The fruit was brought to North America in the 17th century by colonists, and the first orchard was planted in Boston by Reverend William Blaxton in 1625. Apples appear throughout history in mythology and many religious traditions as a mystical or forbidden fruit.
The fruit has a moderately sweet, refreshing flavor and a tartness that is present in greater or lesser degrees depending on the variety. Some are grown specifically for cooking, baking, eating raw, or producing cider. For example, Delicious and Fuji varieties are usually eaten raw, while Pippins and Granny Smith are preferred for cooked desserts.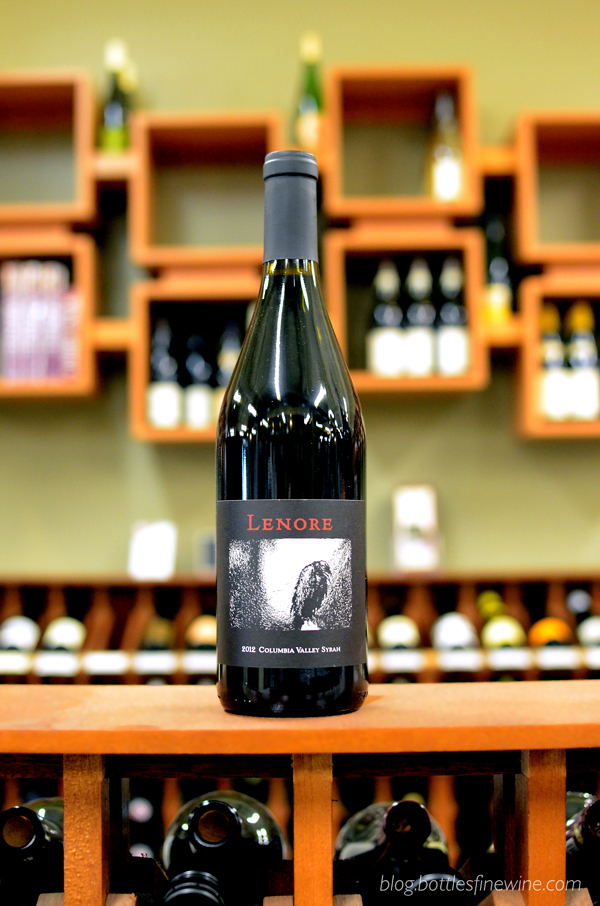 Corvidae 'Lenore' Syrah
Named after a 17th Century Irish Patriot who dedicated his life to upholding the highest principles of political equality and freedom, the Owen Roe winery shares his same dedication to principle in their production of wines. Producing beautiful wines from superior sites in the Pacific Northwest, all of their grapes are hand harvested, handled with minimal processing and aged in French oak barrels.
One of Owen Roe's many labels, Corvidae is the name for the family of birds that includes ravens and crows and was inspired by the many crows that circle the sky over the winery. Over 100 different types of birds in the Corvidae family, they are all considered very intelligent and are known for their inventive ways, playful personalities, and raucous calls.
Big, rich, and crowd pleasers, each wine is named for a particular fairytale, fable, or legend. Named for Edgar Allan Poe's poem "The Raven" (what label could be better for late October?), Lenore has a cool character and a natural acidity that displays flavors of black and blue fruits, cola, rosemary and smoke on a focused, rounded and textural palate.
Baked Apples with Pork Stuffing
Yield: 8 – 12
Ingredients
4 Tbsp Salted Butter
2 Tbsp Olive Oil
1 small yellow onion, chopped
4 Celery Ribs, chopped
1 lb Ground Pork
6 – 8 sage leaves, fresh, chopped
2 – 3 thyme sprigs, fresh, leaves only
1 Tbsp Tarragon, fresh, chopped
Sea Salt, to taste
Cracked Pepper, fresh, to taste
1 cup Bread Crumbs, fresh
8 – 12 Apples
Parsley, fresh, for garnish
Method of Preparation
1. Preheat oven to 350 degrees.
2. In a large skillet, heat 2 tablespoons of butter and the olive oil over medium heat.
3. Add the onions and celery and cook until soft, stirring as needed, about 5 minutes. Add the pork and cook until no longer pink. Stir in the herbs and season desired with salt and pepper. Toss with the bread crumbs to combine and then remove the stuffing from the stove.
4. Remove the top fourth of each apple and then using a small spoon, scoop out the center, seeds and all. Leave just enough flesh to create a nice hollow for the stuffing.
5. Divide the stuffing evenly between the apples, packing each to the brim.
6. Transfer the apples to a large baking dish and place a small amount of the remaining butter on each apple. Bake the apples until the flesh is tender and the stuffing is golden brown, about 1 hour.
7. Remove from the oven, top with parsley and serve with a nice juicy pork chop, or entree of choice.
Happy cooking!
Cheers!
-The Bottles Team