If you haven't yet spent time with the summer issue of Edible Rhody, you're missing out on coverage of some of the best seasonal eating and drinking our state has to offer. To tide you over until you do pick up a complimentary copy at Bottles, we're happy to present a pairing of a terrific wine with a summer-style roasted pork loin dish from Metacom Kitchen's Chef/Owner Richard Allaire.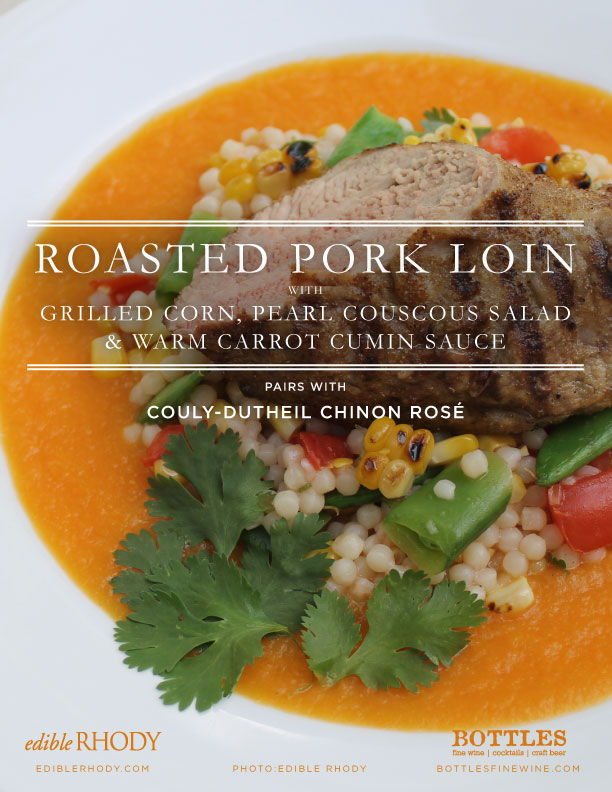 Said Chef Richard: "This recipe embraces the simplicity of summer cooking when you can let the ingredients shine through. You can adapt this using other vegetables, citrus or herbs depending on what is available at the farmers' market."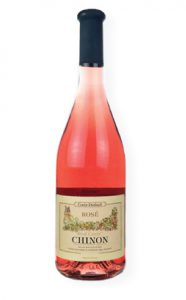 Kate Miceli, our Wine Assistant, paired this seasonal dish with the 2016 Couly-Dutheil Chinon Rosé. Said Kate: "Made from 100% cabernet franc, the Couly-Dutheil is punchy with pronounced flavors of ripe plums, mulberries, fresh thyme and lilac flowers. It has a luscious mouthfeel that is perfect with roasted pork, and the herbaceous tones mingle fantastically with the herbs and the carrot cumin sauce. Enjoy!"
Roasted Pork Loin, Grilled Corn, Pearl Couscous Salad with Warm Carrot Cumin Sauce.(Serves 4)
INGREDIENTS
1 pound pork tenderloin
1 teaspoon ground coriander
Kosher salt
Extra-virgin olive oil
4 ears fresh sweet corn, shucked
3 large carrots, peeled and sliced
3 shallots, minced
1 teaspoon ground cumin seed
1 lime
25 snow peas (or use snap peas or green beans), blanched
4 ounces Israeli couscous
1 large heirloom tomato, seeded and diced
1⁄4 cup fresh cilantro leaves
METHOD
Preheat oven to 300°F. Preheat grill or prepare coals. Season pork with coriander and salt, then rub with 1 tablespoon olive oil. Place on grill and sear on all sides (this should take just a few minutes), then transfer to a cooking rack set over a rimmed baking sheet. Place in the oven for approximately 35 to 45 minutes. Using a thermometer, remove from oven when internal temperature is 140°F. Set aside and let rest at room temperature while you prepare the salad.
Meanwhile, coat corn with 1 tablespoon olive oil and char on the grill on all sides. Let the cobs cool, then cut corn kernels off of the cob. Reserve the kernels and place the shorn cobs in a pot with the carrots, minced shallots and ground cumin seed. Add 2 cups water. Bring to a simmer and cook until carrots are very tender, approximately 15 minutes. Remove from heat and discard corn cobs. Transfer carrots, shallots and liquid to a blender. Add juice from ½ lime and ¼ teaspoon salt. Blend until carrot purée is very smooth (add more water if needed for desired consistency). Keep warm.
Bring approximately 3 quarts of water to a boil with 3 tablespoons salt added. Add snow peas and blanch 1 minute (2 minutes for green beans) and then remove with a slotted spoon. In the same water, cook couscous for about 6 to 8 minutes until al dente, strain. Coat couscous with 1 tablespoon olive oil and set aside.
Combine cooked corn, snow peas, diced heirloom tomatoes, juice from the other 1⁄2 lime plus the chopped cilantro in a bowl, along with the couscous. Add salt to taste. Place pork back on grill for 3 to 4 minutes to warm slightly (if desired) and then slice into large 4 pieces. Spoon carrot purée on each of 4 plates, then divide couscous salad equally. Place pork on each plate and serve immediately.
Cheers & Enjoy!