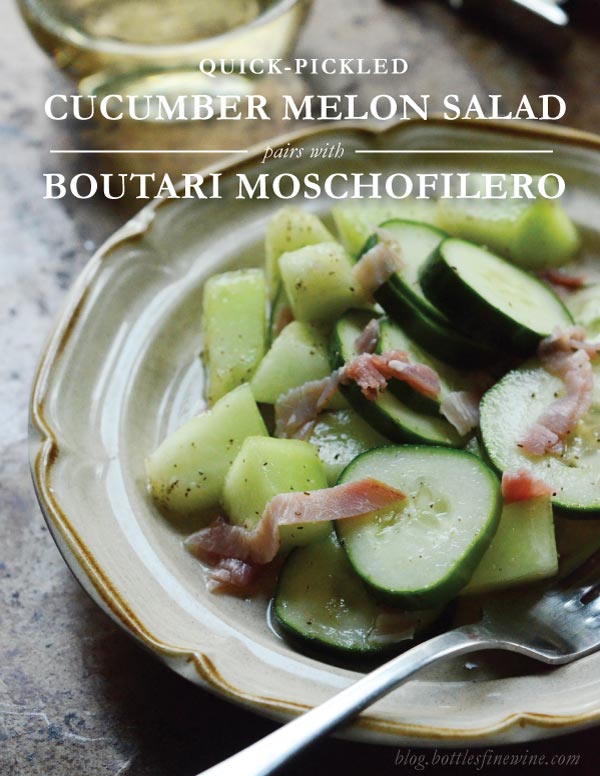 As the end of summer draws ever nearer, now is the time when those vegetable gardens begin to yield delicious produce. As one of the easiest plants to grow, and very versatile, cucumbers are currently ripe for the taking!
Light and perfect for summer, we have paired this simple but flavorful Quick-Pickled Cucumber Melon Salad with the just as versatile, white Greek wine of Moschofilero.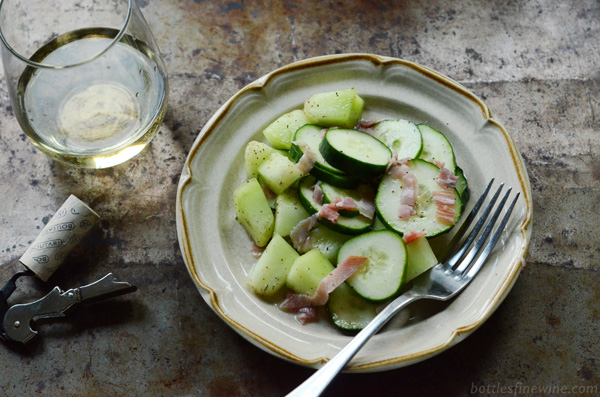 Cucumbers
Originating in India, the cucumber has been around for 3,000 years and has had some interesting uses throughout history. Generally featuring  a dark-green skin, and crispy, moist, rich flesh,  they are best picked just shy of reaching maturity. At this stage they taste sweet, have a crunchy texture, and a unique flavor. Left any longer and they turn tough, yellow and become inedible. Cucumbers are usually eaten raw or used in salads, but can be also be used for juicing, adding flavor to water, as a soup, or for a facial (the possibilities are endless!).
As always one of my go to sites for recipes, Food52, has some wonderful ideas for the use of cucumbers.
For out of the box summer salads and cocktails, Serious Eats is the place to look.
Boutari Moschofilero
The Boutari Company was established in 1879 by Ioannis Boutaris in Naoussa, Greece. Over 130 years later it is one of the top wineries in Greece and an ambassador of Greek wine all over the world. It is among the top 10 international wineries in the Hall of Fame and is the first and only Greek winery to ever win "European Winery of the Year". The wine makers at all six wineries put a great emphasis on making quality wines with indigenous Greek varietals that display their distinct character and potential.
In an effort to save the Moschofilero variety from extinction, Boutari created one of the most famous brand names on the market today, and their name is now synonymous with this grape variety.
Known world wide as one of the most versatile wines when it comes to food pairings, Moschofilero has a strong aroma of white rose and orange blossom with hints of citrus fruit. It is fresh, full and balanced on the palate with a long finish. Perfect for this sweet and salty salad, the flavors will balance nicely without overpowering one another.
Quick-Pickled Cucumber-Melon Salad
Yield: 6 Cups
Ingredients
4 Kirby or Garden Cucumbers sliced 1/2 inch thick
3 cups Honeydew Melon, cubed
2 Tbsp plus 2 tsp granulated sugar
1 Tbsp salt
Black pepper to taste
2 slices prosciutto, slice into thin strips
If you don't like prosciutto then use 1/2 cup crumbled feta cheese
Method of Preparation
1. Mix the cucumber and melon together in a medium bowl and sprinkle with the sugar and salt. Let it sit for 10-20 minutes in the fridge and then drain the excess liquid.
2. Return the mixture to the fridge until ready to serve.
3. Before serving drain the cucumbers and melon one more time and transfer it to a serving bowl.
4. Season with black pepper and sprinkle the prosciutto or feta cheese over top and serve. Source.
by Kim Vroegindewey