Seafood and rosé wine pairing! It's a match made in heaven. You may have read our grilled tuna steak or swordfish kebab pairings, however, we have saved the best for last with this light & simple, yet slightly southern Pan Roasted Fluke & Fried Green Tomatoes with Jonah Crab-Chive Remoulade. Thank-you Edible Rhody Magazine for this fabulous recipe!
Brand new to the store, Bodegas Taron has been flying off our shelves and we are happy it is. Zesty, fruity, and earthy it is the perfect summer sipper for light seafood fare.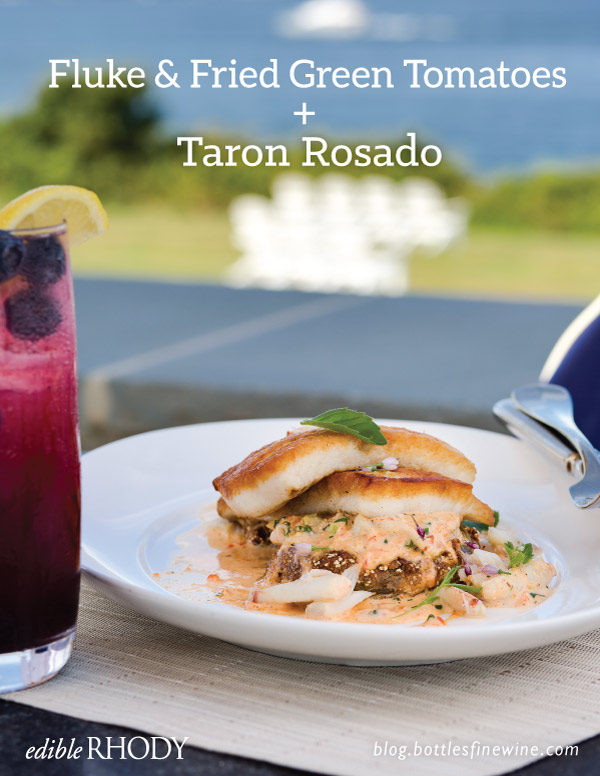 Fluke
Found most commonly in the Mid-Atlantic from Cape Cod, Massachusetts, to Cape Fear, North Caroline, fluke (or Summer Flounder as they are also referred to) are left-eyed flatfish. Fluke are highly valued for their lean white meat and light, delicate flavor. As bottom feeders, they are able to change their coloring to blend in with the bottom of where they live, thus allowing them to be predators and to protect themselves from predators.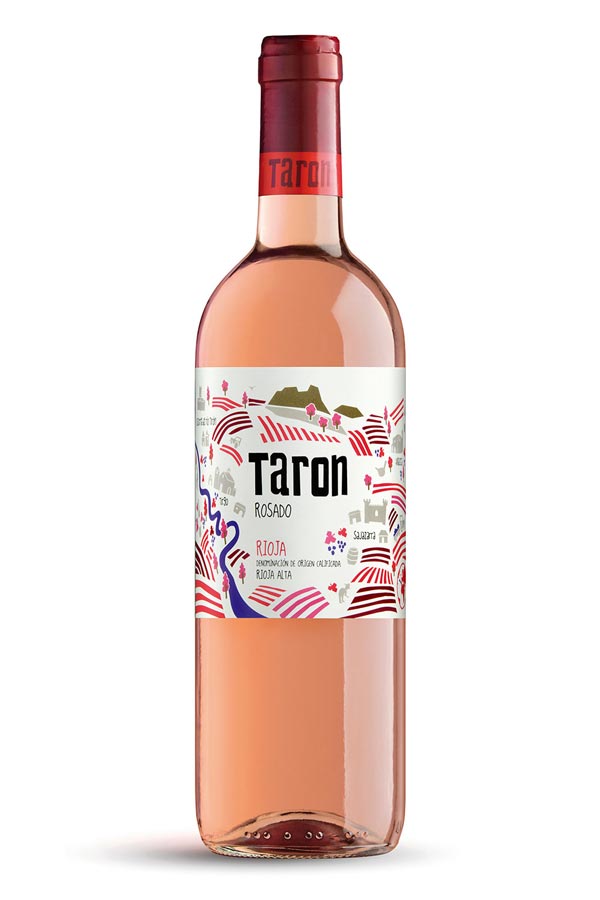 Bodegas Taron
Bodegas Taron is the collaboration of four small towns in Rioja Alta, Spain who pooled their vineyards and generations of experience together in order to share what they do best with the world. Together with the know-how of the experienced and the spirit of the young, they have created a winery based on tradition and innovation, producing wines of outstanding quality.
50% Viura and 50% Garnacha, this pale pink rosado is smooth and light, with ripe fruit and floral aromas followed by a fresh crisp palate of ripe strawberry, offset by a subtle hint of earth. The perfect addition to the Pan Roasted Fluke for some added zippy acidity and subtle fruitiness.
Pan Roasted Fluke & Fried Green Tomatoes with Jonah Crab-Chive Remoulade
Executive Chef Karsten Hart, Castle Hill Inn & Resort, Newport
Fresh local seafood and vegetables from our Castle Hill Inn garden were the inspiration for this dish and, with it, a nod to my Louisiana heritage.
Jonah Crab–Chive Remoulade:
1 fresh farm egg yolk
½ teaspoon mustard
½ cup vegetable oil
½ clove garlic, finely minced
¼ cup minced celery
¼ cup minced red bell pepper
½ teaspoon fresh jalapeño or Serrano pepper, finely minced
¼ teaspoon paprika
¼ teaspoon Old Bay seasoning
3 tablespoons minced fresh chives, plus additional for garnish
1 pound Jonah crab meat (or fresh lump crab meat)
Juice of 1 lemon
Fried Green Tomatoes:
2 fresh farm eggs
1 cup buttermilk
1 cup all-purpose flour
1 cup Kenyon's jonnycake meal (or other white corn meal)
1 tablespoon kosher or sea salt
½ teaspoon freshly ground black pepper
½ teaspoon paprika
½ teaspoon Old Bay seasoning
2 large green tomatoes, sliced ½ inch thick
Juice of 1 lemon
Fluke:
4 (6-ounce) fluke fillets (or flounder)
Freshly ground white pepper
In a stainless steel bowl, combine egg yolk and mustard. Whisking constantly, slowly drizzle ½ cup vegetable oil into the egg mixture to form a mayonnaise (or substitute with your favorite mayonnaise). Once the mixture is fully emulsified, combine remaining remoulade ingredients. Adjust seasoning. Refrigerate.
For the tomatoes, whisk together eggs and buttermilk in a small bowl. In a separate bowl, combine dry ingredients. Dip tomato slices into liquid mixture first, then dredge in the flour mixture. Heat ½ cup vegetable oil in a cast-iron skillet over medium-high heat until temperature reaches 375°. Gently submerge tomatoes in the hot oil. Fry until golden brown. Place on a clean paper towel. Season with salt, pepper and lemon juice. Keep warm.
Season both sides of fluke with salt and freshly ground white pepper. Heat 2 tablespoons vegetable oil in a sauté pan over high heat. Add fillets and sear both sides until golden brown and cooked through.
To serve, place 3 slices fried tomatoes on warm dinner plate. Place the fluke fillet on top of the fried tomatoes and cover the fish with the remoulade sauce. Garnish with fresh chives and enjoy! Serves 4 as a main course.