It's summertime in New England, which means seafood, seafood, seafood! And we just so happen to live in the best place to find some of the freshest there is to offer! 'Tis the season for rosés as well, and we're overflowing here at Bottles.
Pair seafood and rosé together, and you will be a converted rosé drinker. Be sure to check out Edible Rhody's summer issue for this recipe and more!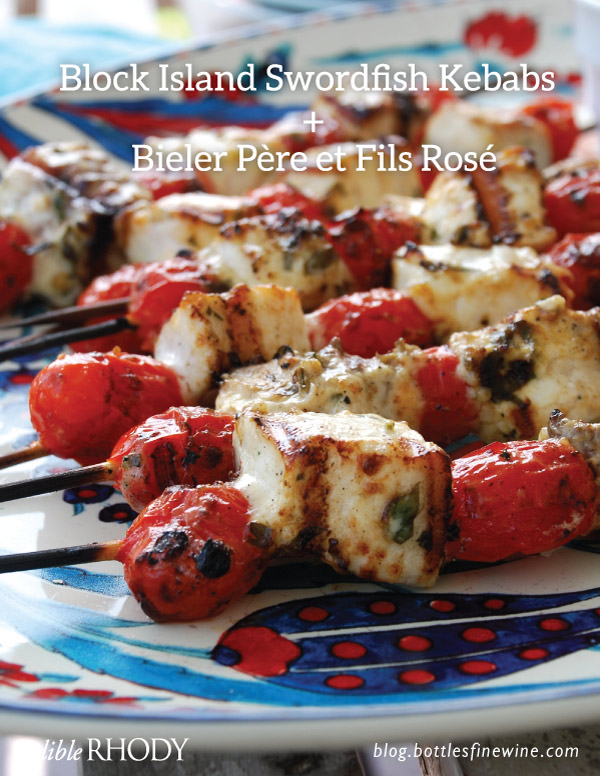 When researching this post I was trying to decide whether to talk about Swordfish or Kebabs, and since they are both foods of the ancient times, why not talk about both?
Kebabs were discovered to have been consumed by the Greeks before the 17th century BC. They're also referenced in classical Greek works, from Homer to Aristotle. Traditionally consisting of cooked lamb on a skewer, kebabs have reached the far corners of the world and are served with varying meats, fish and vegetables based on local tastes.
Also consumed widely since ancient times, especially off the Tyrrhenian coast, swordfish are large predators characterized by their long flat bill. A naturally oily & firm fish, the meat is sold as steaks and can be cooked in ways that more fragile fish can not, such as over a grill or of course, on skewers.
Bieler Père et Fils Rosé
The original owners of Château Routas in Provence, Philippe Bieler focuses primarily on grenache based red blends and rosé wines. In 2005, the family sold the estate and founded Bieler Père et Fils that same year, focusing 100% on rosé. Philippe's son Charles not only produces wine with the family, but has also joined forces with Charles Smith, winemaker from Washington, to create a red blend and a rosé under the label Charles & Charles.
Typical of this rosé, the 2013 displays aromas of raspberry, cherry and strawberry with hints of grapefruit and floral notes. The palate is medium-bodied and crisp with flavors of red berries, cherry, lavender and Herbs de Provence. Long and refreshing, this wine will cut right through the fattiness of the Swordfish and Salsa Verde Mayonnaise, balancing nicely with the crisp fruit flavors of the wine and cleaning your palate for the next bite.
Block Island Swordfish and Tomato Kebabs with Salsa Verde Mayonnaise
Amy McCoy, author of Poor Girl Gourmet and founder/blogger PoorGirlGourmet.com
If using wooden skewers, be sure to soak them in water for at least one hour prior to assembly. 
¾ cup mayonnaise
Grated zest and juice of 1 lemon
¼ cup finely chopped parsley leaves
2 cloves garlic, finely chopped
1 tablespoon capers, finely chopped
1 ¼ pound Block Island swordfish steak (or the less expensive tips)
1 pint cherry tomatoes
In a mixing bowl, whisk together mayonnaise, lemon zest and juice, parsley, garlic and capers until well combined. Season with salt and pepper.
Cut swordfish into 1-inch cubes. In a large bowl, toss with ¼ cup mayonnaise mixture to coat evenly. Place tomatoes in a small bowl and toss with 2–3 tablespoons of the mayonnaise.
Preheat grill or prepare coals. For each kebab, alternate tomatoes with swordfish cubes, repeating until there are 4 tomatoes and 3 swordfish cubes per skewer.
Grill, turning every 2 minutes until swordfish is cooked through, and tomatoes are lightly charred, 8 to 10 minutes total. Serve with the remaining mayonnaise.
Estimated cost: $19.34 for 4 servings, or $4.84 per serving.