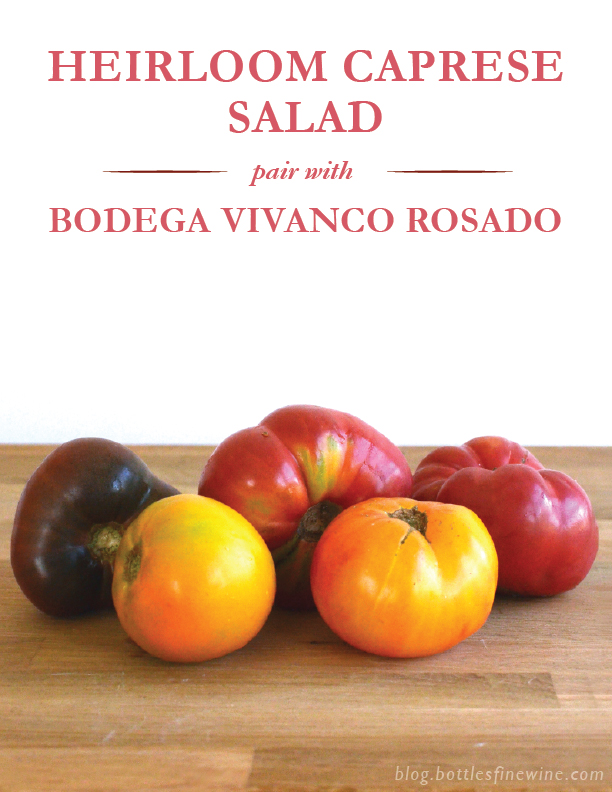 It's tomato season and I don't know about you but tomatoes are a must have for my fridge, particularly of the heirloom variety.
Each varietal shines in its own way and so if you are new to the heirloom variety consider buying a few different kinds to make this simple Heirloom Caprese Salad below. This way you will really be able to get a sense of the varying differences between the tomatoes.
For such a simple, fresh & full of flavor salad we suggest pairing it with the simple, natural, and no frills Vivanco Rosado to bring out the complexity of the tomatoes.
Heirloom Tomato
An heirloom is a variety that has been passed down by seed from gardener to gardener because of its valued characteristics. They come in a variety of sizes, colors, and flavors. Since the term heirloom has begun to be used loosely in the tomato world, tomato experts Craig LeHoullier and Carolyn Male have classified heirlooms into four categories: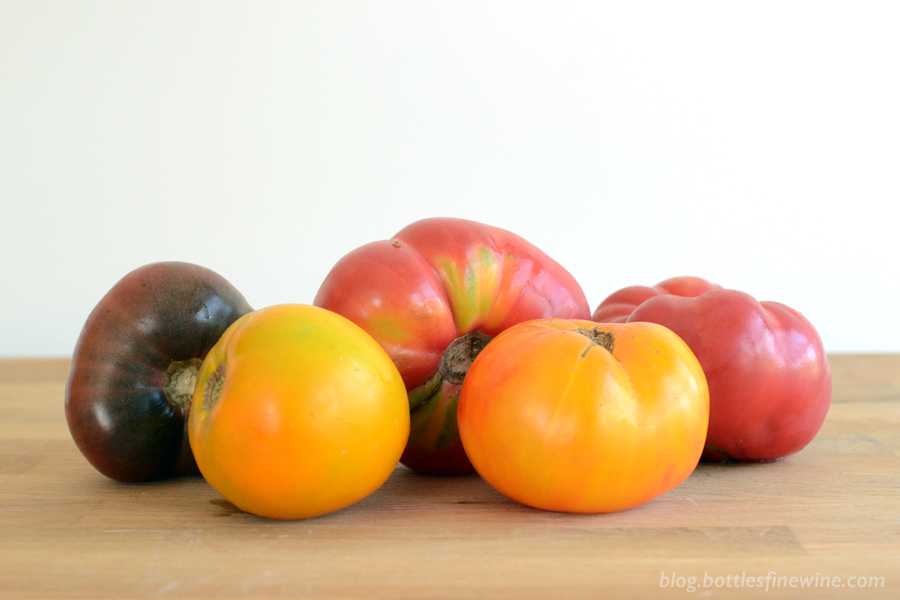 Commercial Heirlooms: Open-pollinated varieties introduced before 1940, or tomato varieties more than 50 years in circulation.
Family Heirlooms: Seeds that have been passed down for several generations through a family.
Created Heirlooms: Crossing two known parents (either two heirlooms or an heirloom and a hybrid)
Mystery Heirlooms: Varieties that are a product of natural cross-pollination of other heirloom varieties.
The number one reason people choose heirloom varieties over the traditional we see in the markets, is the flavor. There is no one taste for heirloom tomatoes. They range from sweet and succulent to mellow and acidic or deep and smoky, making them a versatile addition to any meal or appetizer.
Serious Eats not only has recipes for using heirlooms in meals but also to make a fantastic Bloody Mary.
If you have not yet been introduced to Food Gawker then now is the time. It has hundreds of recipes after recipes for heirloom tomatoes. Although be careful because you could get lost in it for hours.
Bodega Vivanco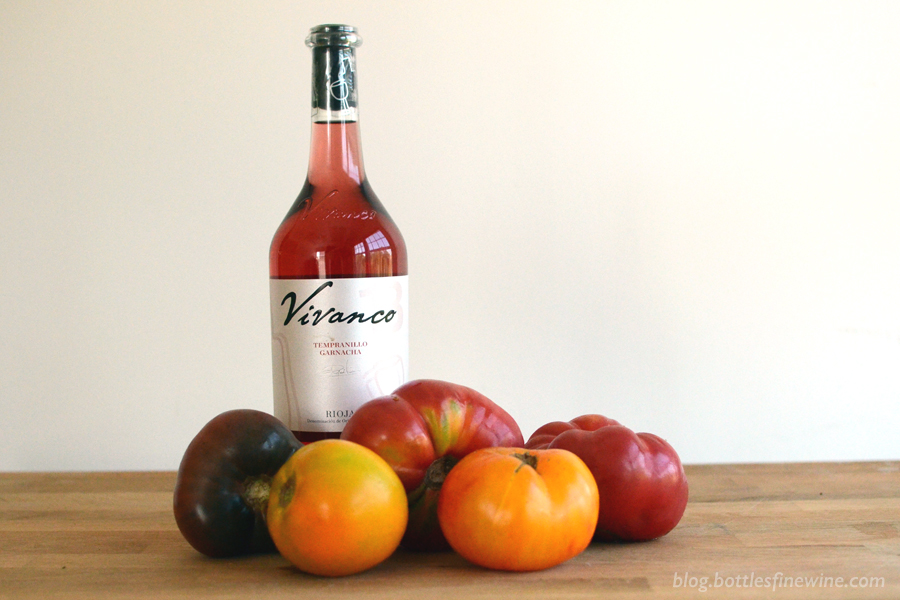 Located in Briones, an enclave of La Rioja, the Vivanco underground winery is dedicated to producing wines using only native grapes that are vinified using traditional techniques. Renowned for quality, each of their wines has a distinct personality that reflects the land and boasts a "Top 100" accolade from Wine Spectator. By having the winery underground, the right temperature and moisture needed to properly preserve and age the wines is naturally achieved throughout the year, limiting the need for outside manipulation.
Ideal for simple appetizers, tapas, and salads the Vivanco Rosado is a perfect example of the distinct originality achieved in their wines. Lively and bright it offers up aromas of red licorice, raspberries, and strawberries with hints of violets. The palate is fresh with a pleasant acidity, great balance and a refreshing fruity finish, making an ideal pairing for the complexity of flavors in the Heirloom Caprese Salad.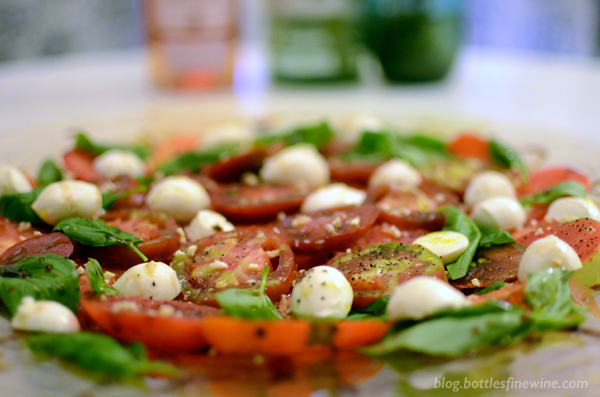 Heirloom Caprese Salad
Prep Time: 10 minutes
Yield: 4 servings
Ingredients
2 large Heirloom Tomatoes
8 Cocktail Bocconcini
1 1/2 Tbsp Balsamic glaze
1 Tbsp Olive oil
1 to 2 small Thai basil leaves
1/4 tsp Salt
(Optional) Garlic and spices to taste
Method of Preparation
1. Slice the tomatoes width wise into thick slices and arrange them on a platter with the Bocconcini.
2. Drizzle the top with balsamic glaze and olive oil.
3. Sprinkle with basil leaves and salt.