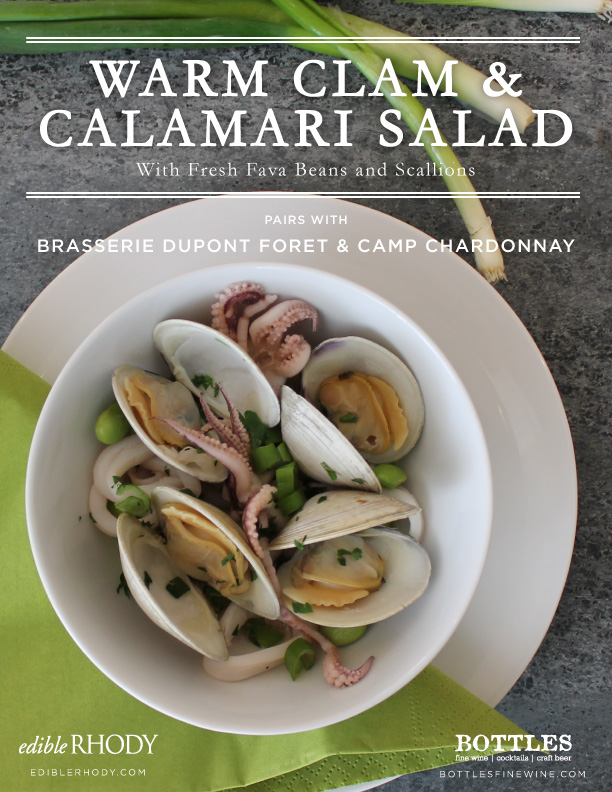 Can't get more "New England in the Spring" than with this classic clam & squid salad from the current edition of Edible Rhody and Al Forno's Chef David Reynoso. The addition of the fava beans and scallions anchors it to the season, and allows for more adventurous parings.
Try it with the Brasserie Dupont Foret for a perfect 'surf & turf' pairing. The Saison's well-integrated spice notes balance the earthiness of the fava beans and richness of the squid.
As for wine, we really enjoyed the salad with Camp Chardonnay. This is not your typical California butter bomb — it truly is more like a fine white Burgundy. Bright lemon, green apple and fresh herb flavors make it perfect match to the clams and favas.
Cheers and Bon Appetit!
WARM CLAM AND CALAMARI SALAD WITH FRESH FAVA BEANS AND SCALLIONS
Executive Chef David Reynoso, Al Forno, Providence
Ingredients
24 littleneck clams, washed and scrubbed
½ cup dry white wine
1 garlic clove
1 pound cleaned calamari, cut into rings, tentacles left whole
2 pounds fresh fava beans, shells and skins removed (should yield about 1 cup)
4 scallions, thinly sliced, placed in ice water
½ cup loosely packed parsley leaves, finely chopped
6 tablespoons extra-virgin olive oil
Juice of 1 lemon
Maldon Sea Salt
Place the clams, wine, garlic and ½ cup of water in a large covered pan. Steam the clams over medium heat. Check the clams after about 5 minutes and place the open clams into 4 warm bowls. Continue steaming, checking every few minutes, until all the clams have opened and been distributed evenly between the bowls.
Add the calamari and fava beans to the pan, stir constantly and cook for 3–4 minutes, until the calamari is firm.
Remove the garlic clove. Drain all but 1½ cups cooking liquid and add the scallions, parsley, olive oil and lemon juice to the calamari. Divide the calamari and fava beans among the 4 bowls. Finish each bowl with a pinch of sea salt. Serves 4 as a first course or light supper.
###