Garnacha growing in the extreme desert conditions of Jumilla.
Earlier this summer Bottles' Wine Director Nick Shugrue traveled throughout Spain, visiting several vineyards and essentially having the time of his life. We'll be tasting many of the wines he had while in Spain in the store on Saturday. Following are excerpts from his travel journal.
We started in Vigo which is up in Galicia, in northwest Spain, known for incredible seafood and the Albarino grape. We were in a small seaside town called Cambados, which was kind of New England-like (humid, coastal, picturesque) but with big, old palm trees lining the main boulevard.
In Cambados we had an insane lunch with mountains of shellfish, razor clams, octopus and whole grilled fish. One of the region's delicacies is the Percebes or "goose foot barnacle." It's a prehistoric, scary looking type of shellfish that I'm glad I tried, but won't be having again. With lunch we drank a ton of really great Albarino wine. Galicia is Albarino country – it's what all the locals drink, given how well it pairs with seafood, giving credence to the "what grows together goes together" adage. I visited a few wine shops, and really, all they sell is Albarino with maybe a few red Mencias, a wine made inland in the mountains from the grape of the same name.
The Galician regional delicacy Percebes, or "goose foot barnicle," with Nick's empty glasses of locally-grown and made Albarino.

Later in the day we visited the beautiful Lagar de Condesa winery, where lots of the Albarino wines are made. The Kentia was my favorite, super fresh, vibrant and lively. At de Condesa they are experimenting with giant egg-shaped fermenting tanks that many high-end, cutting edge wineries all over the world are using. Many winemakers feel it's the perfect vessel in which to ferment because the shape of the egg makes the wine naturally convect, continually stirring the lees on its own, not mechanically. It allows for more skin contact with the juice and produces wines with more body and complexity. Really cool. 
Nick next to the egg-shaped fermenter at Lagar de Condesa.
Next we drove southeast to the desert region of Zamora. I felt like we were in the middle of nowhere. Zamora is the giant all encompassing zone that includes the famous wine region of Ribera del Duero. Here we drank some great Tempranillo, Mencia and also a "Prieto Picudo" which is an obscure grape from Zamora that I've never seen stateside. It's a bit Dolcetto-ish but juicier.
But the most interesting bit about Zamora is its desert landscape! It's amazing how anything can grow in such arid conditions, just unbelievable. With no irrigation! Here we went to one of Juan Gil's oldest vineyards where the vines are over 100 years old, growing in sand. It was the weirdest thing. I felt like we were on a sand dune. The wines produced from these ancient vines and in these rusty, red-ish brown soils were outstanding. Really rich and concentrated. The stand out wine of the day was Rejon Tempranillo grown on 130 year old vines.
A 100+ year-old vine growing in Zamora's sandy soils.
We later visited another of the Juan Gil winemaking facilities in Rueda, which was about an hour's drive from Zamora. It was a little less arid here, and the soil was made up of larger grains very much like gravel. One of the stand-outs here was the Shaya Verdejo, which is partially sourced from 110 year old vines. It was a delicious, very typical Verdejo – medium bodied and a bit more lush. We finished that day in a town called Segovia. One of the prettiest cities I have ever been in. The town is cut in half by a giant Roman aqueduct. Stunning. 
Verdejo growing in the gravely Rueda soil.
The Roman aqueduct in the ancient city of Segovia.
The next day we were off to Jumilla in the extreme southeast, so the opposite corner of where we started and home to the Juan Gil headquarters. We've carried the Juan Gil wines in store in the past to great success but I honestly have a new appreciation for them after visiting the vineyard. It's an amazing place full of beautiful contradictions. In this rocky, barren landscape there's a garden with several 900 year old (!) olive trees. Yet inside the winery, which is underneath a large mountain, is one of Juan Gil's massive, cutting edge, state of the art wineries, which houses four-story high fermentation tanks.
900-year old olive trees at the Juan Gil headquarters in Jumilla.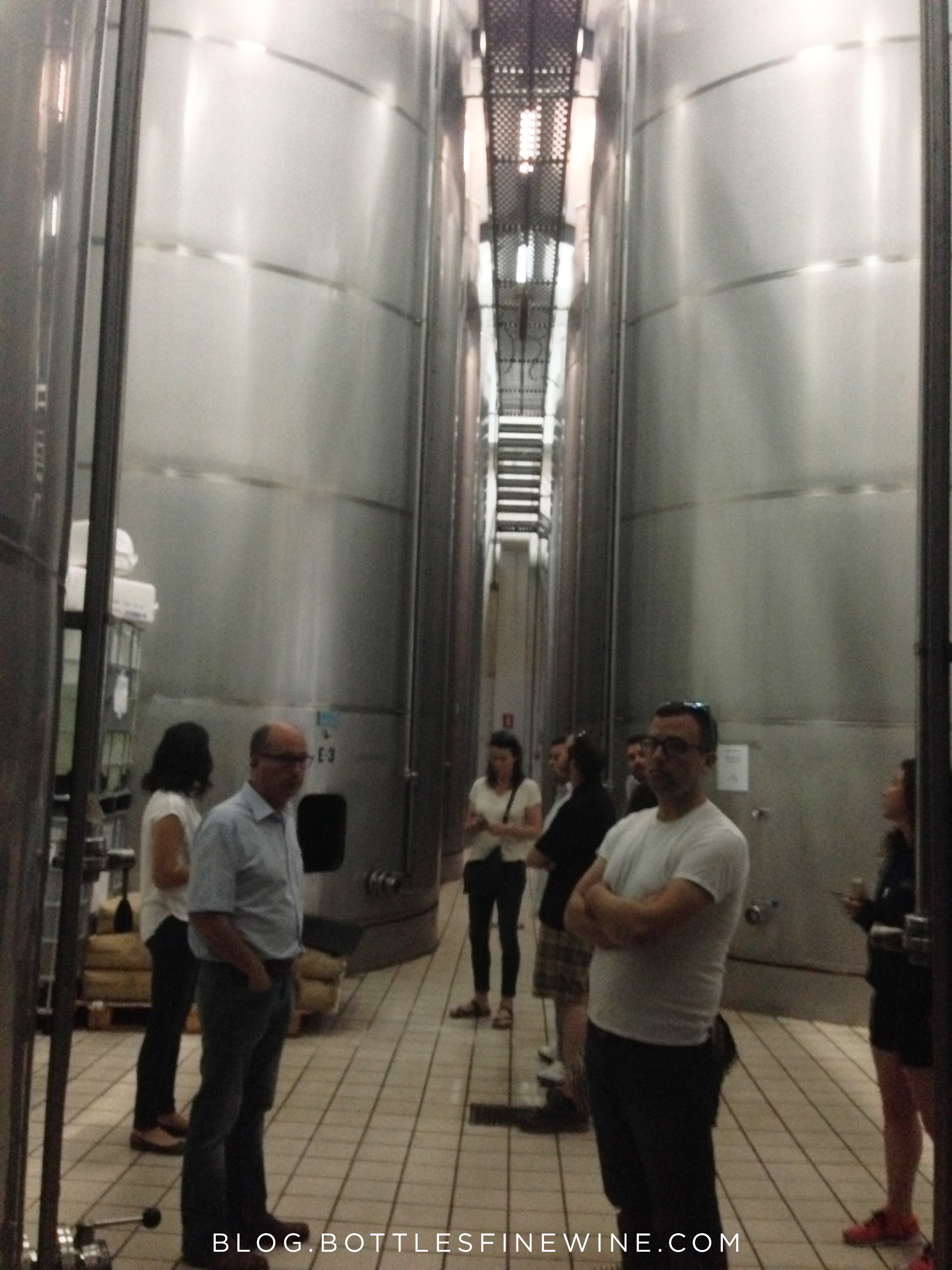 The modern, steel fermentation tanks at the Juan Gil winery.
While there, we also got to see a vineyard where their Monastrell is grown. Again, super extreme growing conditions here, which they allude to on their label. It's really hard to believe wine can be made in this region! The soil and terrain is a desert of jagged sharp stones, rocky cliffs, plateaus and canyons. On the front label of the Honoro Vera Monastrell there's an image of a vine growing through a white rock. When the vineyards that produce these wine were planted over 100 years ago, the farmers had to remove about a meter of these jagged rocks, until they hit a slab of chalk/limestone. They then had to drill a hole through the limestone to plant the vines. They did this so that the roots could get nutrition and water. The wines all have this hard but delicious mineral edge to them because of the influence of the limestone. It was really cool.
Later in the day we drove to the region next door called Almansa. Here we toured Bodegas Atalaya and met Pepe. Pepe was certainly a highlight of the trip. This round, jovial, amazing man gave us a tour of the rocky vineyards and desert landscape in his old Land Rover Defender. What a day! Atalaya mostly works with the Alicante Bouchet grape which in this region is called Garnacha Tintorera (due to EU laws). Alicante is a black skinned grape and one of the only grapes that produces red juice when crushed.
Nat Saywell of MS Walker, Atalaya's Pepe and Nick, prior to touring the vineyard in Pepe's Defender.
On day 5 of our trip we drove up the coast to Montsant and Priorat, closer to Barcelona. The landscape was incredible. We visited the Cellars Can Blau which sits in this bowl surrounded on three sides by mountains. Here we had what was probably the best meal of our trip: A chef brought to our table a huge cast iron skillet full of sunnyside-up eggs. In the middle of it was a mountain of truffled potatoes. He placed it on the table and began tossing. Unbelievable. It was served with Blue Grey Priorat and the Can Blau wines. Big, stunning wines grown in sandy mountainsides. Just beautiful.
The skillet filled with egg and truffled-potatoes. It was mixed tableside prior to being served.
We finished the trip with a day in Barcelona. What an amazing town. The Sagrada de Familia church (a World Heritage Site), Gaudi Park, the famous outdoor market La Bouqueria and Flamenco. A great way to end a trip I'll never forget.
Join us on Saturday, August 27th, as we taste several of Nick's favorites from his trip, including Blue Grey Priorat, Kentia Albarino and Shaya Verdejo.