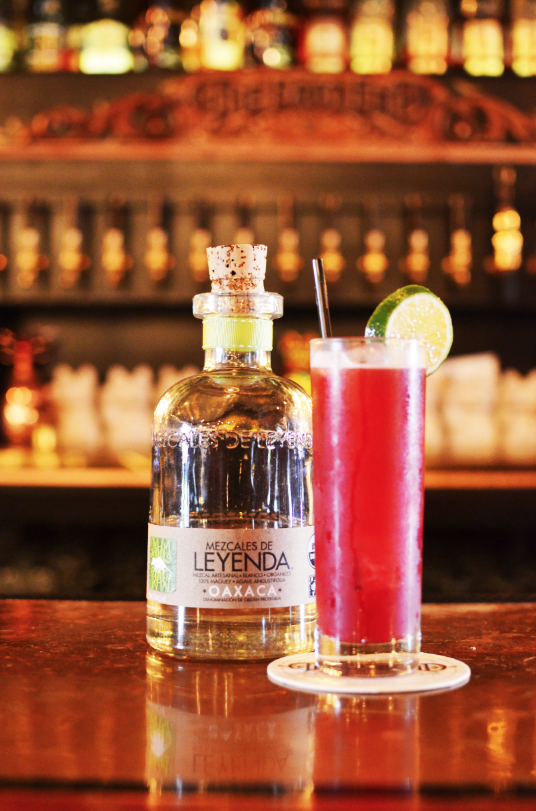 We're not entirely sure why this iconic tequila-based cocktail isn't more popular among the general drinks-lovin' public. After all, it's easy to make, distinctive, delicious and a perennial bartender favorite.
To right that wrong we've teamed up with our friends at The East End to concoct an updated spicy take on the classic El Diablo. Bar Manager Kayleigh Speck swapped out tequila for mezcal, and amp'd up the spice with the addition of a habanero shrub. She shakes it with creme de cassis, and lime juice, adds ginger beer and presto: the  iconic cocktail gets the attention it deserves.
More on that mezcal: We've chosen the Mezcales de Leyenda given its superior taste and its commitment to quality and the environment: its business practices are responsible straight through farming to bottling. For this recipe we're using the Oaxaca Blanco for its lemongrass aromas and flavors of lemons, herbs and cooked agave.
Head to the store to pick up your bottle — $5 off through August 2017 — for this cocktail (or just for sipping – it's that good) then head to The East End to taste their El Diablo on tap!
The East End's El Diablo
1½ oz Mezcales de Leyenda Oaxaca
½ oz Merlet Creme de Cassis
½ oz Fresh Lime Juice
2 Dashes Habanero Shrub (Bittermens Hellfire is a good one)
Approx. 4oz Ginger Beer
Lime wedge for garnish
Combine all ingredients, except ginger beer, to a shaker with ice and shake. Fine-strain into highball or Collins glass with fresh ice, top with ginger beer and garnish.
Cheers!