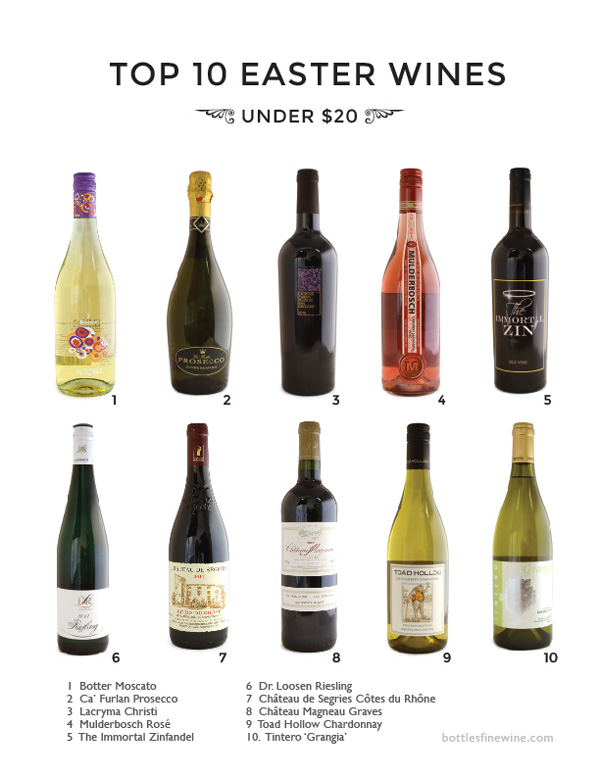 We love feasting holidays, and the arrival of spring also means Easter is on its way. Pairing wines for Easter is a treat for us, because rather than the heavier and richer wines that you'd have on Thanksgiving, wines that pair with a traditional Easter dinner are lighter and fresher. We've hand selected ten of our favorite wines that will pair with glazed ham, roasted lamb, fresh veggies and everything on the table.  Come in and look for more wines marked with orange flower tags, or ask any of our knowledgeable staff for assistance. We are here to help!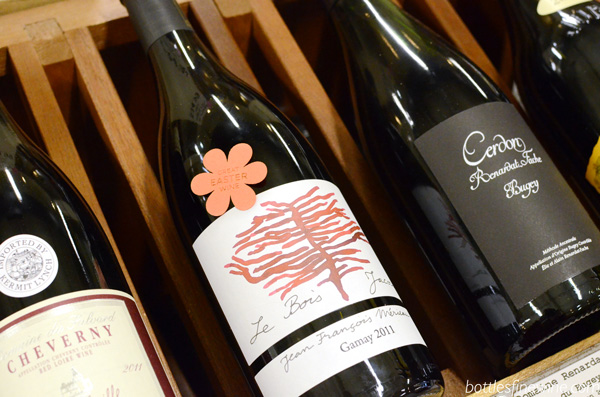 Botter Moscato
A little sweet, a little fizzy – great by itself or with light salads.  A perfect way to start off the day during Easter brunch.
Ca' Furlan Prosecco
Our favorite inexpensive sparkling wine! This makes a mean Mimosa or Bellini, but it's also great on its own.
Feudi di San Gregorio Lacryma Christi
This virile and powerful red from Campania translates to "Tears of Christ".  We can't think of a more appropriate wine for Easter, and it pairs really well with Lamb!
Mulderbosch Rosé of Cabernet Sauvignon
Deeply colored, boldly flavored and mighty delicious, we really recommend this rosé as one of the best pairings with ham.
The Immortal Zinfandel
A really great Zin from vines that were planted in the 1880's.  Big bold fruit with a bit of strawberry and cocoa.
Dr. Loosen Riesling
Perfect with ham and lighter dishes.  Not too sweet, but loaded with ripe peach and grapefruit.  Sophisticated and delicious!
Château de Segries Côtes du Rhone
A very well made, very elegant wine that will please any red wine drinker.  Pair with lamb or anything roasted.
Château Magneau Graves
A stunning Bordeaux that has both beautiful fruit flavors but also a pronounced mineral element that makes it the best pick for pairing with Lamb
Toad Hollow Chardonnay
Perfect for those that want to serve a Chardonnay but doesn't want loads of oak and butter.  Crisp, clean and drinks just like an expensive French Burgundy.
Tintero 'Grangia'
A tiny bit fizzy and very delicious.  Aromas and flavors of white flowers and ripe stone fruit.  Springtime in a bottle – pair with Easter Egg Hunts and anything you'd eat for lunch.
Cheers!
Eric Taylor
Bottles General Manager