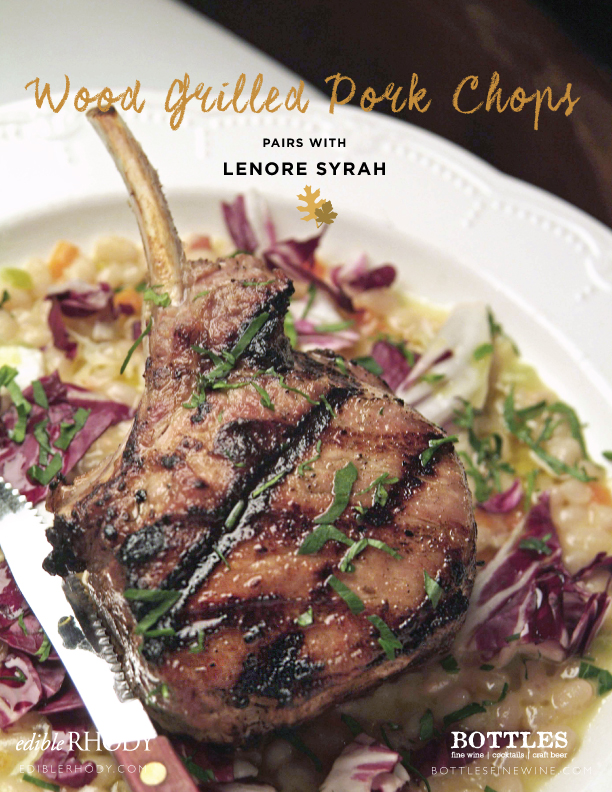 Photo by Chip Riegel
Syrah is, in my mind, Washington's grape and the Lenore is a great example why.  Brimming with dark and brooding fruit flavors and a little bit of a smoky flavor, this is a perfect pairing with Edible Rhody Magazine's grilled pork chops and rich Soffritto .
Treat yourself to a perfect pairing with this delicious recipe.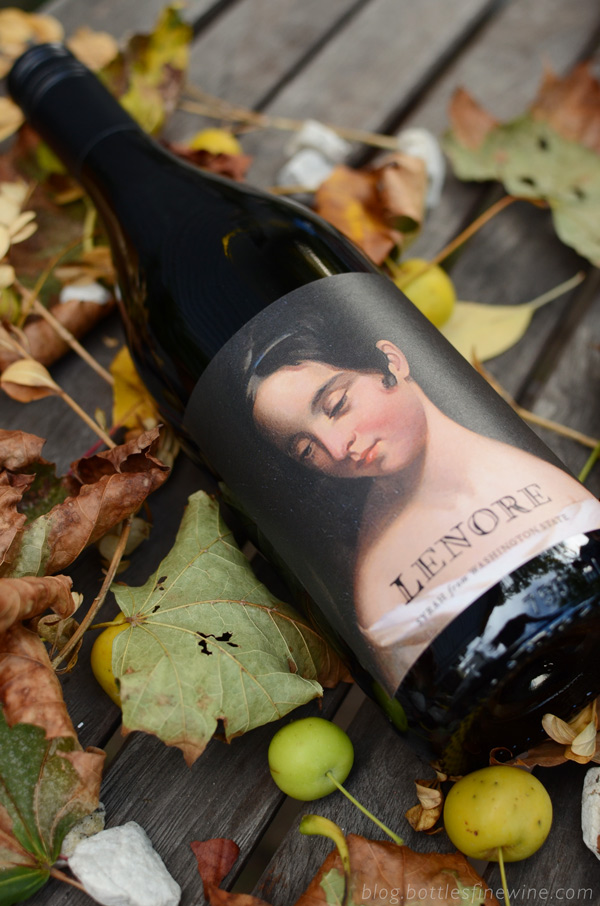 Corvidae Wine Co. Lenore Syrah
WOOD-GRILLED PORK CHOPS OVER CANNELLINI SOFFRITTO WITH RADICCHIO
by Chef/Co-owner Brian Kingsford, Bacaro, Providence
INGREDIENTS
Brined Pork Chops
1 cup dark brown sugar
1 cup salt
2 tablespoons fennel seed
2 tablespoons black peppercorns
3 sprigs each fresh rosemary, thyme and sage
6 cups hot water
6 (12- to 14-ounce) double cut pork loin chops
Soffritto
½ pound pancetta, diced into ⅛-inch cubes
Olive oil
2 cloves garlic
2 onions, finely diced
3 carrots, finely diced
2 celery stalks, finely diced
3 sprigs thyme
6 tablespoons unsalted butter
2 (14-ounce) cans cannellini beans, drained
¼ cup chicken broth
Kosher or sea salt
1 small head radicchio, stemmed, chopped in thin ribbons, rinsed and dried
Honeyed Onions (for garnish)**
Extra-virgin olive oil (good quality)
¼ cup aged balsamic vinegar, best available**
½ cup stemmed and chopped fresh flat leaf parsley
DIRECTIONS
To prepare the brine, in a large bowl or nonreactive container add brown sugar, salt, fennel seed, peppercorns, rosemary, thyme and sage to 6 cups hot water. Stir until salt and sugar are dissolved. Add pork chops and additional cold water until chops are fully submerged. Refrigerate overnight (or at least 12 hours). Discard brine after use.
On the day of preparation, preheat grill or prepare coals and preheat oven to 450°. Mark chops on the grill on both sides, about 5 minutes total. (Alternatively, sear chops in 1 tablespoon olive oil over medium-high heat, searing evenly on all sides.) Once chops are marked or browned, place in a roasting pan and roast until pork chops reach 130° (using an instant-read meat thermometer placed in the center), checking after 20 minutes. Let rest for at least 8 minutes before serving.
Meanwhile, prepare the soffritto. Sauté pancetta over medium heat in 1 tablespoon olive oil until fat is rendered. Add garlic and stir until mixture is fragrant. Add vegetables and thyme, and sauté until vegetables are softened. Add cannellini beans and chicken broth, making a thickened stew-like consistency, adding more broth if too thick. Bring to a boil, reduce to simmer and add butter. Season with salt to taste.
To serve, divide radicchio among 6 warm dinner plates. Ladle soffritto over radicchio and scatter the honeyed onions. Place chops atop vegetables. Drizzle with aged balsamic vinegar, extra-virgin olive oil and fresh parsley. Serve immediately. Serves 6 as main course.
Honeyed Onions **
¼ cup local wildflower honey
¼ cup good-quality red wine vinegar
1 onion, halved and thinly sliced
 DIRECTIONS
Combine honey and vinegar in saucepan on low heat. Add sliced onions and cook for about 5 minutes, until onions are softened. Can be made a day in advance and refrigerated. Bring back to room temperature before serving.
Quick-Aged Balsamic Vinegar **
¾ cup light brown sugar
¼ cup balsamic vinegar
 DIRECTIONS
Place brown sugar in a small saucepan with about 2 tablespoons of water. Apply heat just to melt the sugar and water to a thickened consistency. Add the vinegar and stir. If needed, reduce very gently over a low flame until desired thickness is achieved. (The balsamic will thicken once cold as well.) The longer heat is applied, the less the flavor resembles an aged balsamic vinegar, so try not to scorch or overheat.