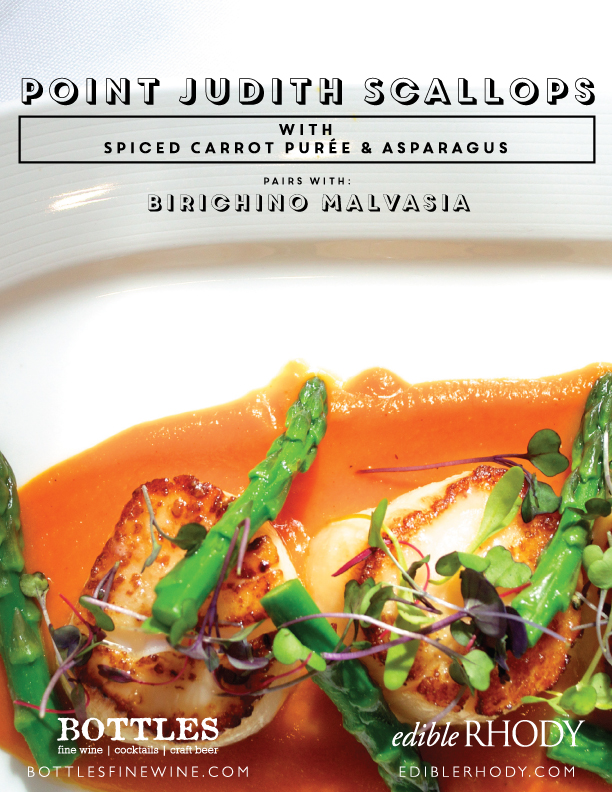 Happy spring! Celebrate the season and local seafood with fresh Point Judith Scallops enjoyed with a tasty new wine. We're featuring a recipe from Edible Rhody Magazine, Point Judith Scallops with Spiced Carrot Purée & Asparagus, and pairing it with Birichino Malvasia Bianca.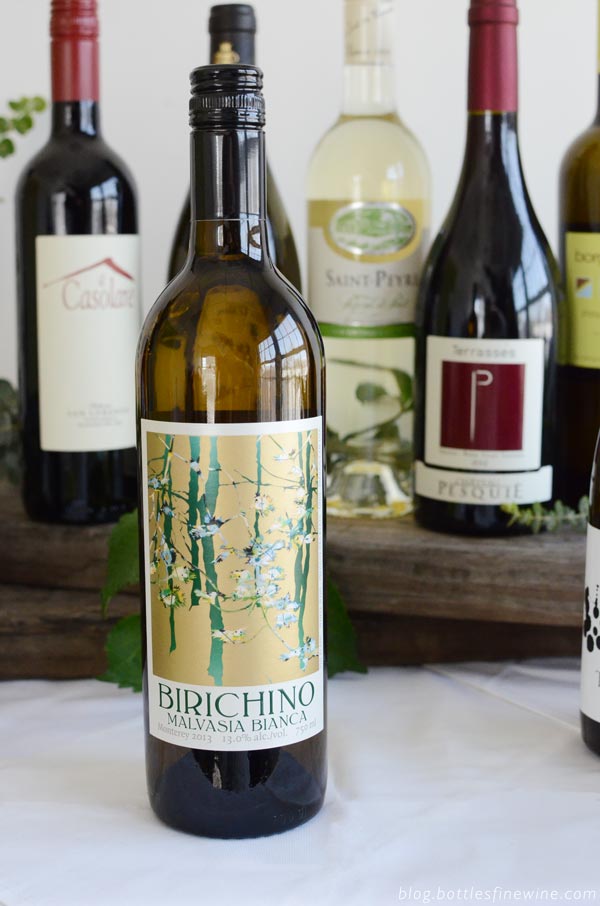 Birichino Malvasia
An interesting Greek grape relocated to Santa Cruz, California, this wine boasts an amazing aroma of honeysuckle and elderflower. Dry with a lovely pear note, this will pair well with scallops.
Point Judith Scallops with Spiced Carrot Purée & Asparagus
Matthew MacCartney, Executive Chef/Partner, Jamestown FiSH, Jamestown 
Edible Rhody 2015 Local Hero: Chef/Restaurant
Scallops are abundant in our area almost year-round. I am always amazed at how something so sweet can come from the ocean! Spices often pair well with foods that contain natural sweetness and so it is with carrots and scallops, here balanced with the bright flavor of asparagus and the exotic flavor of Moroccan Argan oil.
INGREDIENTS
1½ pounds carrots, peeled
Extra-virgin olive oil
Kosher salt
½ teaspoon Ras el Hanout (North African spice blend)
1½ pounds asparagus
18 large "dry" sea scallops
Cooking oil}
6 teaspoons Argan oil*
DIRECTIONS
Preheat oven to 350°. Cut the carrots in 3-inch lengths. Toss carrots with a little olive oil and a touch of salt. Place them on a roasting pan lined with parchment paper and roast until knife tender, about 30 minutes. While still hot, place them in a blender with Ras el Hanout. Add a little water to make a smooth purée. Adjust seasoning and keep warm.
Bring 2 quarts of water with ¼ cup kosher salt to a boil and have a bowl of ice water ready on the side. Wash the asparagus, remove the woody ends and cut in halves or thirds. Plunge asparagus into the boiling water. Cook 1 minute, drain and transfer to ice bath to stop the cooking. When cool, transfer spears to a clean dishcloth and pat dry.
Remove the small muscle from side of each scallop (if they have not already been removed by the fishmonger). Season both sides with salt. Heat about a tablespoon of oil on a griddle or iron skillet over medium-high heat. Sear the scallops for 1 minute and turn to the other side for 30 seconds; it is important to not over cook them. The color should be light brown. Add the asparagus to the pan to warm. Remove the scallops and asparagus from the pan to a plate lined with a paper towel to drain excess oil.
In the center of six warm, shallow bowls spread the carrot purée, then place the scallops on top followed by the asparagus. Lastly drizzle with Argan oil and serve. Serves 4 to 6 as a main course.
*Find culinary Argan oil at gourmet specialty shops or substitute with toasted sesame or walnut oil.
(Photo by Hillary Dutton.)