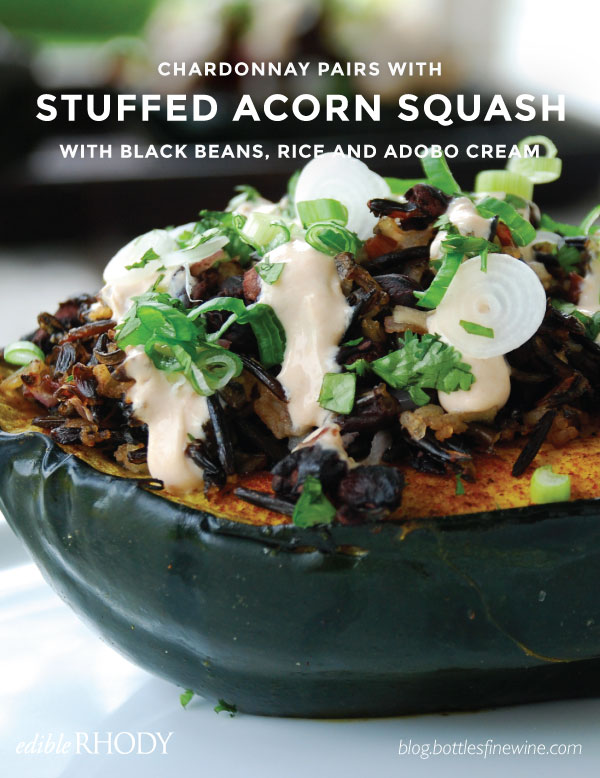 We love Fall for its full, rich flavors of foods. Let's turn our attention towards squash, and more specifically, the sweet and savory flavors of acorn squash. In nearly in any situation, squash and Chardonnay make a perfect pairing, including this Stuffed Acorn Squash recipe featured in Edible Rhody Magazine.
Chardonnay is one of the most planted grapes in the world and plays a part in nearly every wine growing region, from Rhode Island to New Zealand.  Because of the vast differences in wine making styles found from region to region, one can expect a huge variety of styles of Chardonnay — from rich, luxurious oaky and buttery styles, to wines that are very light, lean and crisp.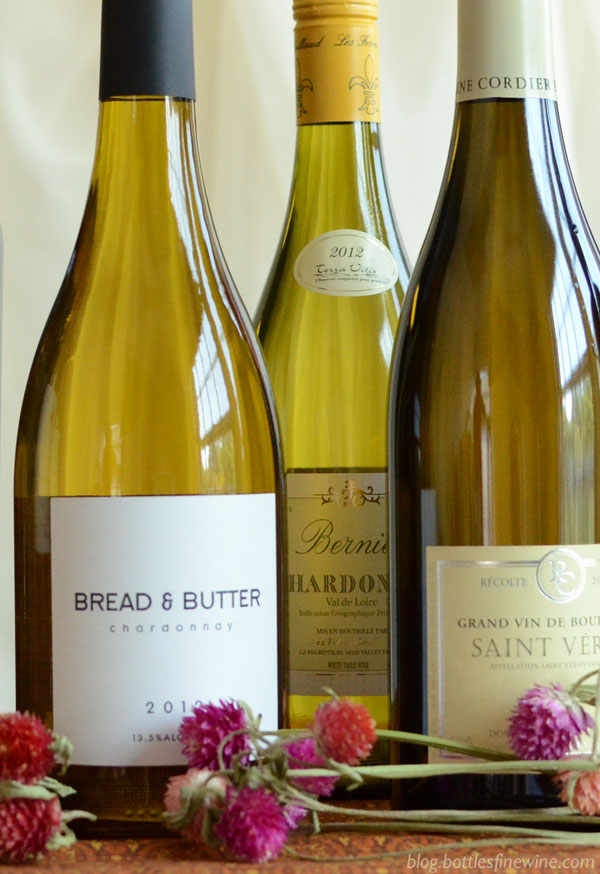 Regardless of the style, one can expect apple and pear flavors from Chardonnay — perfect flavors for the autumn months.  We especially recommend Domaine Bernier Chardonnay from the Loire Valley, France. It's rich, but doesn't have loads of the oak and butter than can overpower the true expression of the Chardonnay grape.  Yummy!
Since Chardonnay usually has apple and pear flavors, it makes perfect sense that it would pair with acorn squash.  Apples go with squash, right?  Then so will Chardonnay and squash.  Simple.  Enjoy!
STUFFED ACORN SQUASH WITH BLACK BEANS, RICE AND ADOBO CREAM
By Amy McCoy
Author of Poor Girl Gourmet and founder/blogger of PoorGirlGourmet.com
2 medium (2 pounds each) acorn squash, washed
1 tablespoon olive oil
¼ teaspoon kosher salt
¼ teaspoon freshly ground black pepper
¼ teaspoon cayenne pepper
¼ teaspoon ground cinnamon
2 cups prepared wild rice
1 (15-ounce) can black beans, drained and rinsed
1 medium shallot, peeled, trimmed, and finely chopped
1 (6-ounce) container plain Greek yogurt
1 tablespoon adobo sauce (from 1 small can chipotle peppers packed in adobo)
2 tablespoons finely chopped cilantro leaves
1 bunch scallions, light green and white parts only, sliced crosswise into rounds
Preheat oven to 450°.
Slice each squash in half from stem to root end. Scoop out seeds and toast or discard.
Brush cut side of squash halves with the olive oil. Stir together salt, pepper, cayenne pepper and cinnamon. Sprinkle each cut side of squash with ¼ teaspoon seasoning.
Place the squash cut side up on a large, parchment-lined rimmed baking sheet and roast until the squash is just fork tender, about 25 to 30 minutes.
While the squash roasts, stir together the rice, beans and shallot.
Divide stuffing evenly and fill squash halves. Return squash to oven and roast until squash are starting to brown on the edges, are completely fork tender and the stuffing is heated through, approximately 20 to 25 minutes.
In a small mixing bowl, whisk together yogurt with adobo sauce.
Remove squash from the oven, drizzle the adobo cream over each half, then garnish each with cilantro and scallions. Serve with any remaining adobo cream on the side. Serves 4.
(Note: If you aren't a fan of spice, reduce the adobo sauce to 1 teaspoon when adding it to the Greek yogurt.)
Total cost:
$11.26 for 4 servings;
$2.82 per serving.
Squash Away!
Cheers!
The Bottles Team