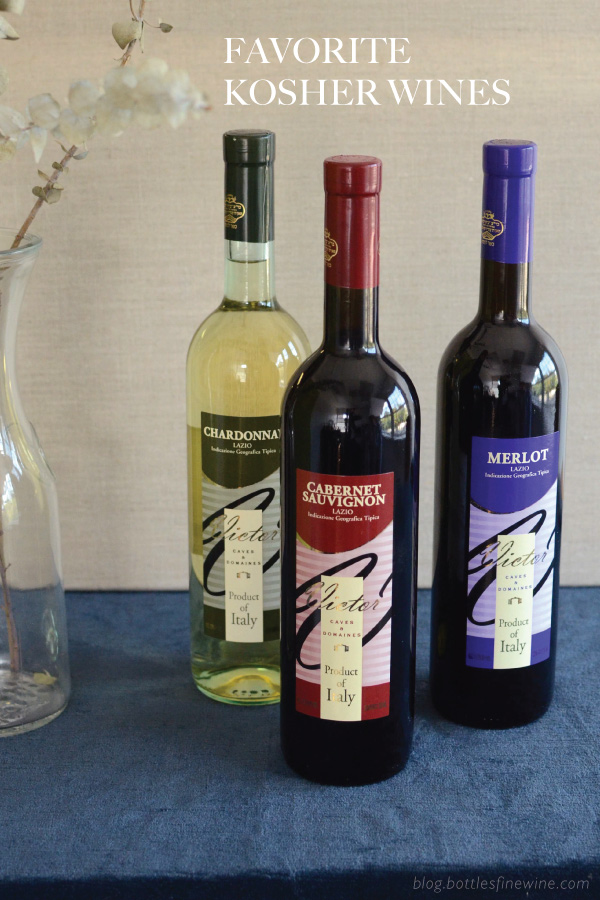 With the fall High Holidays coming up, you're most likely looking for new and exciting Kosher wines, in addition to the already extensive selection at Bottles.
This year, a must-try is this trio of delicious wines from the Lazio region of Italy (the area around Rome). They'll surprise you with their quality and price!
Really, these wines fall into the category of 'great wines that just happen to be Kosher'.
Victor Chardonnay – Not a big oak/butter bomb, like from California, but much more subtle and true to the flavors of Chardonnay: ripe red apple and pear. A dry white that would be great with appetizers and lighter first courses.
Victor Merlot – This has everything that is great about Merlot: soft and smooth without any sharpness or bite and big delicious flavors of dark plums and cherries. Great as a party wine as it doesn't need food to be enjoyed, but would love to paired with roast lamb or chicken.
Victor Cabernet Sauvignon – A great example of Cabernet, with big flavors of black currants and blackberries with plenty of stuffing to stand up to the most decadent of Holiday meals.
The best part of these wines is that they're only $9.99 each – one of the best values in the store!
Shop one of the best selection of Kosher wines in the area at Bottles. Plus, these qualify for the Bottles case discounting (6% off 6 bottles, 12% off 12, 15% off 18 or more).
Happy Holidays and we hope to see you in the shop!
– Eric Taylor, Bottles General Manager