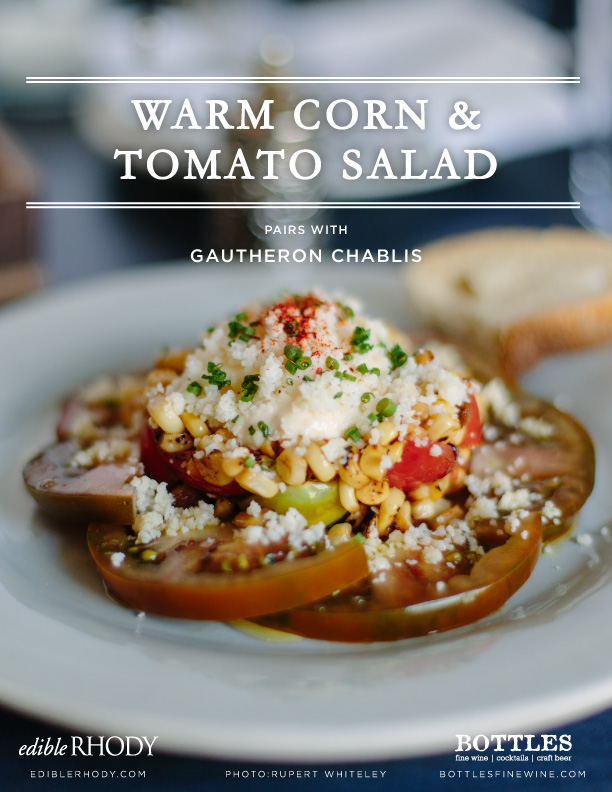 I can't get enough of this super simple spin on the classic summer corn and tomato salad from our friends Brian and Katie O'Donnell of Warren's really fantastic bywater restaurant. With such a wonderfully complex dish that has fat, oil, and garlic, I could think of only one other element to complete the picture: acid. Which is why I chose a beautiful, unoaked French Chardonnay. Gautheron's Chablis is that perfect steely-sharp wine that has the edge to cut through the bacon and aioli while bringing out the fruit flavors and acids in the tomatoes, leaving you with a nice crisp and clean fruit finish, good minerality, and looking forward to the next bite!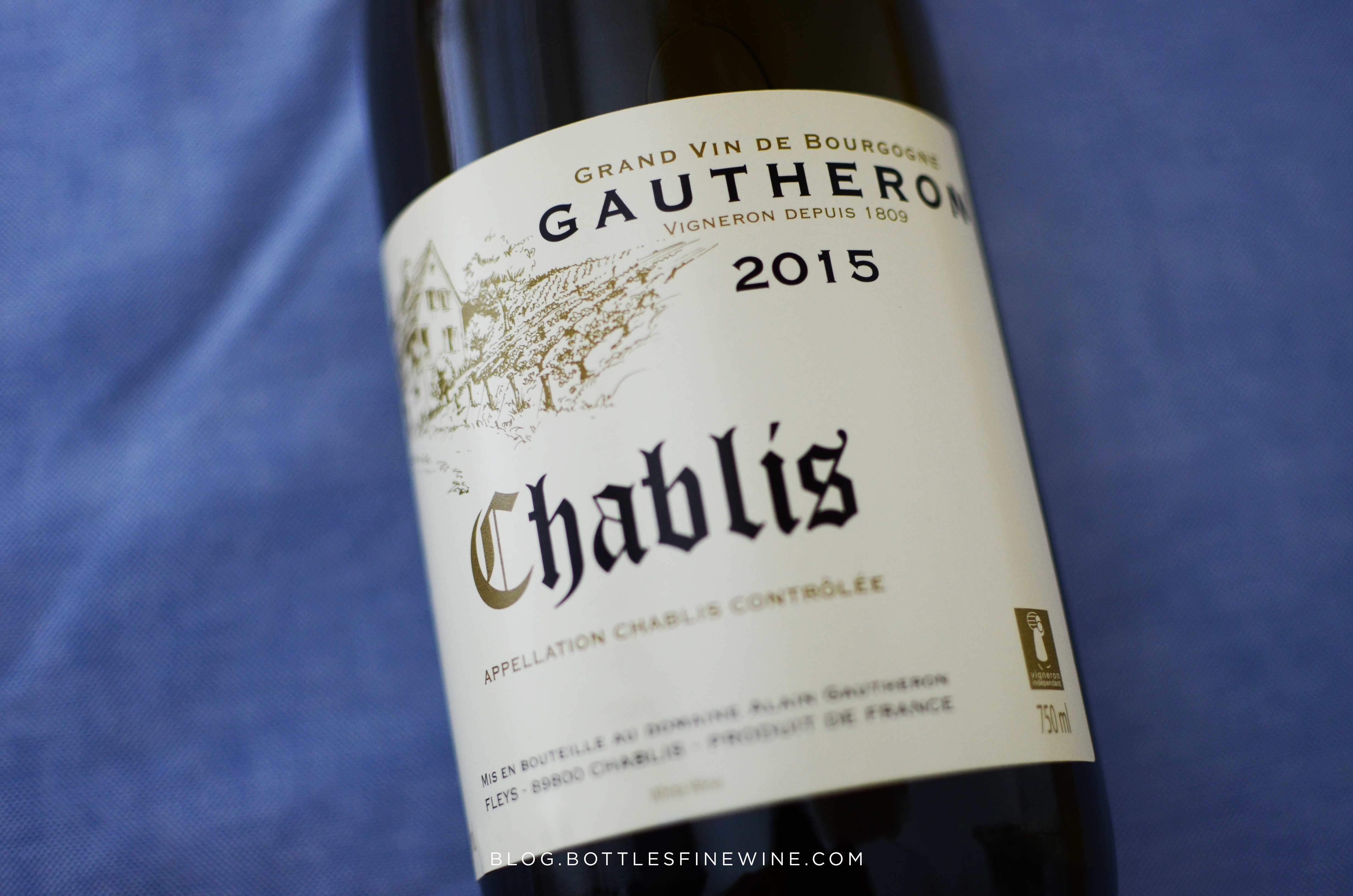 Check out the jam-packed summer issue of Edible Rhody for more on bywater, including a recipe for Katie's Basil Ice Cream. It's a perfect dish to follow this summer salad.
Bon Appetit … and Cheers!
-Josh
WARM CORN & TOMATO SALAD
Note from Chef/Co-Owner of bywater, Brian O'Donnell: This recipe is our rendition of traditional Mexican street corn (one of our favorite snacks). Grilling the corn gives the dish a wonderful flavor. In the height of summer, we can't get enough of it—we think you'll feel the same way.

INGREDIENTS
4 ears grilled fresh sweet corn
4 slices smoked bacon
1 pint ripe cherry tomatoes, rinsed and cut into halves
2 large ripe beefsteak or other large heirloom tomatoes, sliced into half moons
Garlic aioli*
4 tablespoons crumbled dry cotija cheese (or any other hard, salty cheese, like ricotta salata or Parmesan)
2 tablespoons chopped chives
Piment d'Espelette or paprika
Good-quality extra-virgin olive oil
Flakey sea salt for finishing

First, remove corn kernels from the cobs and set aside. In a medium sauté pan, cook bacon until crispy. Drain bacon grease from the pan and roughly chop the cooked bacon. Return the bacon to the pan, add cherry tomatoes and corn and heat, tossing until warmed through. Taste for seasoning.
To serve, divide beefsteak tomato slices among 4 plates (or place on one large platter), arranging them in a circle. Place warm corn and bacon mixture in the middle. Top each serving with a dollop of aioli, then sprinkle with cotija cheese, a sprinkle of chives and, finally, a pinch of Piment d'Espelette. Drizzle with olive oil and salt to taste.
Serves 4

*Garlic Aioli
1 cup Hellmann's or your favorite mayonnaise
1 clove garlic, minced
1 teaspoon prepared horseradish
½ teaspoon Dijon mustard
½ teaspoon Banyuls or sherry wine vinegar
½ teaspoon lemon juice
¼ teaspoon salt

Mix ingredients together and set aside, or refrigerate until serving. (Or double the recipe and have more for later—it's great as a dip for fries, veggies or as a sandwich spread.)

###