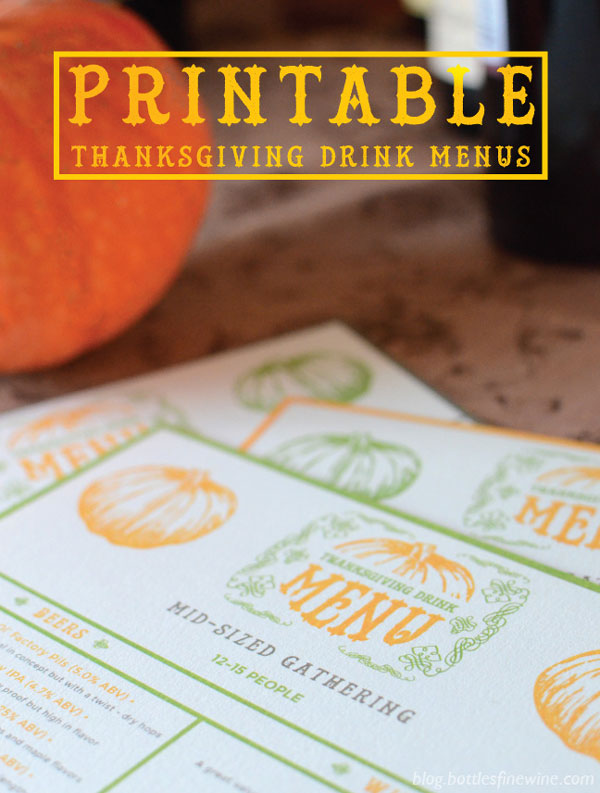 You're hosting Thanksgiving for the first, second or twentieth time. Your friend who makes an incredible oyster stuffing is coming for dinner and your cousin who spent two years in Italy will be there. You stare at your beers, wines, and cocktails and feel a twinge of doubt. Will your family like these? Does this pair well with turkey? What about dessert? 
Here at Bottles, we have answers to all these questions – what cocktails, wines, and beers to serve that will delight your friends and family. We've put together 3 Thanksgiving drink menus that differ according to the size of your group: An Intimate Gathering, Mid-Sized Party, or a Large Group.
Click below to download and print the shopping list and 3 drink menus!
Download & Print the Shopping List  >
Intimate Gathering Drink Menu >
Mid-Sized Party Drink Menu >
Large Group Drink Menu >

INTIMATE GATHERING (

for 5-8 people)
BEER
Leipzinger Gose – A German beer brewed with salt and coriander, this sour style is incredibly refreshing and will pair beautifully with turkey.  4.8% ABV
Saison Dupont Cuvée Dry Hopping – Every year, Dupont's Master Brewer makes a special dry-hopped version of this benchmark Belgian saison – delightful with stuffing! 6.5% ABV
St. Bernardus Tripel – Belgian yeast creates a banana and herbal flavor that makes a strong beer seemingly light. Great for the main course or even with pie! 8.0% ABV
Unibroue Maudite – Think rich, dark and malty! Maudite is a Belgian Strong Dark Ale with spice notes of cinnamon and nutmeg is heavenly with sweet potatoes. 8.0% ABV
WINE
Birichino 'St. Georges' Zinfandel – Planted by a bootlegger just south of Santa Cruz in the 1920s, this California Zinfandel has a lighter touch than some of its jammier California counterparts. A lovely balance of acidity and tannin.
Broc Cellars Grenache – A heavenly blend of deep plum, rich raspberry and star anise, this Grenache is a great example of fruit flavors without a syrupy sugary finish. Bright acidity creates a refreshingly smooth wine that will sing with roasted vegetables and stuffing.
Tascante 'Buonara' Carricante – An amazing example of tradition in winemaking and sheer gumption. The Carricante grape has grown on the slopes of active volcano Mount Etna for over a thousand years. The volcanic soil provides an unbelievable mineral structure to this white wine that is unlike any other region. Rich and complex with a slight note of salt, I can't imagine a better white to serve with turkey.
APERITIF – Lillet Citron Cocktail – Quince & Apple's Citrus Syrup is a wonderful balance of sweetness, acidity, and savory for a cocktail base to wonderfully complement the citrus notes in Lillet.
DINNER FEATURE – Paper Kite Cocktail – While slightly bitter, the spectacularly mellow Henry McKenna Bourbon plays off the vanilla and orange notes in the Aperol and bitters. This whiskey is not for the faint of heart with its devilish jalapeno flavors, high proof and rich finish to impress your guests.
POST FEAST – Lazzaroni Amaro – Serve neat! Amari is a thinking man's liqueur. There are so many flavors in one bottle – gentian, rhubarb, sandalwood, cloves, dried citrus, all designed to mystify, entrance and delight your taste buds. Nothing can top the glorious sensation of an amari after a leisurely harvest feast with friends.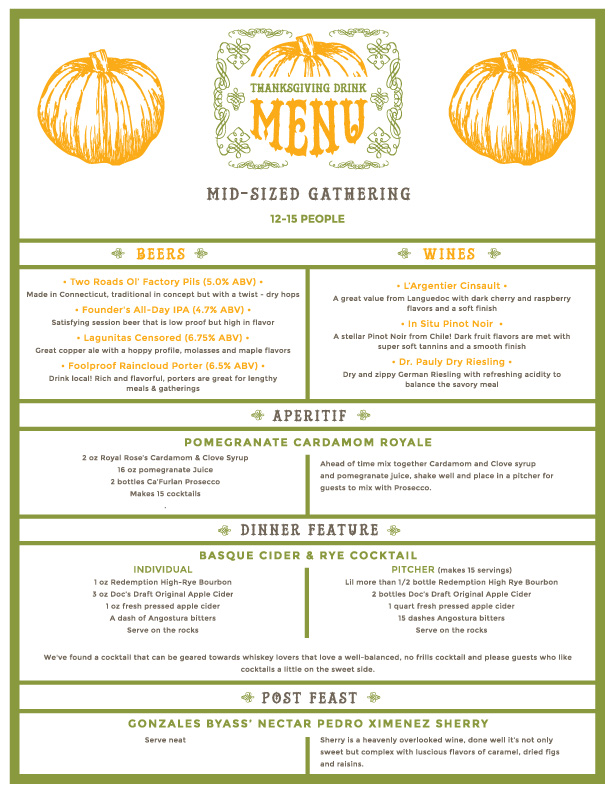 MID-SIZED GATHERING (for 12-15 people)
BEER
Two Roads Ol' Factory Pils – Brewed by a nearby Connecticut brewery, Two Roads, Ol' Factory Pils is traditional in concept with a twist – dry hops. This will pair well with the bird! 5.0% ABV
Founder's All-Day IPA – Every holiday needs a session beer, low in proof but high in flavor that will be able to satisfy your craft beer cousins and uncles who just wants an ice cold beer. 4.7% ABV
Lagunitas Censored – 'Censored' is a great copper ale with a hoppy profile, molasses and maple flavors that will complement the myriad of flavors on the table.  6.75% ABV
Foolproof Raincloud Porter – Porters are great for lengthy meals and gatherings. They are lower alcohol than a stout, but still rich and flavorful. Foolproof is a local favorite amongst the Bottles staff! 6.5% ABV
WINE
L'Argentier Cinsault – A great value from the Languedoc, I adore this Cinsault for its dark cherry and raspberry flavors with just a hint of vanilla.  Medium bodied with a soft finish, a hint of cardamom will complement the roasted sweet potatoes and pair well with roasted vegetables.
In Situ Pinot Noir – Chile is producing stellar Pinot Noir that is putting California to shame and In Situ is no exception. Dark, rich plum and cherry flavors are met with super soft tannins for a smooth finish.
Dr. Pauly Dry Riesling – Look no further than Mosel, Germany for a dry Riesling that mingles fruit, acidity and mineral together to create a dry and zippy wine. For Riesling skeptics, Dr. Pauly Dry Riesling even has a Dry to Sweet scale on the bottle, reassuring your guests before their first sip that they are about to experience a wine that will balance the savory meal with a refreshing acidity. 
APERITIF – Pomegranate Cardamom Royale – Royal Rose's Cardamom Clove Syrup is fall in a bottle! It's handmade in tiny batches in Brunswick, Maine, and when mixed with pomegranate juice and topped off with Prosecco, the resulting sparkling cocktail will kindly remind your guests to save room for dessert.
DINNER FEATURE – Basque Cider & Rye Cocktail – We've found a cocktail that can be geared towards whiskey lovers that love a well-balanced, no frills cocktail and also please guests who like cocktails a little on the sweet side. You can also add less fresh apple cider and more tart, hard cider. On the other hand, increase the amount of fresh apple cider for a cocktail to satisfy a sweet tooth. by Jillian Guyette & Robert Luessen, abetterhappiersebastian.com
POST FEAST – Gonzales Byass 'Nectar' Pedro Ximenez Sherry – Sherry is a heavenly overlooked wine. Done well, it's not only sweet, but complex with luscious flavors of caramel, dried figs and raisins. Gonzales Byass 'Nectar' is a great example of the dark and rich Pedro Ximenez style. Serve with pecan pie for an out of this world dessert experience.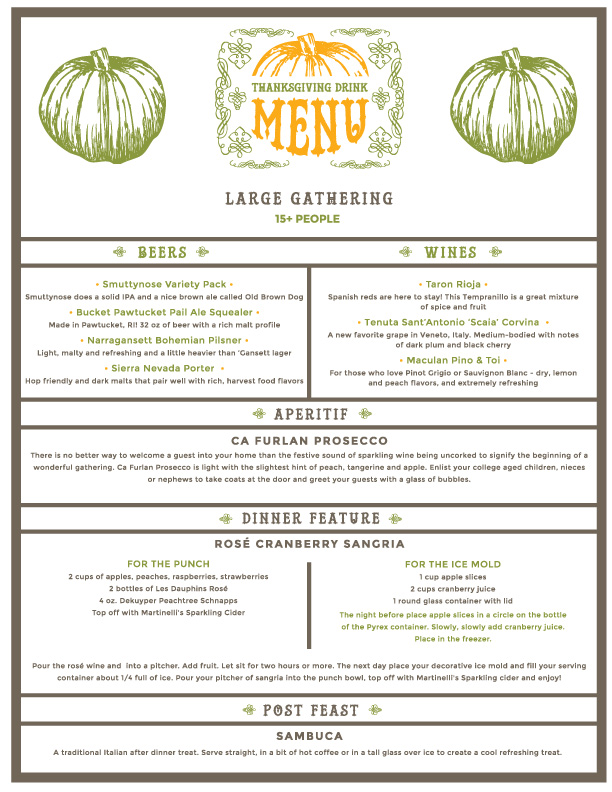 LARGE GROUP (15+ people)
BEER
Smuttynose Variety Pack – A variety pack is a great choice when entertaining a crowd, saving you from purchasing multiple six packs. Smuttynose does a solid IPA and a nice brown ale called Old Brown Dog. 
Bucket Pawtucket Pail Ale Squealer – Maximize the room in your fridge for pies with a squealer from Bucket Brewery out of Pawtucket. 32 oz of beer in one handy glass bottle, the Pawtucket Pail Ale has a rich malt profile that will pair well with turkey.  6.2% ABV
Narragansett Bohemian Pilsner – Another local favorite, 'Gansett's pilsner is light, malty and refreshing. A little heavier than the lager, the Bohemian Pilsner will impress your relatives that remember 'Gansett from the first time around. 5.2% ABV 
Sierra Nevada Porter – I chose this porter because of its hop friendly status. The dark malts will pair well with all the rich, harvest flavors in the stuffing and side dishes.  5.6% ABV
WINE
Taron Rioja – Spanish reds are here to stay and for that I am thankful! Taron's take on Tempranillo is a great mixture of spice and fruit. Great with a cheese platter!
Tenuta Sant'Antonio 'Scaia' Corvina – Corvina is becoming a new favorite grape from Veneto, Italy. Used in the production of Valipolicella, on its own Corvina is medium-bodied with notes of dark plum and black cherry. Not as acidic as other Italian reds such as Barbera, this will go well with the turkey and hopefully become a new favorite for your family!
Maculan Pino & Toi – From Italy comes this cool blend of Pinot Bianco, Pinot Grigio and Toi (Friulano). Expect a dry, medium bodied and extremely refreshing white wine. Lemon and peach flavors are complemented with a bright acidity that will please guests who love Pinot Grigio or Sauvignon Blanc.
APERITIF – Ca' Furlan Prosecco – There is no better way to welcome a guest into your home than the festive sound of sparkling wine being uncorked, signifying the beginning of a wonderful gathering. Ca' Furlan Prosecco is light with the slightest hint of peach, tangerine and apple. Greet your guests with a glass of bubbly!
DINNER FEATURE – Rosé Cranberry Sangria Punch – A simple sangria punch can be made the evening before. On Thanksgiving day, just pour into a pitcher or carafe. Punches are great for groups, freeing you from playing bartender and providing a gathering spot for conversations to begin and linger.
POST FEAST – Sambuca – A traditional Italian after-dinner treat,  this star anise based cordial dates back to ancient Rome. After feasts, guests were treated to anise cakes to settle one's stomach after a long evening of revelry. Serve straight, in a bit of hot coffee or in a tall glass over ice for the perfect post-feast treat.
Happy Thanksgiving!
– Joanna