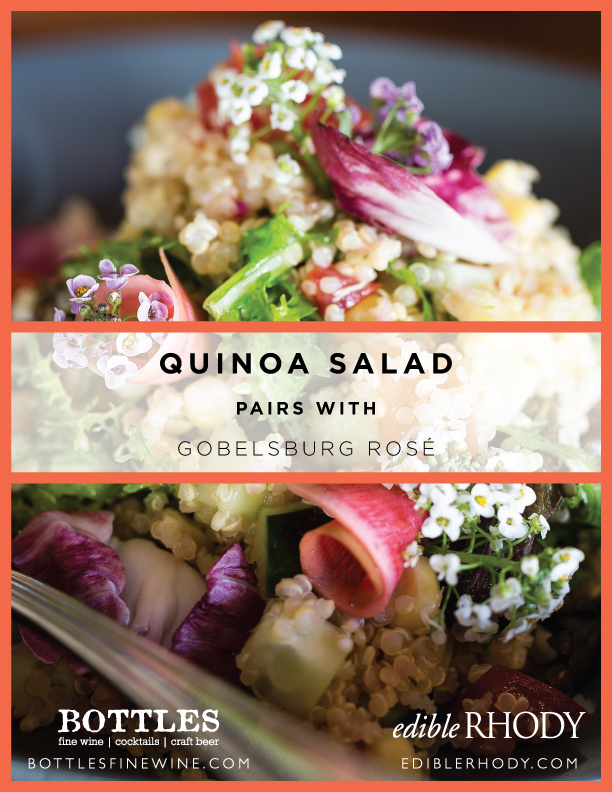 Wine and quinoa? Give this summery combination a try!
We love the earthy, nutty flavor of Edible Rhody's Summer Vegetable Quinoa Salad paired with this Austrian wine, Gobelsburg Rosé.
The lithe, crisp flavors of tart raspberry and strawberry coupled with hints of wet stone make both the veggies and the grain pop, while melding perfectly with the zippy garlic laden dressing.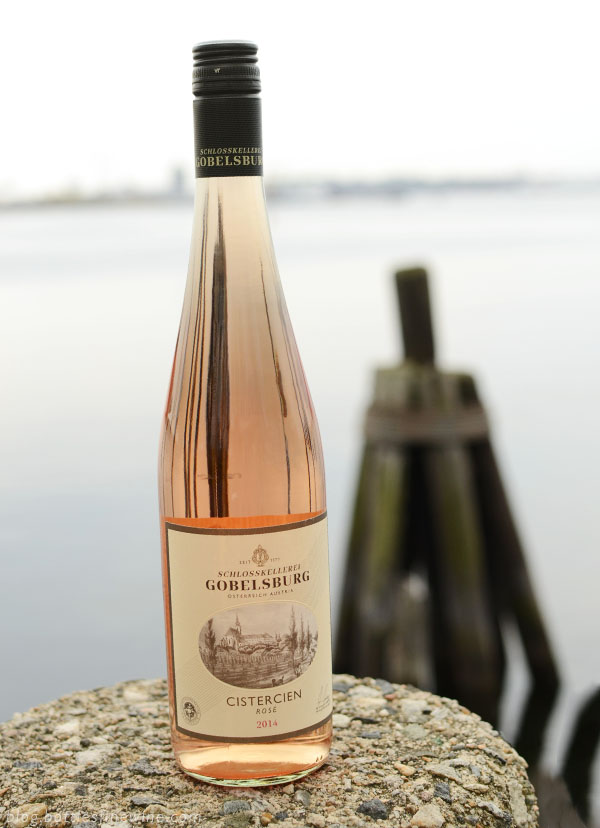 2014 Schloss Gobelsburg 'Cistercien' Rosé – Kamptal, Austria – A blend of Zweigelt and St. Laurent, this rosé teems with minerals, the slightest hint of watermelon and has a wonderfully refreshing finish.
SUMMER VEGETABLE QUINOA SALAD
Jonathan Dille, Executive Chef, The Grange, Providence
This recipe can be made with lots of different vegetables—feel free to make it with what is available to you. It can also be kept for a few days undressed, as long as you leave out the avocados until the last minute. Make it in advance of your summer gathering.
Ingredients
2 cups quinoa
3 cups water
Kosher or sea salt
6 tablespoon rice vinegar
¼ cup roasted garlic cloves*
1 cup extra-virgin olive oil
1 teaspoon black pepper
Kernels from 2 ears freshly shucked sweet corn
1 small head of radicchio
1 cup diced cucumber
1 bunch spring onions, sliced
2 avocados, diced
Edible flowers for garnish (optional)
½ cup sliced radishes for garnish (optional)
Directions
Bring quinoa, water and 2 teaspoons salt to a boil in a small pot. Immediately reduce to a simmer, cover and set timer for 18 minutes, making sure heat is set low. Once all water has cooked off, remove from stove and set aside. Let cool completely.
Meanwhile, place garlic and vinegar in a blender and slowly drizzle oil until dressing has emulsified. Season to taste with salt and pepper.
Place quinoa and remaining ingredients into a large bowl. Toss with dressing to taste. Plate salad and garnish with edible flowers and raw sliced radishes, if available. Serves 4.
* Slice the top off 1 head of garlic, drizzle with oil, sprinkle with salt, wrap in foil and bake in a 350° oven for 45 minutes. Remove papery skin from cloves.
Visit EdibleRhody.com for more recipes.
Quinoa Salad Photo by Chip Riegel.