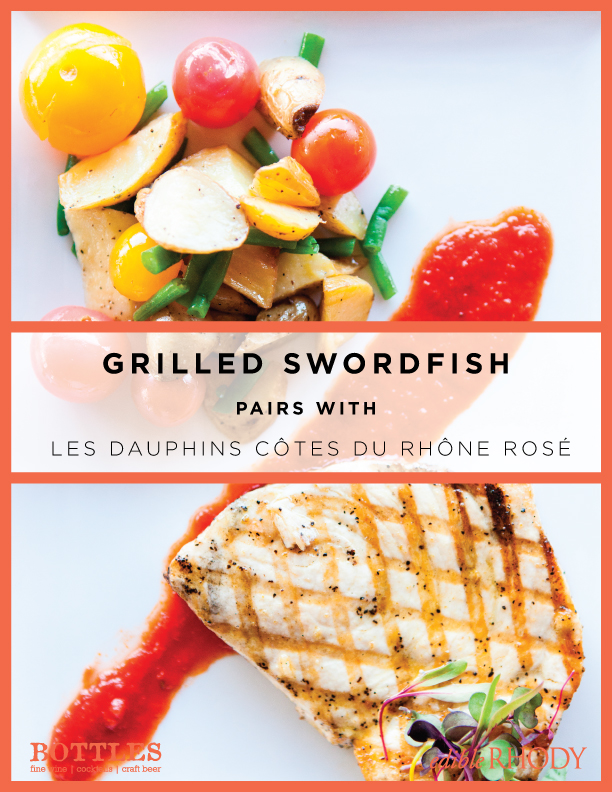 Looking for a wine and grilled swordfish pairing? Try Les Dauphines Rosé and Edible Rhody's Grilled Swordfish recipe.
Les Dauphines Rosé is one of our favorites this summer!  It boasts a beautiful pink color and has elegant flavors of red fruits like ripe strawberries and raspberries with hints of honeysuckle and tangerine.
This rosé is perfect with the swordfish recipe because the flavors of the wine complement the flavors in this dish. Additionally, the wine has a bright acidity that rips right through the full-flavored Arrabbiata Sauce. Deliciously zippy!
These two together = Livin'.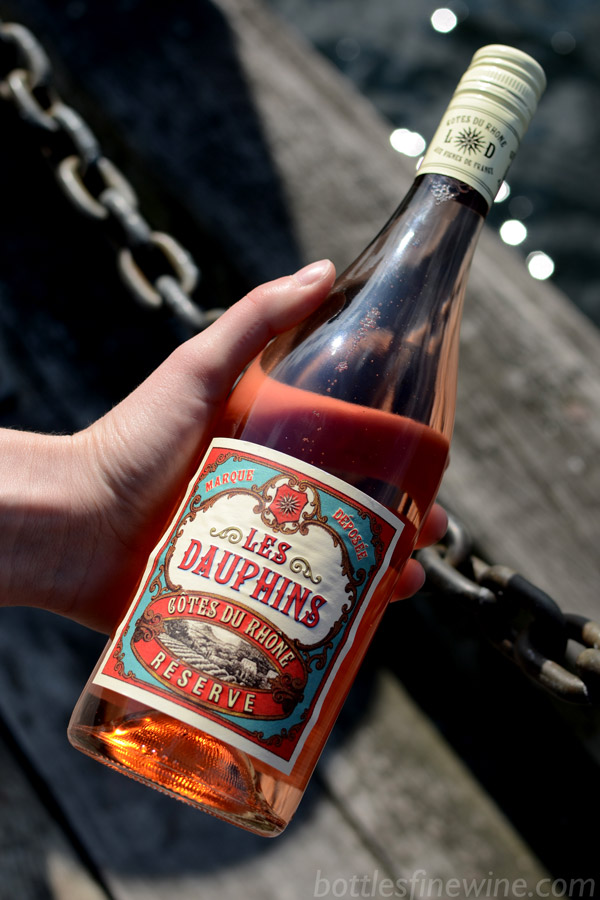 GRILLED SWORDFISH WITH HARICOTS VERTS, FINGERLING POTATOES, HEIRLOOM CHERRY TOMATOES AND ARRABBIATA SAUCE
Executive Chef Brian Ruffner, Trio, Narragansett
Nothing says summer like fresh swordfish with an array of warm vegetables and a drizzle of dressing. Let this fish dish transport you to the seaside, where the scent of garlicky Arrabbiata sauce will mingle with the salty sea air.
INGREDIENTS
Arrabbiata sauce:
2 tablespoons extra-virgin olive oil½ medium yellow onion, peeled and chopped
4 cloves garlic, peeled and chopped
Kosher or sea salt
Freshly ground black pepper
1 (14½ -ounce) can organic plum tomatoes
1 teaspoon crushed red pepper flakes
1 teaspoon fresh lemon juice
Swordfish:
2 pounds fingerling potatoes, washed and halved
¼ pound (about 1 cup) haricots verts cut in 2-inch lengths
6 (8-ounce) swordfish steaks Extra-virgin olive oil
1 pint heirloom cherry tomatoes
Microgreens for garnish (optional)
DIRECTIONS
Heat oil in a saucepot over medium heat and sauté onion and garlic until softened. Season with salt and pepper. Add plum tomatoes and red pepper flakes. Cook until sauce begins to thicken. Remove from heat and cool slightly. Purée in a blender until desired texture is reached (smooth or chunky). Add more salt and pepper to taste, and add lemon juice. Keep warm.
Meanwhile, parboil potatoes in salted boiling water for 8 minutes. Parboil green beans for 3 minutes, drain and place in cold water bath to stop cooking. Set aside.
Preheat grill or prepare coals. Coat swordfish with olive oil and season with salt and pepper. (Let sit at room temperature 15 minutes before grilling.) Place on hot grill and cook to medium-well, approximately 4 minutes per side. Set aside.
Add 1 tablespoon olive oil to a hot sauté pan and cook fingerling potatoes until golden. Add the haricots verts and heirloom cherry tomatoes and cook an additional 3 minutes.
To serve, spoon several tablespoons arrabbiata sauce onto each warm dinner plate, place swordfish steaks on top, place veggies on side and top steaks with garnish.
Visit EdibleRhody.com for more recipes.