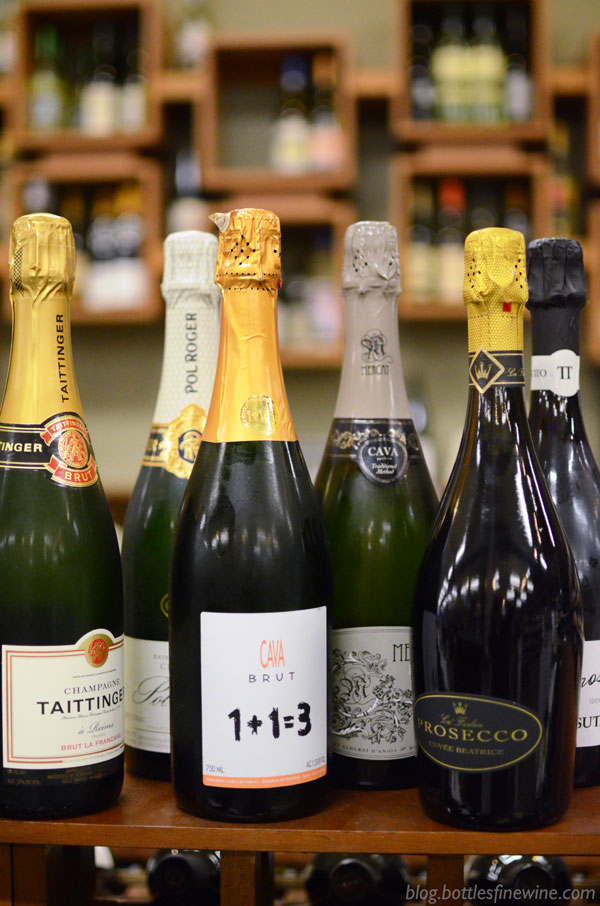 What's the difference between Champagne, cava, and prosecco? Watch a basic overview of these different sparkling wine categories with Eric Taylor, our resident wine expert at Bottles.
We're here to help make sense of it, and so we have broken the giant world of sparkling wine into three really big categories:
Champagne and sparkling wines made in the style of Champagne:  
Champagne is not only a style of sparkling wine, but also a place.  Only sparkling wines made in the very small region of Champagne (just to the East of Paris) can be called Champagne.  Among other very strict regulations, Champagnes must be made in a very particular fashion: they must get their bubbles from a secondary fermentation that happens inside the bottle.  While this is costly and time consuming, it's worth the extra effort because it gives Champagne its signature richness, complexity and tiny lively bubbles.  Some of the most famous and expensive wines in the world are from Champagne:  Dom Perignon, Louis Roederer's Cristal, Krug and Veuve Clicquot.
New World wine makers, mainly from California, are making brilliant wines in the very same style and manner as Champagne.  These wines are made using the same grapes that are used in Champagne (Chardonnay, Pinot Noir and Pinot Meunier) and taking the effort and time to produce sparkling wines exactly as they would be made in France.  The biggest difference is price:  many top notch sparkling wines from California are half the price from their more famous counterparts in France.  Great examples are: Schramsberg, Mumm Napa, Chandon and Roederer Estate.
Prosecco:
Prosecco is a light, beautiful sparkling wine from the northeast corner of Italy made from a not so famous grape called Glera.  Proseccos are generally light and fruity, intensely aromatic, most with flavors of tart green apple, pear, white peach and apricot.  Prosecco is meant to be consumed young, and unlike Champagne, does not benefit from additional aging.  Also, prosecco is usually very inexpensive and makes it a great choice for large gatherings, casual parties and everyday drinking.  Some proseccos to look out for are: Mionetto, Ca' Furlan, Bisson and Carpene Malvolti.
Cava:
Cava refers to sparkling wine made in Spain with the majority of it grown and produced in the Northeast corner of Spain around the grand city of Barcelona.  Cava has a long and rich wine making tradition in Spain, but has only recently gained popularity in the US.  The huge rise in popularity is due to the outrageous value that cava can offer.  Made in the exact same manner as expensive Champagne but with different grapes, cava is bright and vibrant but has many of the complex and sophisticated as its more expensive French counterpart.  Cava is great with cured meats, cheeses, appetizers and things that one would serve at a party.  Some of the most well known brands are Cristalino, Mercat and Raventos I Blanc.
Cheers!