It's rosé season and the weather is warmer, so add some rosé to that wine collection of yours to enjoy it with some perfectly grilled zucchini!
Versatile and light, with a hint of sweetness to it, zucchini is the perfect summer accompaniment to any BBQ or light meal. Season it with salt & pepper, lemon and olive oil, and throw them on the grill to sear in the flavors. Serve it with a nice juicy steak or pasta and enjoy it with a chilled glass of Pascal Jolivet Sancerre Rosé.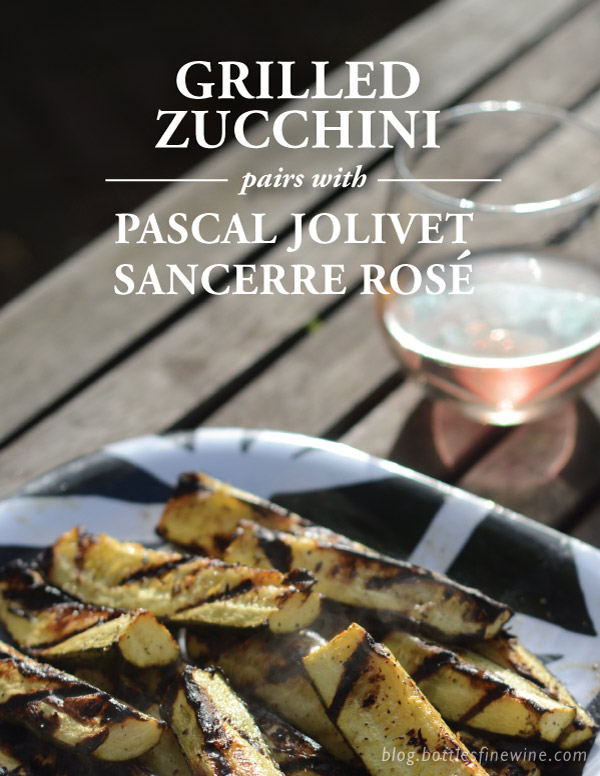 Zucchini
A popular summer squash, the zucchini that we eat today originated in Italy where they are called zucchina. Most likely brought to America by Italian immigrants, it is the swollen ovary of the zucchini flower, technically making it a fruit and not a vegetable. Treated as a vegetable in the culinary world, it is often used as an accompaniment or in quick breads. It is also one of the easiest fruits to cultivate! So go out, by some seeds and plant yourself a little garden.
– Check out Farm Fresh for a list of farms to get some fresh Zucchini.
– A favorite blog of mine for recipes is Food52 and they have some awesome recipes for Zucchini.
– For more fun and creative ways to use this ingredient take a gander at Serious Eats.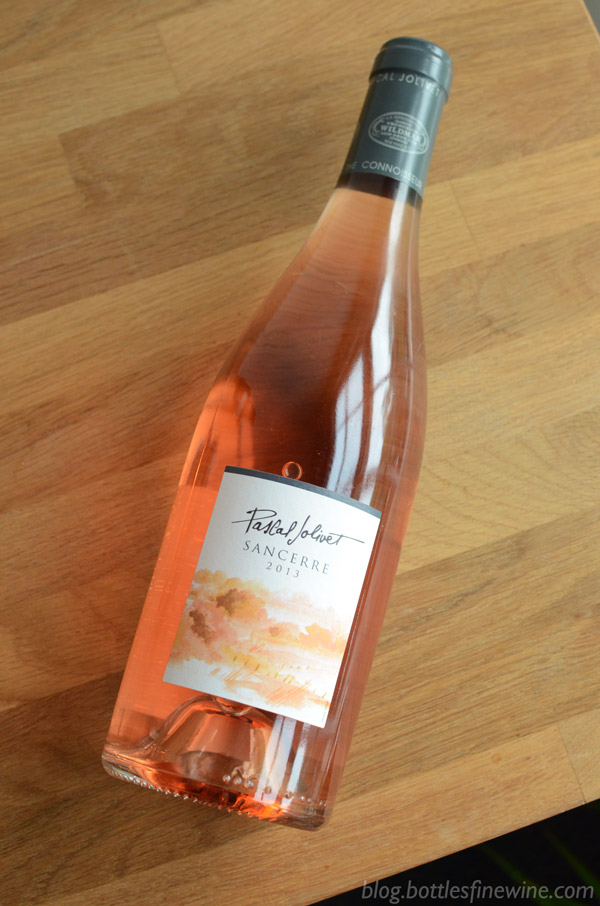 Pascal Jolivet Sancerre Rosé
One of the most dynamic domaines in France's Loire Valley, the house of Pascal Jolivet was founded in 1987 and lies 200 km south of Paris. A firm believer in natural winemaking, Jolivet's wines are easy to drink with finesse, elegance and purity. Grown in chalky clay soil and 100% Pinot Noir, his rosé is created through natural fermentation without added cultivated yeasts and in union with thermoregulation.
A gorgeous nose of red fruits and herbs, it is subtle and full of elegance. Perfect for this dish, the minerality and soft fruits of the wine balance well with the sweet & salty flavors of the grilled zucchini.
Grilled Zucchini with Lemon Salt
Yield: 8 Servings
Prep Time: 20 minutes
Cook Time: 30 minutes
Source
Ingredients
6 whole zucchini
1/4 cup olive oil
1 teaspoon Kosher salt
1 teaspoon Black Pepper
3 whole Lemons
Zest of 3 whole Lemons
Olive oil for brushing the grill
1 tablespoon Kosher Salt, additional
Method of Preparation
1. Cut off the top and bottom of each zucchini and then slice them lengthwise into quarters.
2. Place them all in a very large plastic ziploc bag and drizzle with olive oil, pepper, 1 teaspoon salt, 1 tablespoon lemon zest and the juice from two lemons.
3. Seal the bag and shake them around so that the zucchini is well coated. Set aside for 15 to 20 minutes to marinate.
4. Set the grill to medium-low heat. Once the temperature is reached and the zucchini is marinated lay them on the grill, turning on all three sides until nice and tender. Once finished place them on a plate.
5. While the zucchini is marinating or grilling, you can make the lemon salt. Pile the rest of the lemon zest on a cutting board and sprinkle 1 tablespoon kosher salt on top. Using a knife, chop the salt and zest together until it becomes well combined.
6. Sprinkle the lemon salt over the plate of grilled zucchini and serve with your favorite dish and a glass of Jolivet Sancerre Rosé.