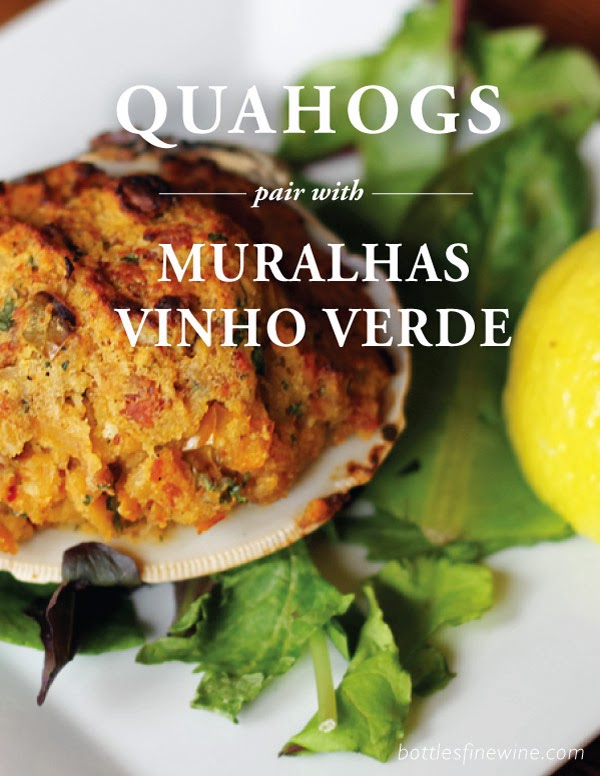 Summer in the winter! We've paired Muralhas Vinho Verde with a Rhode Island classic: Quahogs. Known to some as hard-shell clams, or as the mythical town in Family Guy, the Quahog is not only the official State Shell but was once used by the Narragansett Indians to make beads that were used as money, called wampum. Now consumed as a savory local food, Rhode Island is right in the middle of "quahog country" and has supplied a quarter of the nation's annual catch for years. They are typically served in clam chowder, clam cakes or stuffed.
Richer than most, and made primarily of Alvarinho, the Muralhas Vinho Verde from Portugal will pair perfectly with a delicious Quahog dish. A predominance of peach and apricot aromas hit the nose with a good structure, well-balanced, smooth and dry palate. According to The Wines & Vineyards of Portugal "'Muralhas' wine is one of the most reliable and best known Vinho Verdes in the thousands of fish restaurants that line the coast of Portugal, from Lisbon to the Minho." One of Portugal's best co-ops, Adega de Moncao is the single largest grower of Alvarinho and has grown from 25 growers in 1958 to over 1,700.
Stuffed Quahogs
There are many variations on Stuffies within Li'l Rhody; some add green peppers and chorizo, while other swear by chorizo, or add plenty of spicy hot peppers. 
Ingredients
15 Quahogs, shucked then chopped
2 loaves of day-old Italian bread
1 Tbsp oil
2 medium onions
3 garlic cloves, chopped
2 Tbsp crushed red pepper
2 Tbsp parsley, chopped
Paprika
Directions
Open Quahogs, placing meat and juice in separate bowls. Save shells. Break bread into small pieces in large bowl and add enough juice to just moisten. Add chopped quahogs.
In oil, sauté onion and garlic until soft. Add along with crushed red pepper to bread mixture. Mix well.
Wash shells and separate. Mound stuffing into shells. Sprinkle tops with parsley and paprika. Set in a pan and bake in preheated 375 degree oven for 25 minutes or until heated through. Serves 10-15.
Optional: Add ground chorizo sausage or green bell pepper to onion when sautéing.