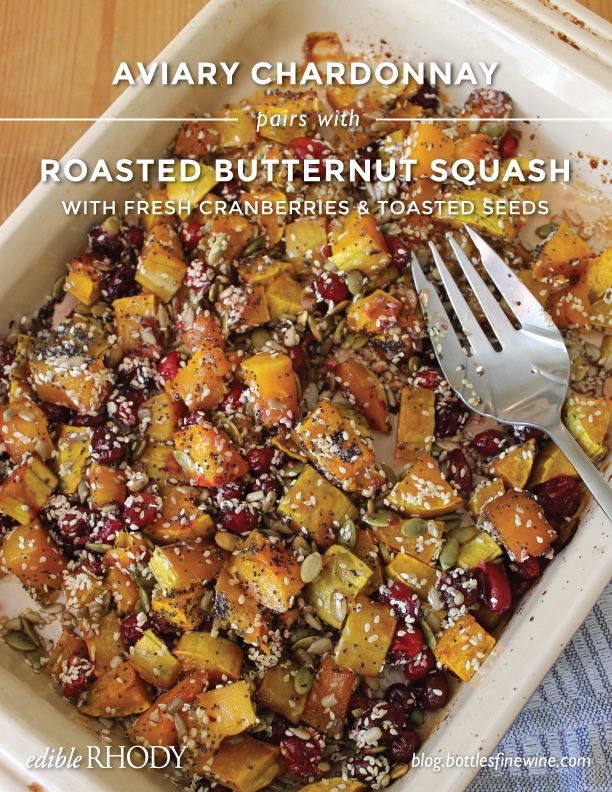 If you're looking for an easy and yummy Thanksgiving side dish, look no further! We just love this Roasted Butternut Squash recipe by Chef Jonathan Dille at The Grange, featured in Edible Rhody Magazine. Prepare the day before, and warm it up when you're ready to serve. Now, what wine to pair with this dish? It's especially delicious with Aviary Chardonnay!
The Aviary Chardonnay is not the big oaky/buttery type, but more restrained with flavors of ripe apple and pear.  The rich body of the Chardonnay will stand up to the beautiful flavors of the squash and meld perfectly with the seed mixture.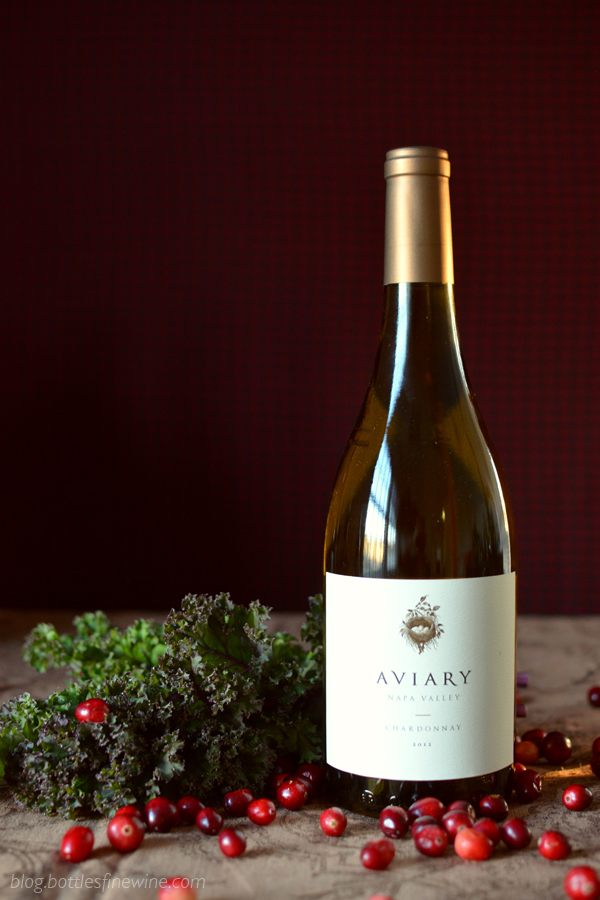 ROASTED BUTTERNUT SQUASH WITH FRESH CRANBERRIES & TOASTED SEEDS
Chef Jonathan Dille, The Grange, Providence
This is a quick, easy and delicious dish for Thanksgiving. You can prepare it the night before and simply warm it up the next day.
1 medium–large Butternut squash, washed, peeled and cut into ½-inch cubes
1 tablespoon safflower oil
2 teaspoons kosher or sea salt
1 cup fresh cranberries
¼ cup sunflower seeds, hulled
¼ cup sesame seeds
¼ cup poppy seeds
¼ cup pepita seeds
¼ cup maple syrup
Preheat oven to 400°.
Toss squash cubes with oil and salt. Place on a baking sheet in a single layer.
Bake for 25–30 minutes, stirring occasionally, until squash is soft and lightly browned. Remove from oven, add cranberries and let cool. Once cool, place squash into a baking dish for reheating the next day.
To reheat, preheat oven to 425°. Mix seeds together in a medium bowl. Sprinkle the seed mix evenly over the squash. Drizzle dish with ¼ cup maple syrup or to taste. Bake for 20 minutes, or until seeds are toasted. Serves 6.
Enjoy!
Cheers, 
The Bottles Team