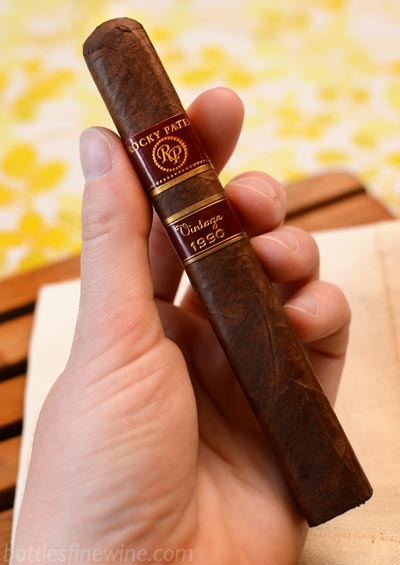 This week, Don has selected a somewhat fuller bodied cigar from the Rocky Patel Vintage Collection, a 1990 Vintage Robusto (5.5 x 50). The wrapper is a 12 year-old Honduran Broadleaf Maduro and the filler tobacco was aged for 5 years. Broadleaf Maduro can initially appear strong or overpowering. In Spanish, Maduro means "ripe" or "mature" however these wrappers actually have a slightly sweet finish.
The Robusto is also box pressed. This means that the cigars are placed in a dress box, stacked on top of each other and physically pressed to give the cigars a square shape instead of the usual round construction. There is a never ending debate among cigar smokers as to whether box pressed cigars smoke differently than round ones. Some say box-pressed cigars burn a bit longer and taste strong, but according to Don:
"They only difference that I have found between the two rolls is an occasional difference in the 'draw' and mouthfeel."
This aged maduro would pair well with W.L. Weller 'Antique' Kentucky Straight Bourbon Whiskey. Not to be confused with the Weller 12-Year or Special Reserve, the Antique is a 7-Year aged wheated amber bourbon with sweet notes of vanilla and a long spicy finish. It's delicious over ice as the weather warms up and a perfect compliment to the robust Rocky Patel.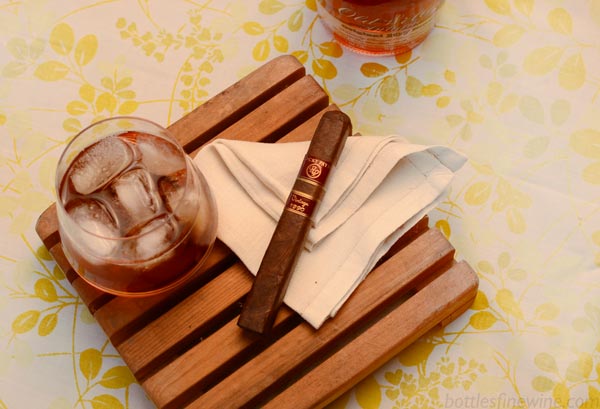 Enjoy!
Rocky Patel Vintage 1990 'Robusto' – $9.99
W.L. Weller 'Antique' Kentucky Straight Bourbon – $21.99